174 Long-Forgotten, Dust-Covered Classic Cars Found Sitting in a London Warehouse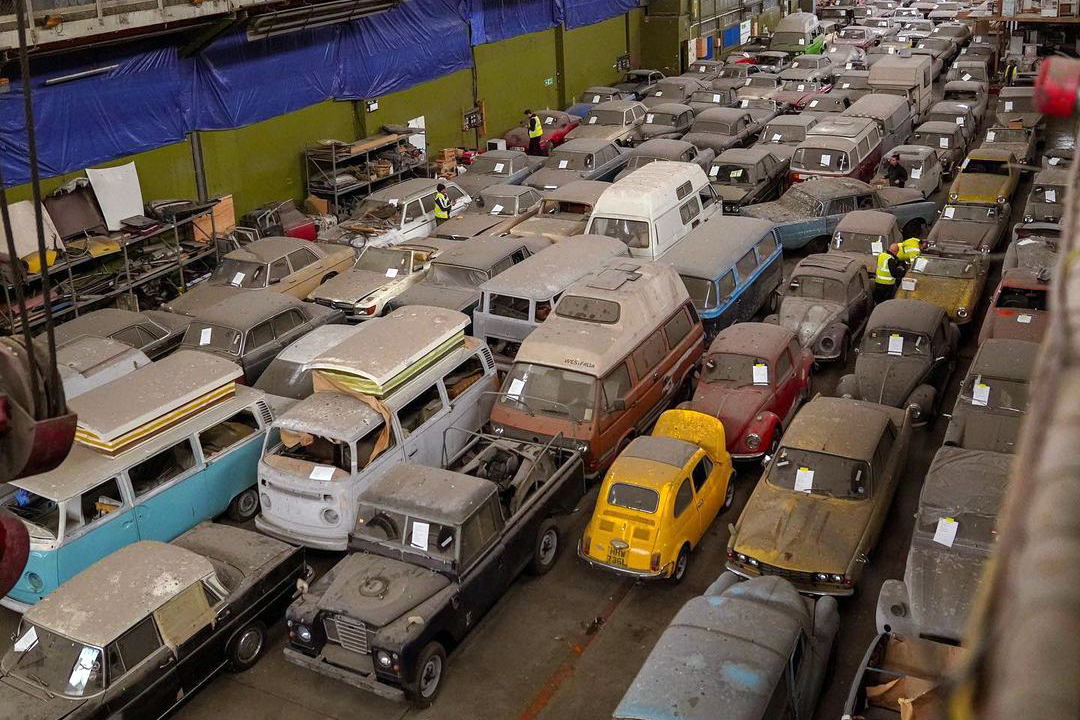 In a warehouse in North London, a dusty collection of classic and future classic cars is looking for a new home. The 174-car strong assemblage has been documented on the London Barn Finds Instagram account.
The collection is the result of a local businessman's decade-long passion for buying vehicles and then storing them in a warehouse rented from the town council. After the council asked for the space back, the businessman, who wishes to remain anonymous, couldn't find a similar space for the price he had been paying the town. So, he decided to sell all of the cars.
Frederick Fison, a family friend, car aficionado and owner of the London Barn Finds account, was brought in to help facilitate the process of cataloguing and auctioning off the collection. In an interview with Newsweek, Fison said that the collection walks the line between a hobby and a compulsion.
"His wife would say that he would leave the house very early on a Saturday morning and come back late on Saturday evening with a new car," he said. "That was how it went on for a very long time. He's a passionate collector and I think this became a slight obsession, perhaps."
Fison was not prepared for what he saw the first time he laid eyes on the mass of vehicles. "You peel back this plastic curtain and step into this enormous 45,000 square foot (space), 40 to 50 meter high ceiling and huge 25 ton cranes hanging from the ceiling and this mass of old, beautiful vehicles covered in dust," he explained. "All neatly lined up in a row and seemingly untouched, it was exciting. It was thrilling. It was special."
The collection had started with a few classic Mercedes-Benz SLs and grew from there. "He witnessed the rising price of the Pagoda that went before the SL," Fison said. "He thought that, at the time, the SL's were good value for money and therefore he bought some. Then he got this warehouse and I think he just kept buying."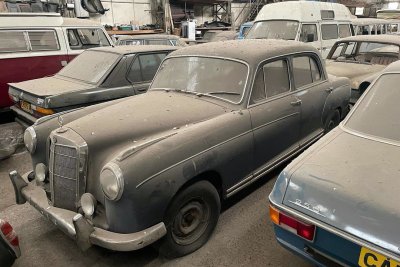 What is stored in the warehouse runs the gamut of storied European and Japanese brands. Mercedes-Benz and Land Rover are well represented. Also present is a group of cars made by MG, a British-owned brand for decades that was sold to Chinese automaker SAIC Motor in 2006 after the collapse of MG Rover Group.
MINIs, Volkswagen camper vans and a right-hand drive, turbocharged Nissan 300ZX are also covered in dust.
Based on his research, Fison estimates the collection is worth more than $1 million. Despite the potential for a financial windfall, the vehicles' owner is "fairly emotional about losing this collection" according to Fison.
This has led to a few snags in the selling plan. The collector had originally intended to hold a public viewing in the warehouse and collect bids in the following days. That spurred a flood of bids and some annoyed bidders when it was announced that the cars would instead be listed on Ebay with the intention of maximizing the potential value of each car.
On top of managing the sale, Fison also runs a small, part-time team that has been working to get the documentation for each car in order. The team has had some difficulties with tracing V5s, the term for a car's registration in the United Kingdom, and matching them to corresponding vehicles.
"This is essentially what's been left at the end of 10 years of buying and some selling," he said. "There's been a lot of transactions and therefore there's a lot of different logbooks. So putting everything together and then matching them with the cars, which were never cataloged, has been very complicated."
Fison said that initially all of the cars were driven into the warehouse under their own power, but that some now need to be restored to 100 percent working condition. The whole process, Fison joked, has taught him the value of a dust cover and regular maintenance.
"I do see the merit of seizing a moment in time and purchasing cars that you feel are going to be future classics and dry storing them," he added.
As of publication of this article, the models have not been put up for sale on Ebay.