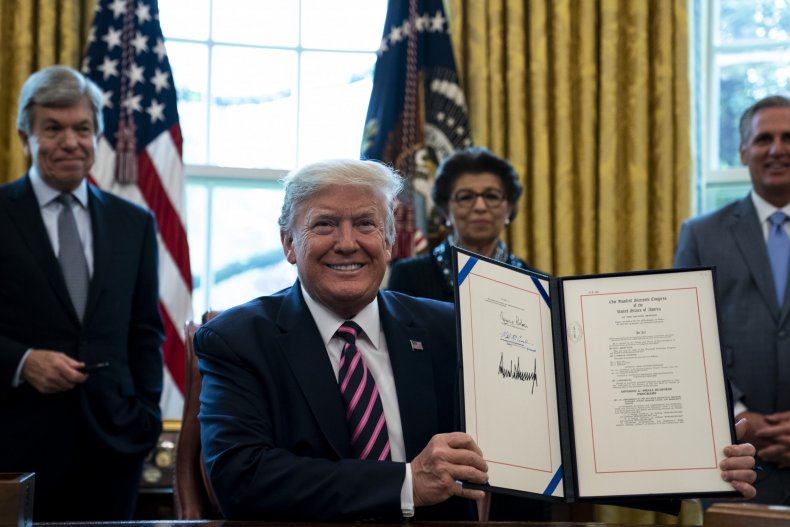 President Trump and Vice President Mike Pence pledged a month ago that the federal government would cover the cost of Covid-19 treatment for Americans without health insurance, but the plan for distributing the money to providers who care for the most vulnerable Americans will likely be used to bail out the largest and most well-connected health care providers instead, current and former state and federal officials and other experts said.
The two most recent coronavirus relief bills passed by Congress directed a combined $175 billion to a fund meant to help health care providers cope with the financial stresses caused by the need to pause normal operations during the worldwide Covid-19 pandemic.
But the Center for Medicare and Medicaid Services is divvying them up among health care providers based not on need, but on how much money they made in prior years. Only a small fraction—$10 billion so far—has been set aside for facilities "in areas that have been particularly impacted by the Covid-19 outbreak."
CMS distributed half of the first $100 billion in the fund last week, beginning with an initial tranche of funds, or $30 billion, for "general distribution to Medicare facilities and providers impacted by Covid-19," based on providers' 2019 Medicare reimbursements, with the $20 billion balance going to the providers who'd received funds from the first tranche, but distributed in a way that was "proportional to providers' share of 2018 net patient revenue." The remainder of the funds will be sent out on a weekly basis based on revenue data that providers will submit in reports to CMS.
Rather than require that funds be used for Covid-19 treatment, CMS only asks recipients to certify that they will go to "health care related expenses" or to recoup "lost revenue attributable to Covid-19." A provision in the most recent coronavirus relief bill also gives Health and Human Services Secretary Alex Azar broad discretion to distribute them to "such for-profit entities and not-for-profit entities not otherwise described...that provide diagnoses, testing, or care for individuals with possible or actual cases of COVID–19."
An ex-Capitol Hill staffer who works with an organization that advocates for better access to care for poor communities told Newsweek that the HHS staffers he dealt with when trying to find information on the Provider Relief Fund were surprised by the decision to not specifically set aside funds for large swaths of health care providers that treat lower-income and uninsured Americans.
"People at HHS...were scratching their heads," said the source, describing how HHS officials did not understand the reasons for why some providers were included while some were not. He added that the rush to distribute money reminded him of the days immediately following the September 11, 2001 terrorist attacks, when "there was a lot of money that went out the door" that was "distributed in ways that, in the ways it was spent, was just kind of kooky."
"Yeah, it's going to be a clusterf---," the source said.
In an April 16 letter to Azar, House Labor-HHS-Education Appropriations Subcommittee Chair Rosa DeLauro asked the two officials for a list of recipients by amount received after a phone call with Azar left her "with serious concerns about the timing and criteria for the next tranches of funding for hotspots and providers that treat very few Medicare beneficiaries, including...those that serve many Medicaid and uninsured patients."
But a spokesperson for DeLauro, a Connecticut Democrat, told Newsweek that as of Monday—a full week after a response was initially due—neither Azar nor anyone from HHS had responded. Newsweek's initial query to an HHS spokesperson on why Azar had not responded to DeLauro's letter did not receive a response by deadline.
North Carolina Health and Human Services Secretary Dr. Mandy Cohen told Newsweek the way CMS distributed the first $30 billion concerned her so much that she, too, sent a letter to Azar as well as CMS Administrator Seema Verma, pleading for them to explicitly dedicate a portion of the Provider Relief Fund monies to providers that predominantly serve Medicaid beneficiaries and the uninsured.
"I think the current distribution will send most of the money to...the financially strong institutions with big pockets of money from commercial and Medicare payers, and the ones who are our safety net are really going to get hurt here," Cohen said. "At the same time that we are trying to fight a crisis that is impacting our lower economic communities, we are not funding the providers who serve those communities, and I'm worried about it."
She compared the HHS process to the Treasury Department's initial Paycheck Protection Plan rules, which allowed multi-billion-dollar businesses such as Ruth's Chris Steak House and Shake Shack to receive funds intended to help genuine small businesses keep their doors open during the pandemic.
Noting that several of those chain restaurant businesses returned the money they'd been sent, Cohen said she has not seen similar behavior from the large hospital chains that are the medical field equivalent. "They did the right thing on the corporate side, but I haven't heard of any hospitals saying 'hey, I'm gonna give you back some of this money so it can go to the safety net.'"
Dr. Marshall Chin, a professor of health care ethics at the University of Chicago Department of Medicine, told Newsweek that CMS' formulas appear to be designed to ensure that hospitals and large health care systems can maintain their bottom lines rather than guarantee that the facilities on which vulnerable Americans depend can keep their doors open.
"If the issue is thinking about the most vulnerable populations in the safety net, those clinics and hospitals and providers that take care of large proportions of uninsured, large portions of Medicaid and vulnerable patients, then it's not a logically-designed system," he said.
Verma's predecessor as CMS Administrator in the Obama administration, Andy Slavitt, told Newsweek that if he were still running CMS, he would be sure that he "was more than taking care of the small practices, Medicaid providers, and all those folks," but added that it's "sort of clear that the administration is not making that a priority."
"This revenue is not revenue they [large providers] are entitled to—their elective surgery and testing procedures and expensive cardiac cases are not their God-given right," he said.
Although President Trump pledged to have the federal government cover uninsured Americans' Covid-19 treatment costs, CMS has designated only "a portion" of relief funds for that purpose, and has not announced how much could be available after it distributes more funds to health care providers to recoup lost revenue.
Current and former federal and state officials are also perplexed by HHS' decision to assign the task of reimbursing providers for treating uninsured patients to a little-known agency known mostly for overseeing organ and tissue donations, HIV care for low-income people, and distributing grants for mobile medical and dental vans, rather than to CMS.
Although the mission of the agency charged with distributing the funds—the Health Resources and Services Administration—does include making grants to provide health care to Americans who lack health insurance, it has little experience in fee-for-service reimbursements and its' $10 billion annual budget is just one percent of what passes through CMS each year.
In a statement, an HHS spokesperson said the HRSA was chosen for its' "extensive experience standing up new programs quickly and in working with many of the populations served by this effort."
But sources familiar with HRSA's history and operations who spoke with Newsweek said they wondered why an agency with no experience administering a fee-for-service reimbursement program would be chosen to stand up an entirely new one rather than utilize existing infrastructure.
"It's a very strange choice to me," said one ex-HHS official, who requested anonymity because they still deal with their former colleagues in a new role elsewhere. "Who is the entity that knows how to reimburse providers? It's CMS."
The official did not question the competence of HRSA staff into question, but they stressed that the relatively small agency does not do the work that the administration has now assigned to it.
"They do handle the allocation of funding for the community health centers, but that's not the same thing as billings for individual patients," they said. "It's just not an organization that is set up to do individual patient and provider reimbursement."
According to the terms HRSA has established for the program, participating providers must agree to accept a defined reimbursement amount as payment in full for treating uninsured patients and must agree to not bill patients for the cost that remains after the federal government pays them.
Moreover, the agency has warned providers that it will not reimburse them for hospice services provided to dying patients, or any treatment for patients (other than pregnant women) whose primary diagnosis is not Covid-19—a category which could encompass patients with pre-existing conditions that make them more susceptible to the virus' effects.
Cohen predicted that the prohibition on balance billing will keep many small and mid-sized providers out of the program because preventing a bill from automatically going out to Covid-19 patients would require modifications to billing software that only the largest providers can afford.
"They usually have a system under which if you come in and you're uninsured...they will bill you immediately right for whatever services they render for you. So the question will become: Can they stop that process from happening automatically in their system? Is it worth it to them?" she asked.
"I think that some of the sophisticated ones who are better at jumping through hoops may decide to jump through some hoops...and will somehow figure out how to code them as "Covid-insured" and treat that differently than "regular uninsured," she said.
Slavitt, who along with Cohen has called for the Trump administration to direct more funds to Medicaid and allow Americans to sign up for insurance on the healthcare.gov exchange outside the normal open enrollment period, said administration is spending the relief funds inefficiently.
"It's a foolish way to cover uninsured patients considering that you could allow them to expand Medicaid and add another 10 percent to the match...which lets people stay healthy instead of covering their Covid costs," he said.