18 NFL Teams Still in Contention For Super Bowl LV With One Game Remaining
With one week remaining in the NFL regular season, more than half the league still has a shot at advancing all the way to the Super Bowl.
Heading into the final Sunday, there are 18 teams that have that shot. Of the 14 total playoff spots available overall, only seven spots have been claimed—three in the AFC and four in the NFC. That means 11 teams are playing for the final seven spots. And, there could likely be an 11-win team missing the playoffs while a team with a losing record makes it.
Once a team makes the playoffs, anything can happen—especially in 2020.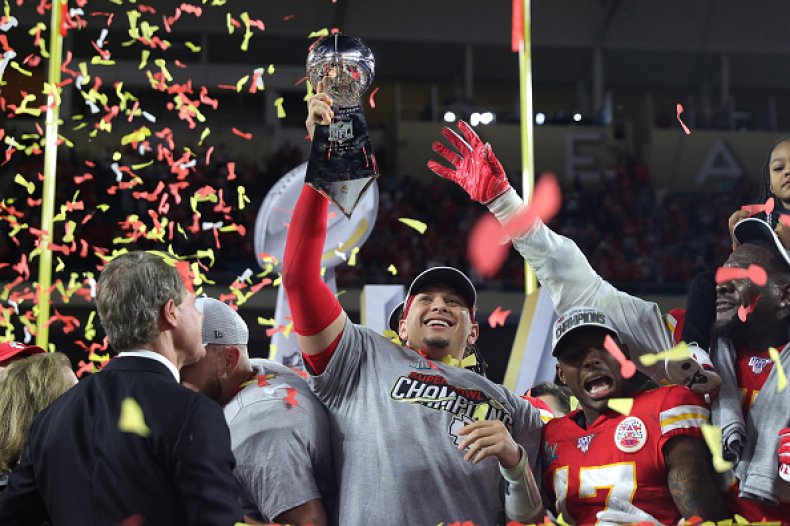 First, here are the teams that have clinched playoff spots so far.
AFC
Kansas City Chiefs (14-1) — Clinched No. 1 seed, first-round bye
Buffalo Bills (12-3) — Clinched AFC East title
Pittsburgh Steelers (12-3) — Clinched AFC North title
Should Buffalo and Pittsburgh finish tied, Buffalo would get the No. 2 seed because of its win over Pittsburgh this season.
---
NFC
Green Bay Packers (12-3) — Clinched NFC North title
New Orleans Saints (11-4) — Clinched NFC South title
Seattle Seahawks (11-4) — Clinched NFC West title
Tampa Bay Buccaneers (10-5) — Clinched Wild Card spot
The top seed is dicey if Green Bay loses this weekend at Chicago. Here are scenarios for the top seed:
Green Bay gets the No. 1 seed and first-round bye with a win, or a loss by both them and the Seahawks.
Saints get the No. 1 seed with a win, a Seattle win and Green Bay loss.
Seahawks get No. 1 seed with a win, a Green Bay loss and Saints loss.
---
Here are the teams in contention for playoff spots in the AFC and how they can clinch spots:
Baltimore Ravens (10-5) — a win at Cincinnati (4-10-1) will nail down their third consecutive trip to the playoffs.
Cleveland Browns (10-5) — a home victory over Pittsburgh (12-3) will have their first playoff berth since 2002.
Miami Dolphins (10-5) — a win at Buffalo (12-3) will clinch a playoff berth for the first time since 2016.
Tennessee Titans (10-5) — a win at Houston (4-11) will cement their first division title since 2008.
Indianapolis Colts (10-5) — a home win against Jacksonville (1-14), combined with a Tennessee loss, gives them the AFC title. Otherwise, a Colts win combined with a loss from Baltimore, Cleveland or Miami gets the Colts in the playoffs as a Wild Card.
---
Here are the teams in contention for playoff spots in the NFC:
Los Angeles Rams (9-6) — a home win over the Cardinals (8-7) puts the Rams in the playoffs
Chicago Bears (8-7) — a home win over the Packers (12-3) puts the Bears in
Arizona Cardinals (8-7) — a road win over the Rams (9-6) puts the Cardinals in
Washington FT (6-9) — a win over the Eagles (4-10-1) and they're in, a loss and they're out
Dallas Cowboys (6-9) — a win over the Giants (5-10) and Washington loss puts Dallas in
New York Giants (5-10) — a win over the Cowboys (6-9) and Washington loss puts NYG in
---
Week 17 NFL Schedule — Sunday, January 3, 2021
(All times Eastern)
Miami Dolphins at Buffalo Bills

1:00 PM

CBS

Baltimore Ravens at Cincinnati Bengals

1:00 PM

CBS

Pittsburgh Steelers at Cleveland Browns

1:00 PM

CBS

Minnesota Vikings at Detroit Lions

1:00 PM

FOX

New York Jets at New England Patriots

1:00 PM

CBS

Dallas Cowboys at New York Giants

1:00 PM

FOX

Atlanta Falcons at Tampa Bay Buccaneers

1:00 PM

FOX

New Orleans Saints at Carolina Panthers

4:25 PM

FOX

Green Bay Packers at Chicago Bears

4:25 PM

FOX

Las Vegas Raiders at Denver Broncos

4:25 PM

CBS

Tennessee Titans at Houston Texans

4:25 PM

CBS

Jacksonville Jaguars at Indianapolis Colts

4:25 PM

CBS

Los Angeles Chargers at Kansas City Chiefs

4:25 PM

FOX

Arizona Cardinals at Los Angeles Rams

4:25 PM

CBS

Seattle Seahawks at San Francisco 49ers*

4:25 PM

FOX

Washington Football Team at Philadelphia Eagles

8:20 PM

NBC

*State Farm Stadium, Arizona