COVID cases and the rate of positive coronavirus tests are spiking in Alabama, while hospitalizations topped 500 over the weekend, still well short of the highs set in January and September.
During the past week, 18.2 percent of tests taken in the state came back positive, doubling the rate from the week before, according to the Alabama Department of Public Health. The health department also said the spike in positivity is not due to a change in testing numbers, as the state has reported about 60,000 tests per week since October.
A total of 528 COVID patients were hospitalized as of Monday, short of the highs of more than 3,000 and 2,800 in January and September, respectively, according to AL.com.
Fifty-two of the state's 67 counties are listed as having "high" levels of community transmission of COVID on the state's health department website.
AL.com also reported that the state registered three straight days of at least 2,000 new cases in the days leading up to Christmas, the first time that has happened since September.
The first case of the highly contagious Omicron variant was reported in the state December 16, likely contributing to the spike in cases and hospitalizations.
However, the lower rate of hospitalizations compared to past COVID spikes could be another example of the Omicron variant being more contagious and vaccine-resistant while likely causing less severe illnesses than the Delta variant, as reported in two studies released last week from England and Scotland.
Even if the variant causes less severe illnesses, the increased transmissibility could still put immense pressure on hospital systems as unvaccinated patients continue to represent the vast majority of hospitalizations in the U.S.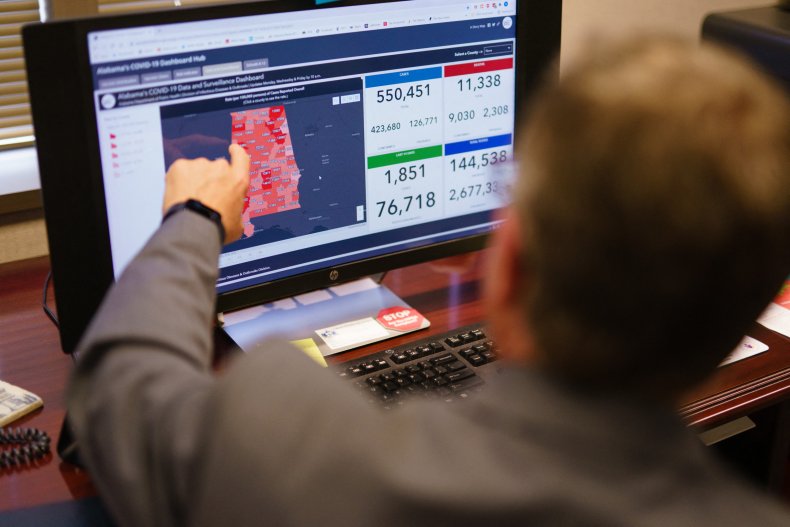 The seven-day rolling average of daily new cases in Alabama has nearly tripled over the past two weeks, rising from 540 new cases per day on December 11 to 1,586 new cases per day on December 25, according to researchers at Johns Hopkins University.
The number of hospitalizations is up by nearly 200 over the last two weeks but lower than during the previous two pandemic peaks, when there were as many as 3,000 COVID-19 patients in state hospitals, and the state was seeing more than 4,000 new cases reported each day.
Dr. Jeanne Marrazzo, director of infectious diseases at the University of Alabama at Birmingham, last week said places with low vaccination rates will be faced with "crushing demand on the health care system" as Omicron spreads, even if it isn't as deadly as earlier versions of the virus.
The Associated Press contributed to this report.
About the writer
A 2020 graduate of Kent State University with a Bachelor's degree in Journalism, Aaron has worked as an assigning editor and reporter for KSU's student-run newspaper The Kent Stater, as well as a News Intern with WKSU Public Radio, Kent State's local NPR affiliate.