18 Portland Protesters Face Federal Charges for Courthouse Demonstration
Law enforcement officials have arrested and charged 18 individuals in connection with violent protests in Portland, Oregon, according to a Friday statement from the U.S. Department of Justice.
Demonstrations against racism and police brutality sparked by the May death of George Floyd have occurred in Portland for over 50 consecutive days. Some protests have centered around the Mark O. Hatfield Federal Courthouse. Although a fence was placed around the building, protesters have at times breached the barrier to break windows and spray graffiti on the front columns. Fireworks and other projectiles have been thrown at the courthouse and the officers assigned to protect the property.
"U.S. Marshals Service deputies and officers from the Federal Protective Service, Homeland Security Investigations, and U.S. Customs and Border Protection working to protect the courthouse have been subjected to nightly threats and assaults from demonstrators while performing their duties," read the statement.
According to U.S. Attorney Billy Williams, the 18 demonstrators were arrested for alleged criminal conduct, including failing to comply with a lawful order and assaulting a federal officer, during protests that occurred Monday through Thursday.
Newsweek reached out to the office of Oregon Attorney General Ellen F. Rosenblum for comment.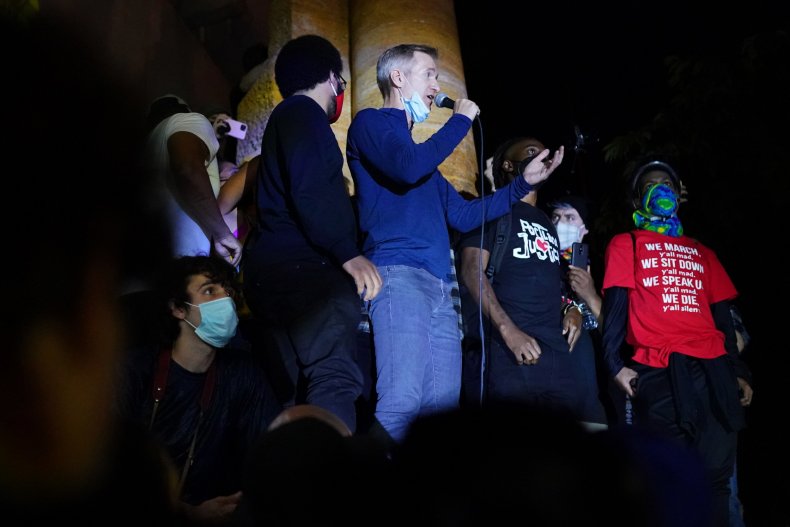 Referring to the demonstrators as "anarchists," President Donald Trump authorized federal agents to assume law enforcement duties in Portland in July to the consternation of some Democrats and local leadership.
Portland Mayor Ted Wheeler asked for the agents to be removed, saying their presence in the city had increased the violence and vandalism in the city.
Wheeler spoke to protesters in front of the courthouse on Wednesday, saying that the federal agents were "not properly trained to be here. And we're asking them right at this moment, we're demanding that they leave."
As the crowds grew, Wheeler was among the protesters teargassed by federal agents employing a crowd dispersion tactic. In a Thursday tweet, Wheeler called the actions of the federal law enforcement agents "unconscionable and un-American."
Senate Minority Leader Chuck Schumer said during a Tuesday news briefing that Trump's response to the violence in Portland was a "despicable" distraction from other issues.
"He can't solve the COVID crisis," Schumer said. "Testing is a mess. The whole country realizes he's an abject failure. So he tries to do a diversionary thing."
Trump is expected to send federal agents to Chicago to assist local law enforcement officers with controlling violence in the city. Trump has called Chicago a "disaster," citing a rash of shootings.
"The citizens of Chicago are citizens of America and they have the same right as every other American to live in safety, dignity and peace," Trump said Wednesday. "No mother should ever have to cradle her dead child in her arms simply because politicians refuse to do what is necessary."
After initially opposing the presence of the federal agents in Chicago, Mayor Lori Lightfoot confirmed the plans with President Trump.
In a Thursday statement, Lightfoot said the agents would join existing law enforcement operations and be coordinated through the office of the U.S. Attorney. "The Mayor has made clear that if there is any deviation from what has been announced, we will pursue all available legal options to protect Chicagoans," the statement said.