Teen's Tonsillitis Revealed To Be Cancer After He Collapses at Hospital
A teenager who was told by doctors that he had tonsillitis was later diagnosed with a rare form of blood cancer.
Jordan Grainger, now 18, from Chelmsley Wood in the West Midlands region of England, began feeling sick over the Christmas period toward the end of 2021 and was rushed to hospital on December 26, according to a GoFundMe page set up by the family.
There, doctors said he had tonsillitis and prescribed him antibiotics. But over the next week or so, Grainger's condition worsened and he was taken back to hospital. While the family were in the waiting room, the teen collapsed and he was rushed to the ER.
The teen subsequently underwent blood tests and a bone marrow biopsy, which revealed the cancer. On January 12, 2022, Grainger and his family were told he had acute myeloid leukemia (AML).
AML is a type of blood cancer where the bone marrow makes a large number of abnormal blood cells. Bone marrow is the soft inner part of bones where new blood cells are produced.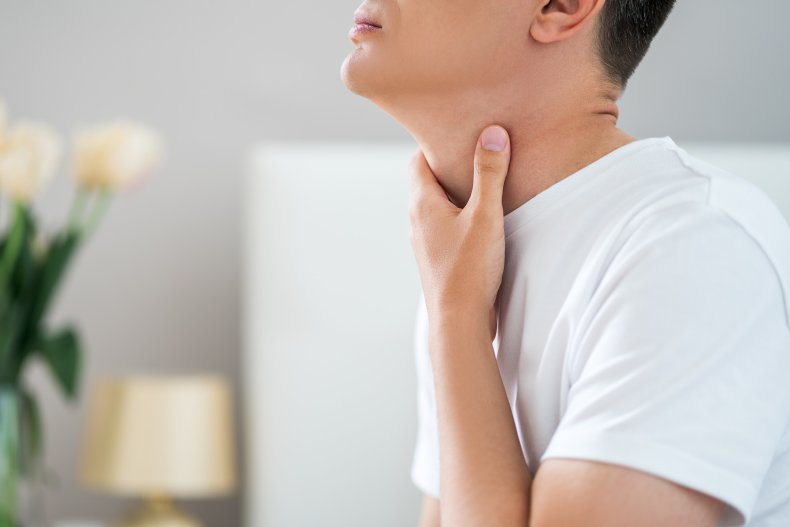 AML is one of the most common types of leukemia in adults. But it is still relatively rare, accounting for only about one percent of all cancers, according to the American Cancer Society.
It tends to affect older people and is uncommon before the age of 45, with the average age of patients being around 68. But the disease can affect people of all ages, including children.
According to the National Cancer Institute, an estimated 20,240 new cases of AML were recorded in 2021 in the U.S.
The cancer can develop fairly quickly and usually needs to be treated as soon as possible after diagnosis.
Grainger began treatment just a few days after his diagnosis, undergoing a week of intensive chemotherapy. The teen ended up spending six weeks in hospital, during which time he turned 18.
Grainger's aunt, Nicola Middleton, said in the GoFundMe page: "His parents have been by his side during this time spending three weeks each living at the hospital, juggling work and looking after [their] other two children."
He was eventually allowed to return home but he wasn't able to leave his room and had to shield as much as possible due to the risk of infection. The results of a biopsy later showed that his cancer was in full remission.
The teen subsequently began consolidation chemotherapy, which involved another three days of treatment, with the aim of preventing the cancer from returning.
But on March 21, the family were told that Grainger would have to have a bone marrow transplant to replace damaged cells with healthy ones.
Middleton told BirminghamLive: "This is a very traumatizing time for the family and the next three to six months are a critical time for Jordan while he goes through the transplant with many possible complications along the way but hopefully light at the end of this dark tunnel."
Middleton, who set up the GoFundMe page, is trying to raise £5,000 (around $6,550) for the family to help them get them get through the next few months.
"They are a family who have always been there for everyone else and I'm hoping now that everyone will help them out in this time of need. Jordan's dad is too proud to ask for help and never asks for anything," she said.