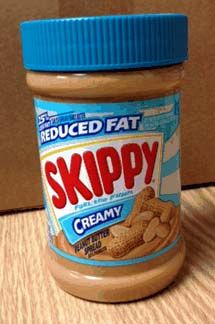 If you're a fan of peanut butter, check your next spoonful carefully before digging in: 1,871 pounds of Skippy Reduced Fat Creamy Peanut Butter Spread were recalled this week over fears the jars might include metal shavings.
Hormel Food Sales LLC, the parent company of Skippy, voluntarily recalled 153 cases with the UPC code 37600-10500. The best-by date on the jars affected is DEC1416LR1.
The jars in question were sold in Georgia, Virginia, Alabama, North Carolina, South Carolina, Delaware and Arkansas in Publix, Target and Walmart stores.
"The company is issuing the recall to ensure that consumers are made aware of the potential hazard. No reports have been received to date of any consumer injuries or complaints," the FDA said in a statement.
Anyone with an affected jar can bring it to the store where it was purchased for an exchange.