Episode 5 of 1883 tugged at the heartstrings as Elsa experienced extreme highs and lows dragging her into adulthood.
More camp unrest after last week's river crossing resulted in the group getting smaller on their journey west.
Shea and Thomas tried to rally the campmates once again and each member of the Dutton family lost their temper in one way or another.
Episode 5, "The Fangs of Freedom," is available to watch on Paramount+ now.
Here's a recap of all the major events during Episode 5 of 1883, starting with Elsa's huge swings in fortune.
Elsa Dutton's Love and Loss
As always, Elsa (Isabel May) opens the episode with her narration. She suggests cities have weakened us because life out in the wild forces you to stay strong and smart.
Her voiceover gives viewers an insight into how far they've traveled as they're still in Texas, but since they crossed the river they've gone from the "land of no consequence" to the "land of no mercy."
Still beaming from her first kiss with Ennis (Eric Nelsen), they take their relationship to the next level, and then some, during Episode 5. He begins the episode in protective fashion by warning her they have to stay close because there are bandits in the area.
After admitting to her mother Margaret (Faith Hill) that she kissed Ennis and that she loves him, Elsa receives a lesson in love and sex. Margaret explains everything to her while they bathe in the river, which leads to an incredibly endearing scene when a shy and nervous Ennis comes to fetch them.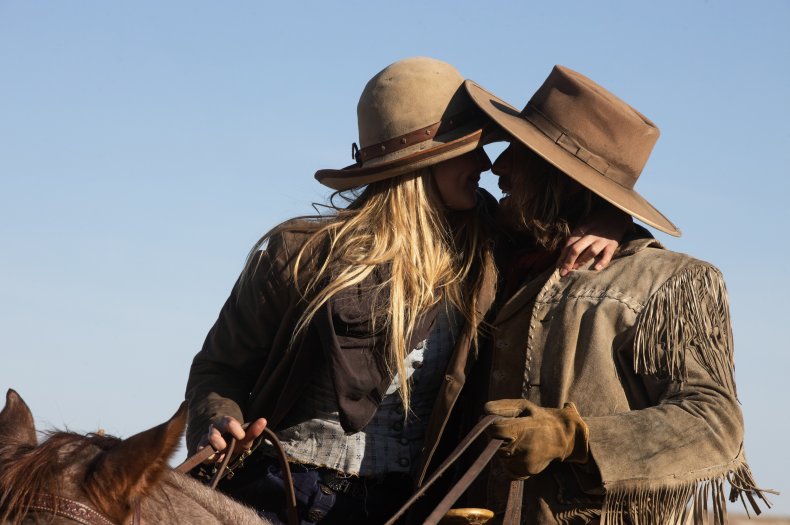 Later on, armed with her new knowledge of the human body, she seeks out Ennis, and the pair head out to a private spot where they fumble their way through removing each other's clothes. While discussing the oncoming moment, Ennis tells her that he knows what to do but that he is pretty much a virgin as well.
Unfortunately for them, they didn't move far enough away from the camp and everyone heard them, including Elsa's father James (Tim McGraw).
The morning after, Elsa's smile fades as Margaret scolds her for being so rash, and warns her that if she's pregnant she'll have to raise the baby herself. She rushes off to ask Ennis if he'd help raise a child, and he instantly lights up at the suggestion. Elsa announces in that moment that she's going to tell her father that she and Ennis are getting married.
James is less thrilled with the notion and before he can hear Elsa's plan, he beats Ennis off his horse but his stance softens when he realizes their love is real. The scene shows men's attitude towards women in that time period, as they both speak about Elsa as if she's an object to be owned. The moment is still sweet enough, as James tells Ennis "that's my heart you're running off with, and you better cradle it like an egg."
Their life as an engaged couple is short lived as the bandits' arrival at the camp has deadly repercussions.
Bandits in the Wild West
1883 showcased perhaps its most brutal shootout yet in Episode 5 as bandits threaten the already depleted traveling group.
Shea (Sam Elliott), Thomas (LaMonica Garrett) and James help designated leader Josef (Marc Rissman) expel two men who'd been stealing food from the other campmates. One of the men left behind with the evicted group, has his throat slit and his camp ambushed by the bandits.
Knowing a fight is coming, the protectors of the group set a trap, using Josef and his wife as bait. They successfully lure in a lone bandit, and the couple combine to shoot him, with a distraught Risa (Anna Fiamora) screaming, "What is this place?"
Meanwhile, James, Shea, Thomas, Ennis and Wade (James Landry Hébert) give chase to the remaining bandits who start to flee on horseback. The shootout lasts several minutes and they head towards where the rest of the camp are based. Margaret once again shows her mettle by taking aim and shooting one of the bad guys off his horse.
Ennis breaks away from the pack to warn his beloved Elsa, who is alone watching the cattle, to keep her pistol by her side. He rides back to the fight and comes face to face with one of the remaining assailants. They exchange shots and seem to hit each other with a bullet at the same time.
As soon as Ennis' body is rolled over, you can see his time is up as his mouth is filled with blood after a shot to the heart. His last words, spoken to James Dutton, are "I loved her."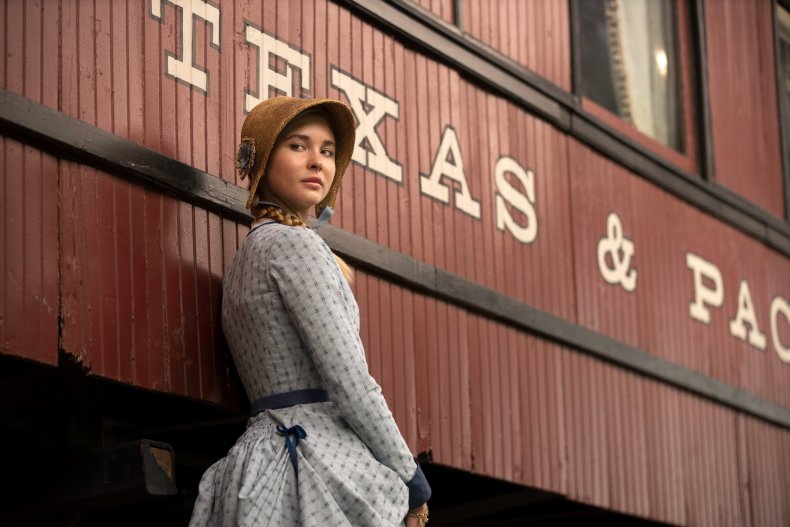 In hindsight, in the unforgiving world that they find themselves in, it was inevitable that Elsa's happiness wouldn't last. She approaches Ennis' body and shrieks at the top of her lungs. Fuelled with rage, she approaches one of the captured bandits and shoots him in cold blood before returning to Ennis body and cradling into him.
From an early scene at the start of the series, we know that Elsa goes on to become a fighter who has no problem pulling the trigger in a fight. This ruthless streak perhaps starts here as she becomes more and more like a character similar to her future family member Beth Dutton from Yellowstone.
Food Issues for the Camp
Everyone else takes a backseat in Episode 5 of 1883 as Elsa and Ennis' tragic love story took center stage.
During Episode 4's river crossing, we saw one of the camp's wagons get washed away. Unfortunately, Thomas confirms this was the food wagon which will put a strain on everyone for a while. Shea and Thomas agree to share their rations but James reluctantly agrees, and will want payment from Shea in return.
As we've seen, many people have died already in the first four episodes of 1883, and we also got an official tally of all of the travelers lost so far.
Eight men, six women and four children have died during the journey, and when Shea expels more people from the group, the total number lost seems to be 36 people.
Episode 6 of the Yellowstone spin-off 1883 airs on Paramount+ on Sunday, January 30.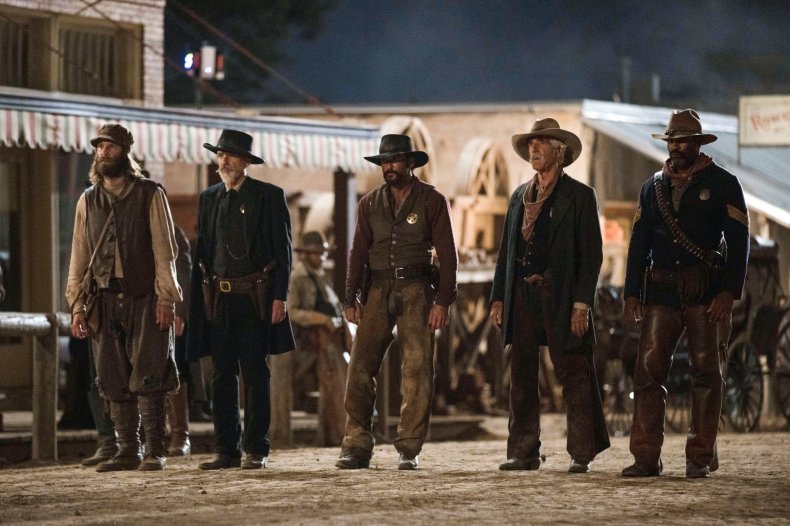 Update 01/18/2022, 2:43 a.m. ET: This article was updated to reflect the new release date of Episode 6.