All the Unusual Deaths Seen in '1883' Episode 3
If it wasn't already obvious, the Old West was a ruthless place, and that's shown explicitly in the latest episode of 1883.
Episodes 1 and 2 showed that there was plenty of death and murder encountered at that time in America, but Episode 3 shows that there's even more imaginative ways for people to lose their lives when traveling across the Oregon Trail in the 19th century.
Sam Elliott once again shines in 1883 while Tim McGraw proves fearsome as James Dutton, the grandfather of Kevin Costner's John Dutton in Yellowstone. Life gets testing for the travelers on the trail, and tempers flare between some of the German immigrants and a widowed woman.
Episode 3, "River," opens with an unflinching look at death. Here's a look at the different ways people died in the latest installment of the Yellowstone prequel series 1883.
All the deaths in 1883 Episode 3 explained
"River" opens with the wagons stuck in a traffic jam, because one of the wagon's wheels is stuck in the mud. A poor man trying to dislodge the wheel moves to the front to push. On horseback, Shea warns him not to do it but at that moment, the wagon moves again and he's crushed under the weight of the second wheel. You hear the crack of his bones and his body twitches as he lies unconscious on the ground.
Elsa's (Isabel May) voiceover kicks in after this first death to remind the audience that "death is everywhere on the prairie, in every form you can imagine, and a few that your worst nightmares couldn't muster."
Next we see a man die when the back wheels of his wagon break off and he's thrown from his vehicle.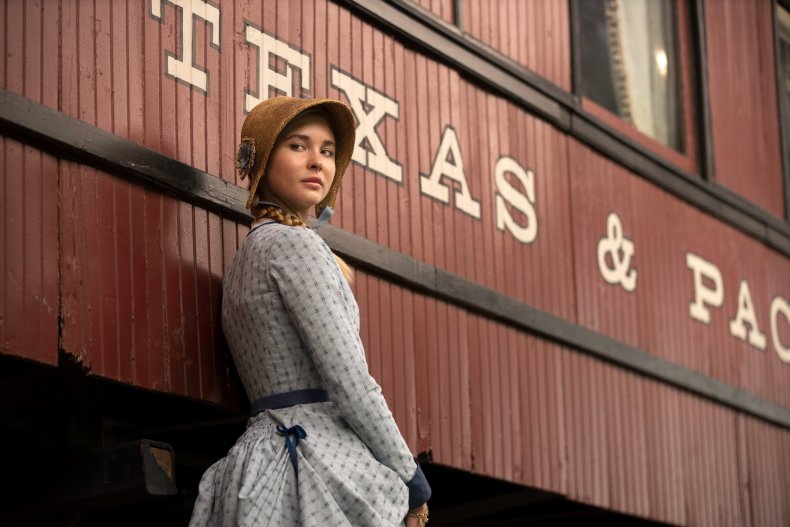 Next a crowd runs towards a man who is being attacked by an animal, perhaps a coyote or a wolf. We only see a glimpse but the animal appears to be winning this fight with the man until James Dutton arrives and shoots it dead.
So far we'd only seen men die but the final on screen death in this morbid montage shows a young girl meeting her end in an extremely cruel manner. She squats down by a tree to go to the bathroom, but a rattlesnake who's lurking nearby jumps out at her and bites her exposed bottom. She runs off in pain but it appears the damage is done.
Showing her fate, the next scene sees every member of the traveling party standing around as her grave is being dug—her body lies pale and motionless beneath a sheet.
Shea Brennan is particularly affected by the death as his wife and daughter had previously died after contracting smallpox.
What else happened in 1883 Episode 3?
Death nearly came to a group of German men in the camp as they got on the wrong side of Shea. They stole from a widowed "gypsy" woman, but Shea beat them to get the items back. Later, he is forced to challenge one of them to a shootout and seems to exercise all of his restraint when he lets his foe live.
The episode is called "River" because the travelers are faced with the dangerous prospect of crossing a river. Shea and James initially can't agree on a route through or around but they eventually agree to try heading further west.
Young John Dutton (Audie Rick) is taught by his father how to hunt and kill a dear. The young man learns a life lesson and successfully performs his first kill.
One man who should be wary of his surroundings is young cowboy Ennis (Eric Nelsen). He and Elsa continue to flirt throughout and her father James graciously allows Ennis to court his daughter. Ennis makes an ill-timed joke to James which sours the moment and reminds him that he's dealing with the daughter of a very dangerous man.
New episodes of 1883 are released every Sunday on Paramount+.