'1883' Episode 8 Recap: Elsa Gets Married and James Takes Control
The Dutton family's story continued with more unexpected twists and turns in the latest episode of 1883 on Paramount+.
The remaining travelers who survived the tornado, just 26 adults and 22 children at the last count, pushed further on into the unknown lands of 19th century America—but they almost did it without two integral members of the group.
Margaret watched on in horror as Elsa (Isabel May) gained true independence from the family while Shea (Sam Elliott) and James (Tim McGraw) reached an agreement on who leads the pioneers to Oregon.
Episode 8 of 1883, titled "The Weep of Surrender" featured a lot less action than the previous episode which was filled with death, tornadoes, shootouts and bandits.
Elsa Finds a New Family
Elsa's heartbreak from the loss of poor Ennis appeared to last a full three episodes as the 18-year-old cemented a new love in "The Weep of Surrender."
The entire camp spend three days recovering from the tornado and the bandit shootout from Episode 7, "Lightning Yellow Hair."
Just a few wagons remained and the survivors attempt to salvage any materials they can. It's up to the leaders of the group to round up all of the horses who escaped during the mayhem, which they achieve with the help of Sam (Martin Sensmeier).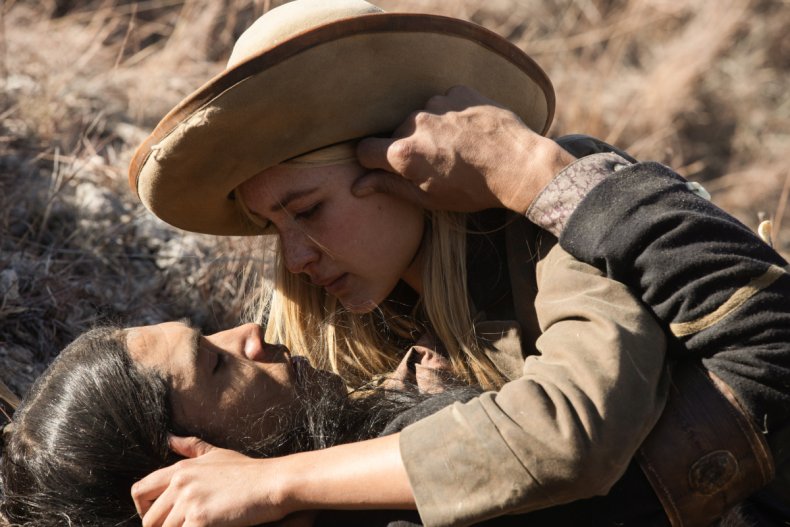 While rounding up the mustangs, Elsa rips her pants because as Sam puts it, she "rides too good for white man pants." He takes her to the Comanche camp where a seamstress makes her some bright yellow chaps, complete with tassels. More so than ever, she looks like a "real cowboy" now according to Wade.
As the group prepares to move on, it becomes clear that Elsa has no intention of leaving as she and Sam have fallen in love. Sam gleefully offers a horse to James as a peace offering for marrying his daughter. Margaret (Faith Hill) is distraught at the idea of letting her go, but James seems resigned to the fact that Elsa has made up her mind.
Later, Elsa and Sam spend the night together which shows this isn't a flash in the pan romance, and that the pair are serious about their relationship. Elsa tells her mother just as much the next morning, but agrees to ride with them to Oregon before eventually returning to Sam.
Elsa gets an unflinching insight into what life will be among the Comanches as she kills her first buffalo. Sam then invites her to eat the animal's heart so she can draw on its strength.
She returns to camp with blood smeared around her mouth to the shock of her mother, but to the delight of the rest of the tribe.
Shea and James Change Roles
While Elsa was growing stronger with Sam, Shea's position as camp leader grew weaker.
As 1883 progresses, we are getting more of a feel that Shea knows his time on this earth is coming to an end. While saying goodbye to his friend Charlie Goodnight, a real life cowboy played by the show's creator Taylor Sheridan, Shea tells him this is his last trail.
As the group were slowed down by the tornado, and with just eight wagons to their name, Shea informs the European immigrants that they should change course to Denver to avoid traveling during winter. Since Denver was not a free land back then, Josef (Marc Rissmann) tells him that's not an option, and luckily James offers an alternative.
James will now lead the group on to Oregon, but he warns them he'll do so without babying everyone. Shea looks set to head to Denver on his own but Thomas (LaMonica Garrett) and Elsa convince him to carry on to Oregon with them.
Shea consoles James after he hears the news about his daughter and Sam, and he also informs him he'll amicably step back and let James lead.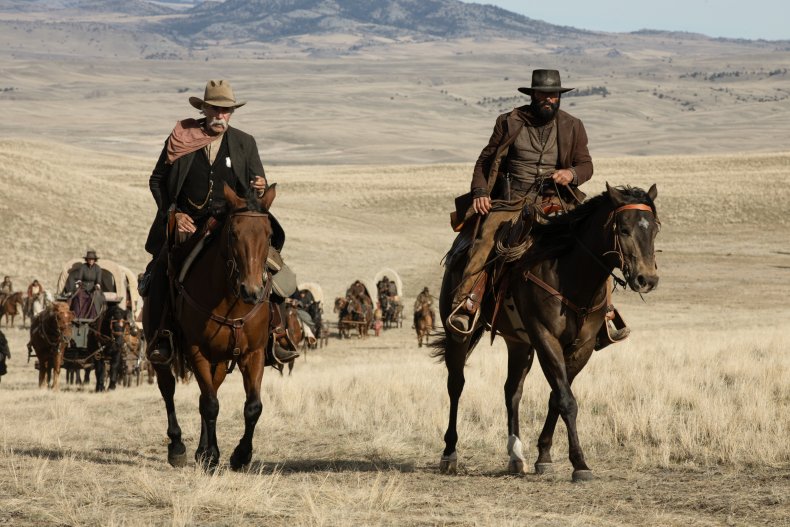 With their limited resources, only the very young and the very old can ride in the remaining wagons. Everyone else will have to either travel on foot, or learn how to ride a horse. Thomas continues his role as the protector of Noemi (Gratiela Brancusi) by teaching her the intricacies of riding a horse.
Towards the end of Episode 8 we see Elsa and Sam prepare to part ways. He teaches her phrases in his language like "I love you" and how to say her given name "Lightning Yellow Hair."
The lovers depart, with Elsa now heading north wearing her new Native American clothing. As he rides away she screams that she loves him in his language. He returns and excitedly declares that she is now the wife of a warrior, and that she is a warrior.
They part ways, agreeing to meet back up on that spot in June. Shea and James look forward to the road ahead and see that someone has buried their dead nearby. Luckily there are wagon wheel tracks to follow, meaning a group up ahead has already made the treacherous journey.
The penultimate episode, Episode 9, of 1883 will be available to watch exclusively on Paramount+ on Sunday February 20.