19 High School Students Catch COVID-19 After Attending Graduation and Prom
Novel coronavirus cases in Missouri have surpassed 34,100, with new infections reported following a high school graduation and prom event held in the city of O'Fallon.
Nineteen students at St. Dominic High School tested positive after attending an outdoor graduation ceremony held on July 8 and a prom event held offsite two days later. Two outside guests who attended one of the events were also reported to have been infected, the school confirmed in a statement.
"We took steps recommended by health officials in executing both of these events," the statement said.
Those who tested positive were reported to have shown symptoms after the events. Every family with children who attended either event was notified when the school was made aware of the first positive case.
All student activities have been canceled by the school through August 9 "out of an abundance of caution."
Classes are scheduled to resume on August 17 and the school "will continue to monitor the situation and will determine any further measures that need to be taken," the statement added.
This week, Missouri Gov. Mike Parson defended his decision to have children return to school even if infections classrooms surge.
He explained he is certain kids returning to schools will get infected with the virus but they'll also "get over it" by resting at home for a few days.
New cases in Missouri have been mostly increasing from around May 11, just days after its stay-at-home order expired and businesses began reopening on May 4.
Several large spikes have been reported since then, including 966 new cases reported on July 18, the state's highest daily case count since the outbreak began.
Total new cases in Missouri have surged over the past couple of weeks. The state reported 5,813 total new cases from July 14 to 20, a 42.5 spike percent from the 4,078 total new cases reported from July 7 to 13, according to Johns Hopkins University.
There are reported to be 27,487 active cases (those currently infected who are being treated in hospital or recovering at home) on Monday, which accounts for over 80 percent of the state's 34,102 total confirmed cases to date.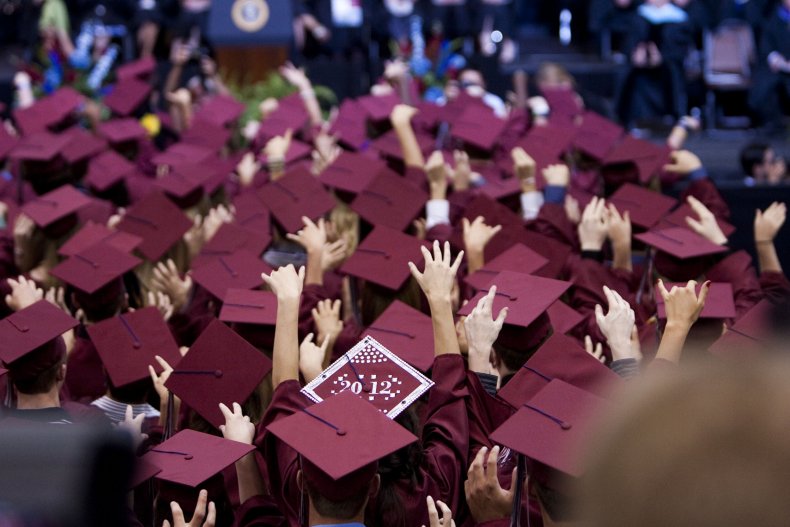 Back in April, Parson claimed: "We are successfully flattening the curve. With the help of all Missourians, our plan is working. The health care system is not overwhelmed and we are winning the battle."
Over 14.7 million people across the globe have been infected since the virus was first reported in Wuhan, China, including 3.8 million in the U.S. More than 8.3 million globally have reportedly recovered from infection, while over 610,500 have died as of Tuesday, according to the latest figures from Johns Hopkins University.
The graphics below, provided by Statista, illustrate the spread of COVID-19 cases in the U.S.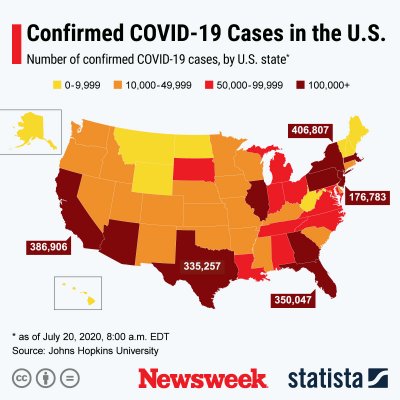 The graphic below, provided by Statista, illustrates the U.S. states with the most COVID-19 cases.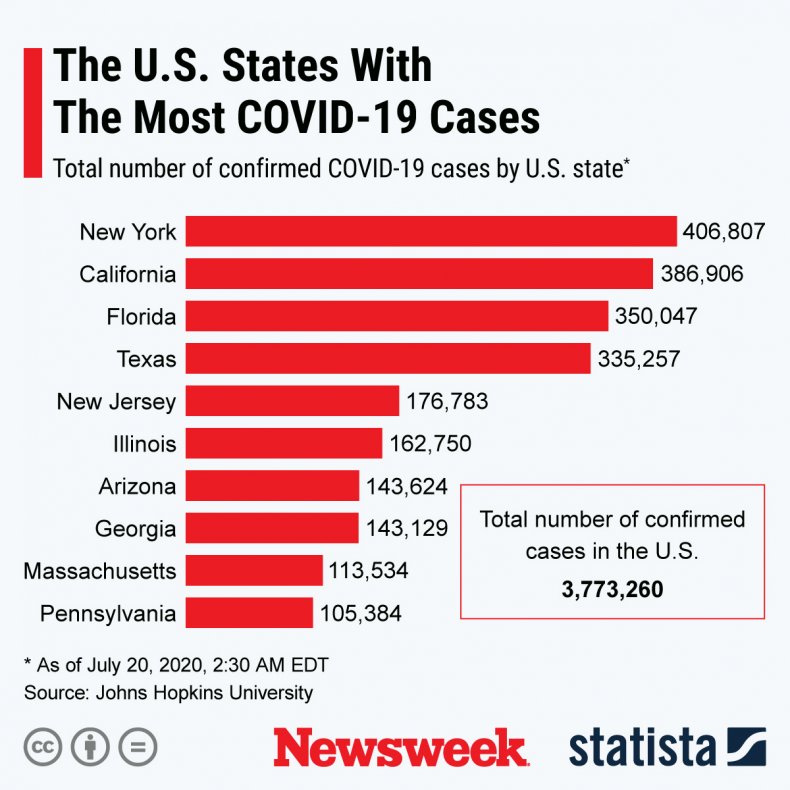 The graphic below, provided by Statista, illustrates the number of new COVID-19 cases in the U.S. states and the European Union.