19 Test Positive for Coronavirus at Maine Construction Site Outbreak
Nineteen newly confirmed coronavirus cases in Maine have been linked to a worksite building Maine Veterans' Homes residential care facility in Augusta, according to Nirav D. Shah, director of the Maine Center for Disease Control and Prevention (Maine CDC).
The Maine CDC is now investigating, and the workers from the site are under quarantine. The work site is run by Cianbro, a northeast regional construction company that partnered on the project with VJS Construction, a Wisconsin-based construction company.
In a Friday afternoon news conference, Shah said he wasn't sure where on-site workers contracted the virus, how the virus might have spread amongst construction workers nor whether out-of-state contract workers might've imported the virus, according to the Portland Press Herald.
"It may not have been the worksite that was the place of transmission, but it could have been the fact that [the workers] were rooming with one another, or socializing with one another," Shah said on Friday. "Our epidemiologists are in the process of interviewing folks."
The worksite is a $91 million, 138-bed facility that will replace the Maine Veterans' Homes 150-bed nursing home in Augusta. The facility is expected to open in 2021. It's unclear what steps the construction companies might've taken to reduce workers' possible coronavirus exposure.
Newsweek reached out to Cianbro for comment. This story will be updated with any response.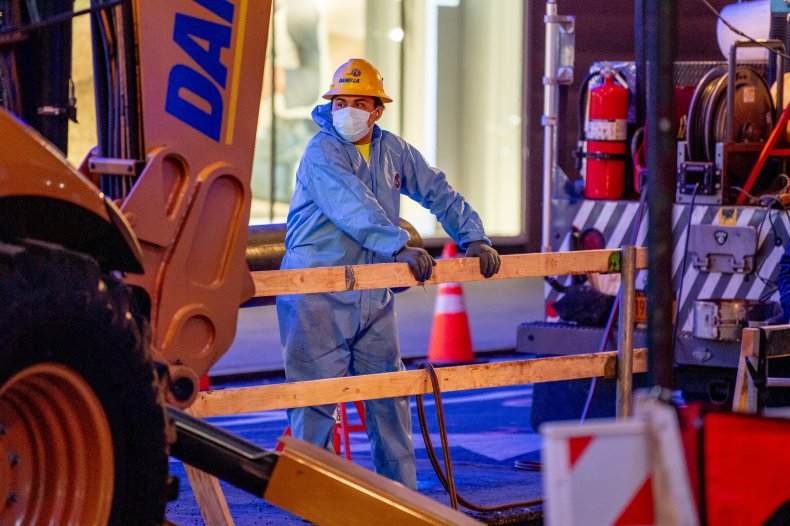 "If people think this isn't happening at other job sites across the state, they aren't paying attention," Jason Shedlock, executive director of the Maine State Building and Construction Trades Council, a group representing 5,000 workers and 17 trade unions, told the aforementioned publication.
Shedlock mentioned that construction companies and general contractions have an obligation to protect their workers, whether these workers are represented by a union or not. Some worksites have installed hand sanitation stations and scheduled shifts so that laborers won't have to work too closely to one another.
Governor Janet Mills' March 24 executive order ordering the shutdown of all nonessential businesses didn't explicitly apply to construction companies since worksites aren't "publicly facing" businesses that accept walk-in customers. During the state lockdown, construction contractors traveled into the state without observing a 14-day self-quarantine required of other travelers.
According to the state business news website Maine Biz, the last large outbreak of cases in the state occurred in April when 51 out of 403 employees and subcontractors at the Tyson Foods plant in Portland tested positive for COVID-19.
As of May 18, Maine has had 1,687 confirmed coronavirus cases and 70 deaths, ranking 44th among U.S. states hit hardest by the epidemic.