More than a dozen people were fatally shot in Chicago over the holiday weekend, including a 19-year-old member of the National Guard.
Chrys Carvajal was shot and killed this weekend on the city's northwest side, his family confirmed to the Chicago Sun-Times. Carvajal joined the National Guard in 2020 after graduating from high school, the newspaper reported.
"We are all very upset and we're heartbroken," Carvajal's sister Jennifer Ramirez told the Sun-Times. "My mom, she's really devastated, too. She's been crying. She has a sore throat because of all the crying, she's just heartbroken."
Police officers found the teen unresponsive with gunshot wounds to the back and abdomen around 1:25 a.m. on Saturday. He was transported to Illinois Masonic Medical Center, where he was pronounced dead.
The Illinois National Guard confirmed to Newsweek that Carvajal recently completed Army basic training and was a member of Lima Company, Recruit Sustainment Program, Recruiting and Retention Battalion. He was to be assigned to a transportation unit.
"Our hearts go out to Private 1st Class Carvajal's family and friends. Although he was new to the military, he took a sacred oath to protect both our state and nation. Our thoughts are with his loved ones after this sudden and terrible loss," the Illinois National Guard said in a statement.
The organization added that Carvajal was off-duty at the time of his death, and the investigation will be handled by civilian law enforcement.
Carvajal was one of 14 people fatally shot in Chicago over the Fourth of July weekend, according to the Sun-Times. More than 80 people have been injured in shootings since Friday night.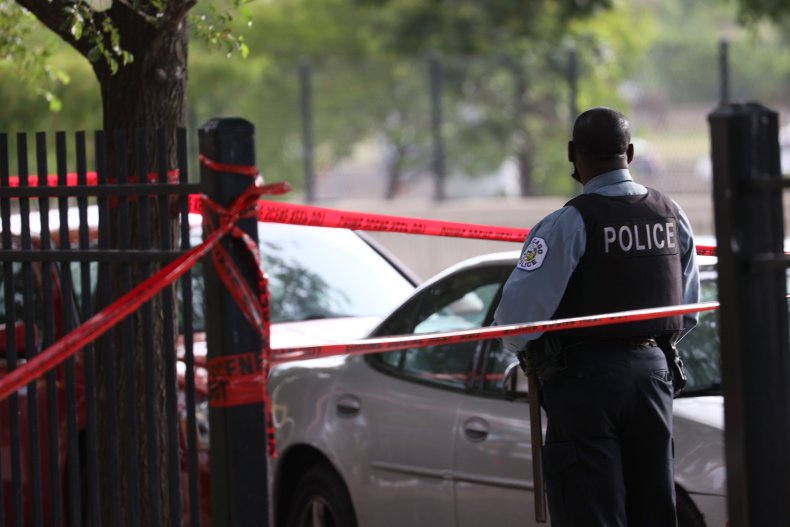 Two Chicago police officers sustained gunshot injuries while dispersing a crowd in the city's 15th police district early Monday morning. Both officers were transported to John H. Stroger, Jr. Hospital with non-life-threatening injuries.
"Thankfully, they will be all right," police Superintendent David Brown wrote in a Twitter post. "So far this year, at least 33 #ChicagoPolice officers have been shot at or shot protecting Chicago. God bless the brave men & women of CPD."
Last week, Brown told members of the city council that the Fourth of July holiday is "predictably our most challenging weekend of the year."
"This year is no exception," the superintendent said.
The police department's plan for the weekend was to focus on 15 violence-prone areas of the city and provide targeted protection for commercial districts. Days off were also canceled for officers, who began working 12-hour shifts on Friday morning.