100,000 Still Homeless in Gaza As Aid Fails to Materialise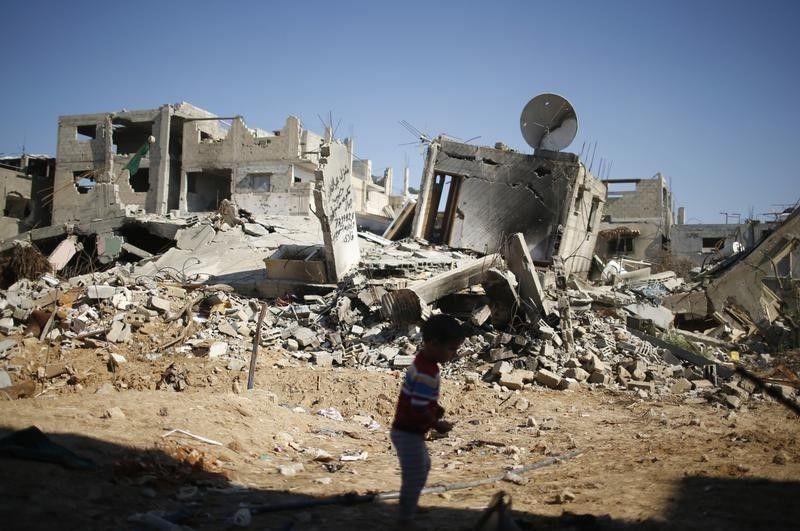 A new report signed by over 40 aid agencies has condemned the lack of international aid that has materialised for the Gaza Strip in the aftermath of a $3.5bn pledge from donors to rebuid the enclave after last summer's conflict with Israel.
The report, titled Charting a New Course: Overcoming the stalemate in Gaza, reveals that not a single one of the 19,000 destroyed homes in the conflict has been rebuilt with the promised aid and 100,000 Palestinians remain homeless eight months after the conflict's conclusion.
The reports adds that only 26.8% of the international aid pledged by donors six months ago has been released to assist the reconstruction effort in the territory which remains under an Israeli blockade.
The restrictions placed on the territory by Israel mean that, even when the funds have been released for reconstruction, the vital materials needed for such projects have not been permitted into the enclave due to Israeli security concerns that militant factions such as Hamas and Islamic Jihad will use the materials to construct smuggling tunnels.
"The promising speeches at the donor conference have turned into empty words.There has been little rebuilding, no permanent ceasefire agreement and no plan to end the blockade," said Winnie Byanyima, executive director of the international charity Oxfam.
"The international community is walking with eyes wide open into the next avoidable conflict, by upholding the status quo they themselves said must change."
Because of the lack of aid released by the international donors, the majority of the 81 health clinics and hospitals damaged in the conflict still do not have the funds to be rebuilt. Some of the aid agencies called for the blockade to be removed entirely.
"The world is shutting its eyes and ears to the people of Gaza when they need it most," said Tony Laurance, chief executive of Medical Aid for Palestinians (MAP UK), in the report. "Reconstruction cannot happen without funds, but money alone will not be enough. With the blockade in place we are just reconstructing a life of misery, poverty and despair."
In last summer's 50-day conflict, over 2,100 Palestinians - at least 1,585 civilians of which 530 were children - were killed, according to UN and Palestinian accounts, and 72 Israelis - all but five who were soldiers - were killed, according to Israeli authorities.
Last month, it was revealed that Qatar is mediating a long-term truce between Israel and Hamas, with Qatar's top diplomat in the region and representative in the Gaza Strip, Muhammad al-Ahmadi, engaging in shuttle diplomacy, meeting with senior Israeli and Hamas officials in the hope of brokering a ceasefire deal, sources from both Gaza and the West Bank city of Ramallah told the Times of Israel.