19,000 Unaccompanied Kids Crossed U.S. Border in March, Largest Number Ever, as Biden Grapples With Crisis
Government officials announced on Thursday that nearly 19,000 unaccompanied minors traveled across the southern U.S. border in March—the largest number ever seen in a month.
According to U.S. Customs and Border Protection (CBP), authorities saw 18,890 unaccompanied children last month.
The number is at least 60 percent higher than the previous record of 11,494 set in May 2019 during the Trump administration, as well as the 10,620 in June 2014. The U.S. Border Patrol began publishing these figures in 2009.
One key difference is that most of those crossing the borders tended to be Mexican adults in the past.
A major influx of migrant youths at the border began after President Joe Biden took office earlier this year. The surge comes as Central Americans hope the new administration will be more welcoming to migrants than the previous one, especially in the wake of a hurricane that hit the area last November, which added to the poverty and violence that were already driving people to seek asylum elsewhere.
Biden has promised that migrant children will not be turned away at the border and will be placed in federal shelters until they can be reunited with family members in the U.S. while their asylum claims are being processed.
But the rise in migrant children traveling alone has presented a major test for the new president, who reversed many of his predecessor's hard-line immigration policies.
March's figures roughly doubled the 9,457 unaccompanied children seen by CBP in February and more than five times the 2,311 in March 2020.
In total, CBP had 168,195 encounters with migrants along the U.S.-Mexico border last month, with 52,904 encounters involving families. About one in three migrant families were expelled, while the rest were allowed to stay in the country to pursue asylum claims.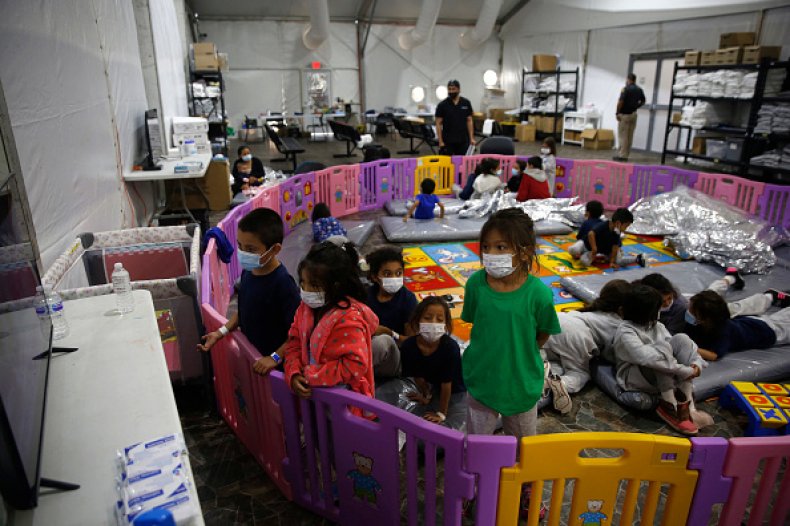 Border Patrol facilities have become overwhelmed, especially since agents aren't allowed to hold people for more than 72 hours but are often forced to do so because of a lack of resources or slow processing times.
The Biden administration has scrambled to find more facilities and staff to help care for the children until they can be placed with their sponsors.
Under law, CBP must transfer unaccompanied children to the U.S. Department of Health and Human Services (HHS) within three days, but last week more than 2,000 children were held longer than that at a tent complex in Donna, Texas. Thirty-nine of those children were there for at least 15 days.
In February, HHS opened its first temporary holding facility, in Carrizo Springs, Texas, and has also been paying for flights for the children to help limit their time in government custody.
Newsweek reached out to the White House for comment but did not hear back before publication.