'1923' Season 2 Expected Release Date, Plot and More
The first season of 1923 is coming to an end, but unlike its predecessor, 1883, this sequel will be getting a second season.
Taylor Sheridan has done it again after creating another wildly popular Yellowstone prequel series for Paramount+ which delves deeper into the backstory of the Dutton family in Montana. The first season of 1923, starring Harrison Ford and Helen Mirren, comes to an end with Episode 8 on Sunday, February 26.
Now that Season 1 is ending, fans can start speculating about what might occur in Season 2. The biggest question is, when will we see it?
Cast member James Badge Dale had previously told Newsweek what to expect from Season 2 of the show, and another recently confirmed they will be returning. Scroll down for more info on that.
Here's a spoiler-free guide on everything you need to know about Season 2 of 1923.
When Will Season 2 of 1923 Air?
Since the first Yellowstone sequel 1883 aired from December 2021 to February 2022, and the first season of 1923 aired in December 2022 to February 2023, one might assume that Season 2 of 1923 will follow a similar structure.
Newsweek contacted Paramount+ for confirmation of when Season 2 will air, but they're keeping their cards to their chests for now.
While it's likely there may be a long wait for the next season to arrive, there are other Yellowstone properties scheduled to drop in the meantime.
The second part of Yellowstone Season 5 is scheduled to air this summer, though there is no confirmed date for its return on Paramount Network. The events of Season 4 and 5 of Yellowstone have teased the location, but the Four Sixes Ranch in Texas will be the setting for 6666, which has been confirmed to arrive on Paramount Network in 2023.
Filming has just begun on Bass Reeves, a spinoff to 1883 which follows real life Black U.S. Marshal Bass Reeves, played by David Oyelowo. There's no release date scheduled yet.
Who Will Return in 1923 Season 2?
Barring a major disaster, a good number of the cast from Season 1 of 1923 will return for Season 2.
Whether or not he was supposed to, Harrison Ford confirmed during an interview on The Today Show in February that he'd be back for the second season. This marks a remarkable turnaround for his character who was seemingly at death's door after the events of Episode 3. While Ford's character nearly passed, James Badge Dale's John Dutton Sr. wasn't so lucky.
Before the season started, and before anyone knew his fate, Newsweek asked Dale, and his onscreen wife Marley Shelton, what to expect from Season 2.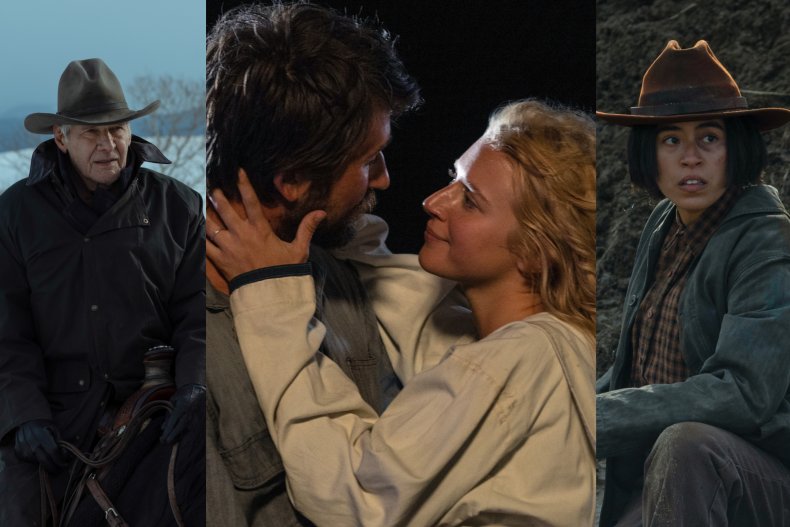 "I wish we could tell you more," Dale said. "What we're looking at here is a 16-hour movie. It's just so big and so grand, and Taylor [Sheridan], he loves his work and it's a work of passion."
Shelton added, "This format is incredible and lends itself to be able to do a much deeper dive into this time in American history, that you wouldn't get to tell in such a deep, epic way if it were a 90 or 120-minute movie."
Based on the characters alive in Yellowstone, we can assume certain characters will survive and return for Season 2. This includes Elizabeth Dutton, who is allegedly pregnant with John Dutton III's (Kevin Costner) father, Teonna Rainwater, who is a relative of Chief Thomas Rainwater (Gil Birmingham), while it seems inevitable that Spencer will have a major impact back in Montana in Season 2.