Read The 1970 Newsweek Article That Made Ken Burns Want to Go To Hampshire College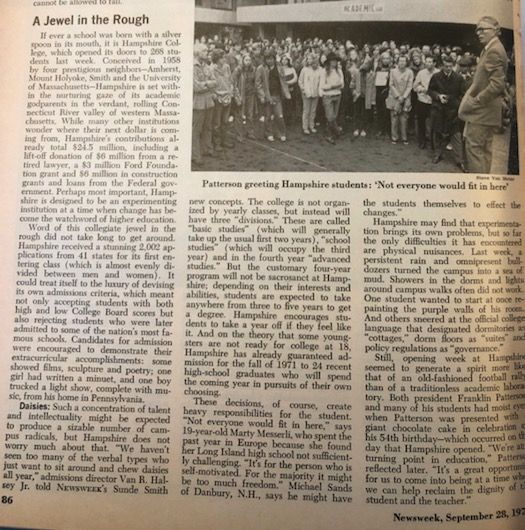 Filmmaker Ken Burns is speaking out about Hampshire College in a fundraising effort to help his alma mater through a difficult financial time. In 1970, a friend showed him a Newsweek article about Hampshire College, which led to him applying and eventually attending. That article, A Jewel in the Rough, is reprinted below.
A Jewel in the Rough
If ever a school was born with a silver spoon in its mouth, it is Hampshire College, which opened its doors to 268 students last week. Conceived in 1958 by four prestigious neighbors—Amherst, Mount Holyoke, Smith and the University of Massachusetts—Hampshire is set within the nurturing gaze of its academic godparents in the verdant, rolling Connecticut River valley of western Massachusetts. While many other institutions wonder where their next dollar is coming from, Hampshire's contributions already totally $24.5 million, including a lift-off donation of $6 million in construction grants and loans from the Federal government. Perhaps most important, Hampshire is designed to be an experimenting institution at a time when change has become the watchword of higher education.
Word of this collegiate jewel in the rough did not take long to get around. Hampshire received a stunning 2,002 applications from 41 states for its first entering class (which is almost evenly divided between men and women). It could treat itself to the luxury of devising it own admissions criteria, which meant to only accept students with both high and low College Board scores but also rejecting students who were later admitted to some of the nation's most famous schools. Candidates for admission were encouraged to demonstrate their extracurricular accomplishments: some showed films, sculpture and poetry; one girl had written a minuet, and one boy tucked a light show, complete with music, from his home in Pennsylvania.
Daises: Such a concentration of talent and intellectuality might be expected to produce a sizeable number of campus radicals, but Hampshire does not worry much about that. "We haven't seen too many of the verbal types who just want to sit around and chew daises all year," admissions director Van R. Halsey Jr. told Newsweek's Sunde Smith last week. "I guess that someone really upset with the system would go to a large university where he could voice dissatisfaction. Here, we would just say, 'OK, buddy, if you want to change things, get to work.'"
At Hampshire, where change is considered the very essence of the institution, the student body will be intimately involved in academic decision-making. Students will help design their own programs, which will include a heavy dose of independent study. They will even devise their own examination questions, aimed at eliciting what they and their faculty advisers think a student ought to have learned. (Hampshire officials promise that the exams will nonetheless be "rigorous.")
Hampshire, in fact, fairly bristles with new concepts. The college is not organized by yearly classes, but instead will have three "divisions." These are called "basic studies" (which will generally take up the usual first two years), "school studies" (which will occupy the third year) and in the fourth year "advanced studies." But the customary four-year program will not be sacrosanct at Hampshire; depending on their instincts and abilities, students are expected to take anywhere from three to five years to get a degree. Hampshire encourages students to take a year off if they feel like it. And on the theory that some youngsters are not ready for college at 18, Hampshire has already guaranteed admission for the fall of 1971 to 24 recent high-school graduates who will spend the coming year in pursuits of their own choosing.
These decisions, of course, create heavy responsibilities for the student. "Not everyone would fit in here," says 19-year-old Mary Messerli, who spent the past year in Europe because she found her Long Island high school not sufficiently challenging. "It's for the person who is self-motivated. For the majority, it might be too much freedom." Michael Sands of Danbury, N.H., says he might have skipped college completely but for Hampshire. "All the colleges I looked at seemed like an extension of prep school," he explains. "They reflected the same idea—the student is there to learn, the teacher to teach. Here everyone is learning and teaching together in an atmosphere of corporation."
Wellspring: The idea of student-teacher cooperation proved just as attractive to prospective faculty. Although Hampshire will not grant tenure to any teacher, it was inundated with more than 1,000 applications for its nearly 50 faculty places. "We found a great wellspring of people wanting change," says vice president Charles Longsworth, one of Hampshire's principal planners. "They start with the view that everything isn't fine. It's up to the faculty to set the direction—but up to the students themselves to effect the changes."
Hampshire may find that experimentation brings its own problems, but so far the only difficulties it has encountered are the physical nuisances. Last week, a persistent rain and omnipresent bulldozers turned the campus into a sea of mud. Showers in the dorms and lights around campus walks often did not work. One student wanted to start at once repainting the purple walls of his room. And others sneered at the official college language that designated dormitories as "cottages," dorm floors as "suits" and policy regulations as "governance."
Still, opening week at Hampshire seemed to generate a spirit more like that of an old-fashioned football rally than of a traditionless academic laboratory. Both president Franklin Patterson and many of his students had moist eyes when Patterson was presented with a giant chocolate cake in celebration of his 54th birthday—which occurred on the day that Hampshire opened. "We're at a turning point in education," Patterson reflected later. "It's a great opportunity for us to come into being at a time when we can help reclaim the dignity of the student and the teacher."