The 1975, Jeff Rosenstock and More Release New Music: What You Should Listen to Today
There's a staggering amount of new music released every Friday—so much so that it can be overwhelming to try and keep up. Luckily, we're here to help. Every week, Newsweek will highlight a handful of albums that are hitting streaming services, so you can always be up to date on the most exciting new releases.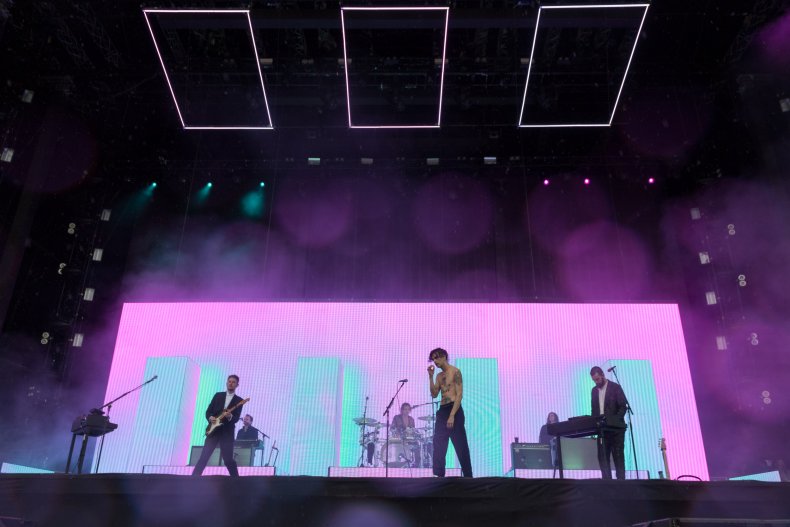 The 1975, Notes on a Conditional Form (Dirty Hit)
To follow up 2018's masterful A Brief Inquiry into Online Relationships, The 1975 have stuffed their latest album with surprises—including the hardcore/post-punk lead single "People" and guest spots from Phoebe Bridgers, Greta Thunberg and more. The band's frontman, Matt Healy, told Newsweek in an interview that the sprawling Notes could be about a variety of things. "Notes will be what it is. Notes might be this statement in the pandemic. It might be the lost campaign," Healy says. "It might be lots of different things. I'm very willing to let it be what it is." What it is changes from track to track, thanks to all the pivots. Fans got a preview of the variety just from the advance singles, like the mournful acoustic track "Jesus Christ 2005 God Bless America" and the bouncy, upbeat love song "Me & You Together Song."
Listen to Notes on a Conditional Form on Spotify.
Jeff Rosenstock, NO DREAM (Polyvinyl)
Surprise-released on Wednesday, Rosenstock's fourth solo album is another collection of genre-bending, boundary-pushing punk and fraying-at-the-seams, sincere lyrics. Like on Worry and Post-, Rosenstock rallies against a future that seems like it can't get any worse, mocking crumby behavior while also being self-aware of the stuff he does. Songs like "Nikes (Alt)" and the title track offer scathing critiques of capitalism, with the former seeing Rosenstock making fun of himself for "scour[ing] the internet for a new pair of Nikes" and the latter having him scream, "The only framework capitalism can thrive in is dystopia."
Listen to NO DREAM on Spotify.
Carly Rae Jepsen, Dedicated Side B (Schoolboy/Interscope)
Another surprise release, Jepsen dropped an album-length companion to her 2019 LP Dedicated on Thursday. The B-side collection features a strong mix of dance-worthy pop songs. A true romantic, Jepsen offers both energetic anthems that pay tribute to a great relationship, like album opener "This Love Isn't Crazy," and solemn synth-laden ballads like the Bleachers-featuring "Comeback."
Listen to Dedicated Side B on Spotify.
Indigo Girls, Look Long (Rounder)
On their 15th studio album, the folk duo show off both their simple folk roots and full-on rock songs. "There's a couple of songs that are super-acoustic that are very beautiful and simple, piano and guitar and kind of sparse drums. And then there's stuff that's just kind of crazy that Emily wrote that sounds like psychedelic Heart or something to me," singer Amy Ray told AZ Central in a June 2019 interview. "When We Were Writers" is a breezy, simplistic folk tune that looks to the past with a strong sense of nostalgia, but a song like album opener "S**t Kickin'" revisits the same past with funkier, bass-heavy instrumentals.
Listen to Look Long on Spotify.
Archie Shepp, Raw Poetic, and Damu The Fudgemunk, Ocean Bridges (Redefinition)
This one's a collaboration between jazz saxophonist Archie Shepp and his nephew, Raw Poetic, along with producer Damu the Fudgemunk. The hip-hop/jazz crossover is a refreshing take on both classic rap and jazz. Shepp's sax cuts through the rest of the band to provide passionate solos, as Raw Poetic sounds absolutely joyous to be working with and honoring his uncle.
Listen to Ocean Bridges on Spotify.
Correction: An earlier version of this story had also listed Really as the label for Rosenstock's No Dream. Polyvinyl is the label.