1976 Apple-1 Computer Sells for Record $905,000 at NYC Auction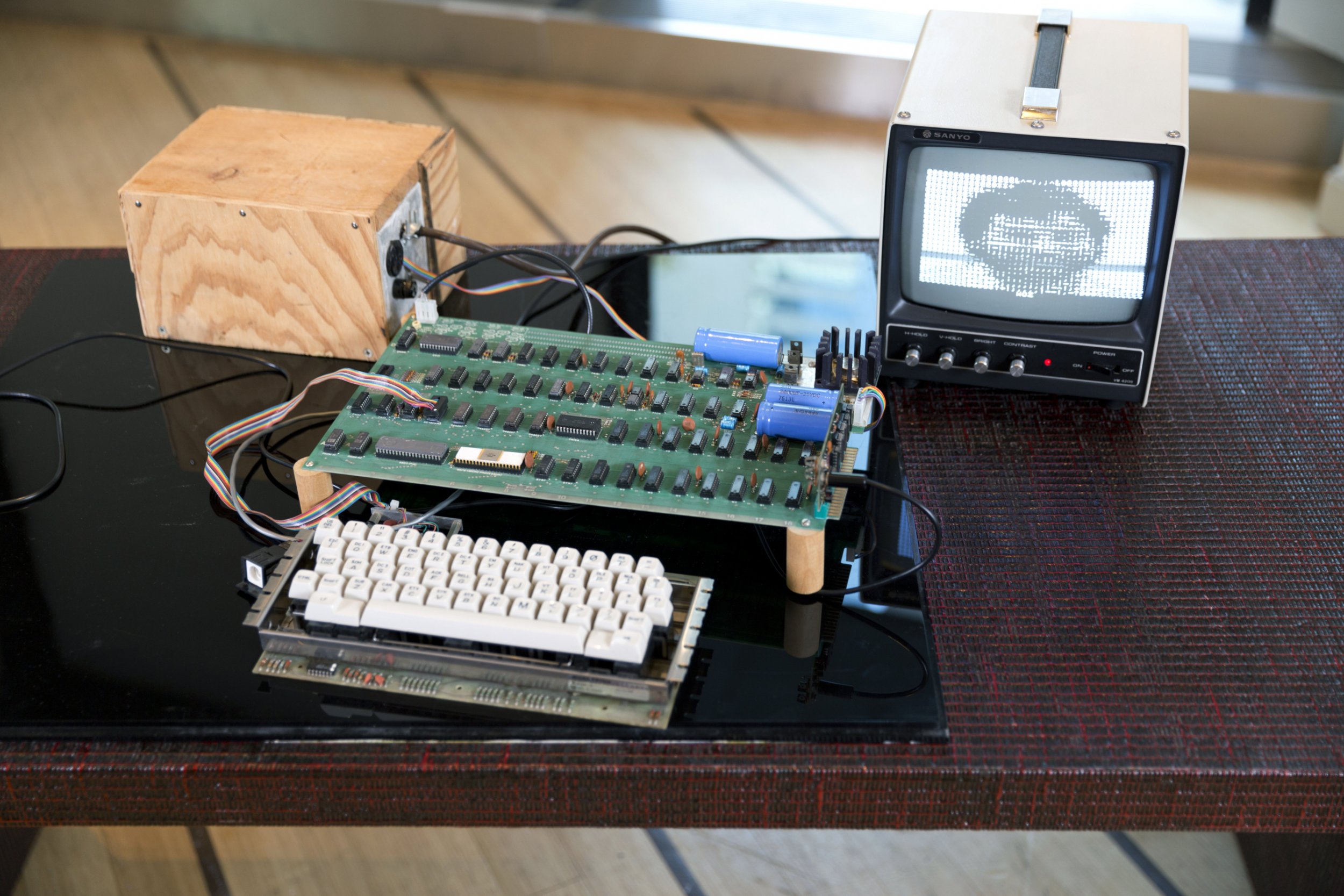 A working example of one of only 200 Apple-1 computers built in the 1970s sold Wednesday for a record $905,000 at Bonhams New York's inaugural "History of Science" sale.
Built by Steve Wozniak, who worked with Steve Jobs to sell them, the 1976 Apple-1's were the first preassembled personal computer ever sold.
The ancestor of today's sleek Apple devices was one of 288 lots auctioned Wednesday by the New York arm of Bonhams, a privately owned British auction house that is more widely known for its fine art and antiques. Its "History of Science" sale was the auction house's first-ever tribute to the history of science, with sections on astronomy, natural history, medicine and physiology, math and physics, and technology.
The auction included other more obscure objects, such as several miniature pocket globes; a broadside announcing the "discovery and exhibition of a large mastodon skeleton" (sold for $4,375); and one item called a "magic lantern," a projector from 1890 that was a predecessor of the motion picture projector (sold for $2,750).
The Apple-1—which the auction house estimated would go for between $300,000 and $500,000 prior to the auction—"[heralded] the dawn of the personal computer revolution," read the description of the lot, and included a vintage keyboard, a monitor, a wooden power-supply box, and an owner's manual.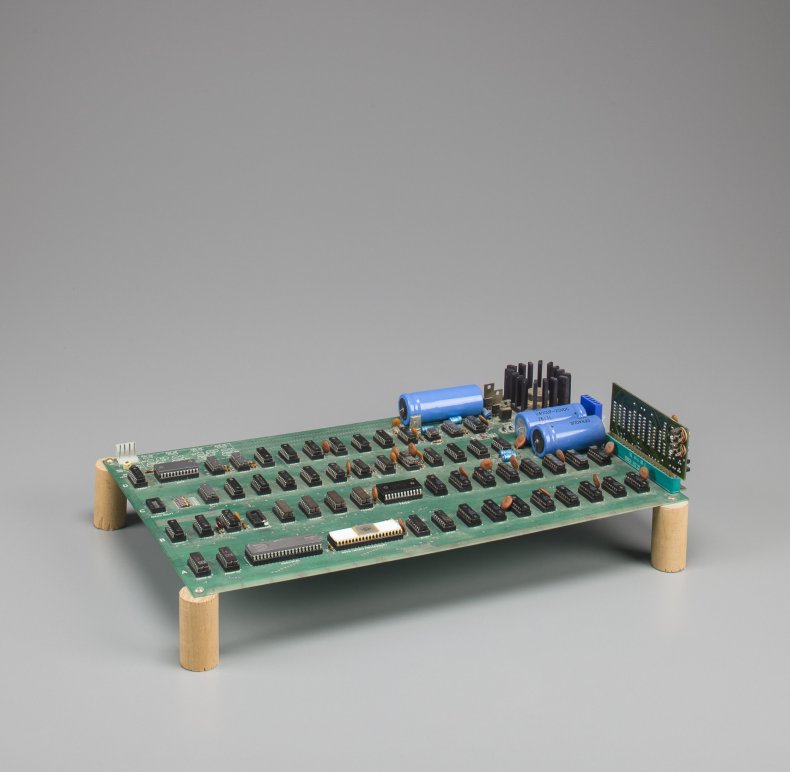 Previous Apple-1 computers have sold at auction for $210,000, in November 2010; $387,750, in July 2013; and a then-record of $671,400, in May 2013, with the latter two in working condition.
Corey Cohen, an Apple-1 expert and member of the Board of Directors for the Mid-Atlantic Retro Computing Hobbyists Museum at the InfoAge Science Center in New Jersey, demonstrated that this particular machine was in "superb overall condition" and operational, booting it up in a promotional video released by the auction house in September.
The Apple-1 on auction belonged to John Barkley Anderson, the founder and first president of the Cincinnati AppleSiders—an Apple user group that still holds meetings every third Wednesday of the month. Anderson began organizing "Apple-Ventions," an annual one-day expo for the AppleSiders, in the late 1970s, according to the lot description. His family says the Apple-1 had been stored since August 1989 in a Plexiglass vitrine, which also went to the lucky bidder.
An original viewing window from the secret Manhattan Project atomic bomb program during World War II remained unsold. The large rectangle of 6-inch-thick heavily leaded glass was used by scientists to prevent exposure to radiation while they developed the first atomic bomb, as well as the Fat Man, the atomic bomb that was dropped on Nagasaki, Japan, on August 9, 1945.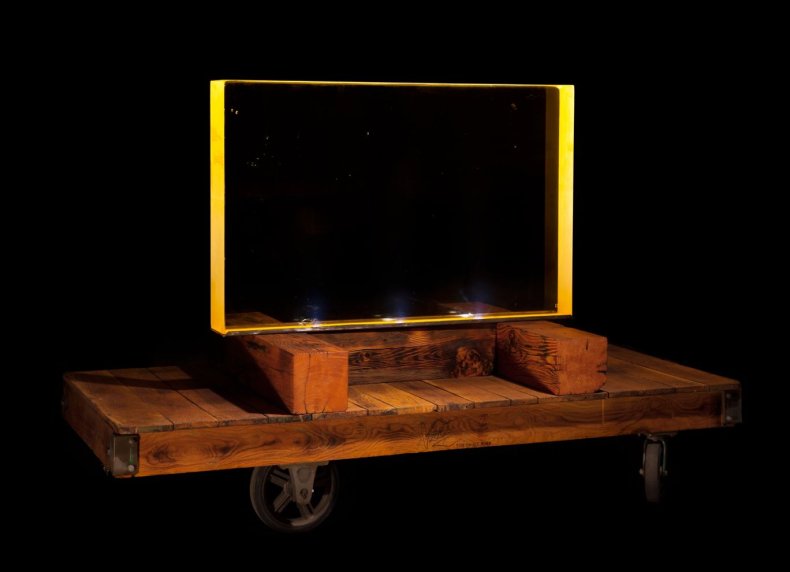 A Helmholtz sound synthesizer, an example of the earliest electric keyboard, built by Max Kohl in 1905, sold for $20,000.
"Specimens of these are extremely rare, with only one similar but smaller apparatus located in a U.S. institution that we know of," Cassandra Hatton, Bonhams's senior specialist in charge of the sale, said of the rare synthesizer. "We have not seen another as large or finely made as this one."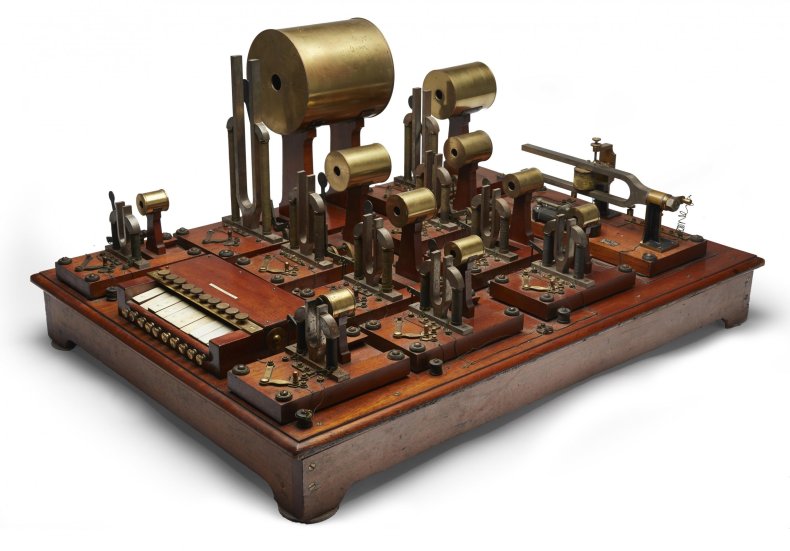 A first-edition, first-issue of Charles Darwin's The Origin of Species by Means of Natural Selection, or the Preservation of Favoured Races in the Struggle for Life, from 1859, sold for $40,000, while an 1857 letter by Darwin "discussing the details of the reproductive act amongst barnacles" sold separately for $25,000.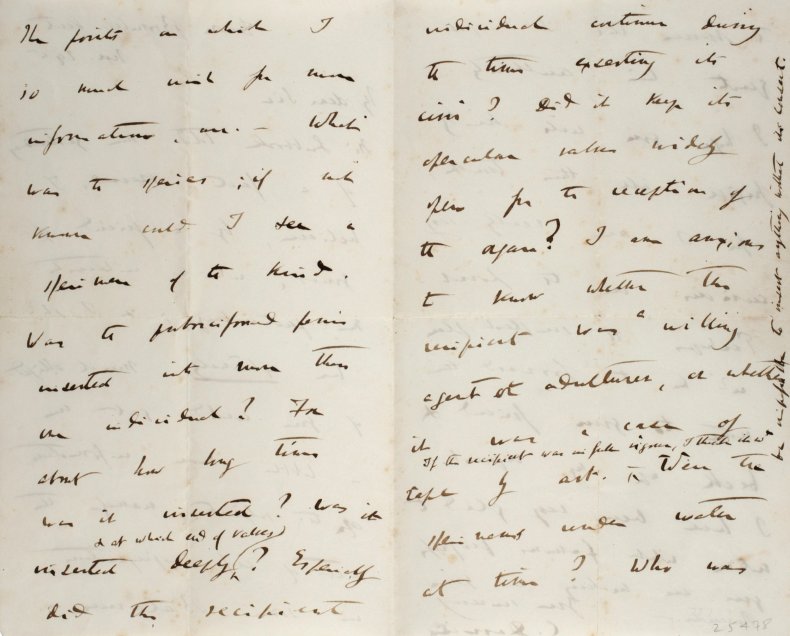 In the technology section, alongside the Apple-1 headliner, a first edition of Ada Lovelace's paper "Sketch of the Analytical Engine Invented by Charles Babbage" from 1843, on the history of digital computing, remained unsold, while a silk portrait made in 1839 with a programmable Jacquard loom—whose invention is "regarded as the birth of the computer age"—sold for $20,000.
All sales prices include the auction house's premiums, or commission, on sales.