$1.9T American Rescue Plan Saved U.S. From Economic Disaster: Janet Yellen
Treasury Secretary Janet Yellen on Wednesday said the American Rescue Plan (ARP) helped the nation prevent extensive economic damage.
"In some ways, the ARP acted like a vaccine for the American economy, protecting our recovery from the possibility of new variants," Yellen said at the U.S. Conference of Mayors' 90th winter meeting, according to a Treasury Department news release.
"The protection wasn't complete, but it was very strong – and it prevented communities from suffering the most severe economic effects of Omicron and Delta."
Yellen reflected on last January, when more Americans applied for unemployment than during the Great Recession, she said. She added that economists predicted the COVID-19 pandemic would push the country into a recession, which "never materialized."
The ARP, which was signed into law last March, became the first landmark legislation passed during the Biden administration. The bill was designed to help kick-start the economy and help low-income families during the pandemic. Yellen referred to it as "the biggest investment we've made since Eisenhower built the Interstate," the release stated.
During the conference, Yellen said that the past year marked one of the most significant reductions of child poverty and child hunger in American history.
Yellen added that the $350 billion from the State and Local Fiscal Recovery Fund went to state and local governments to help fight the community's COVID-related problems.
"When Omicron started spreading around our cities, it did not find them broke and broken; it found them much readier to respond," she said.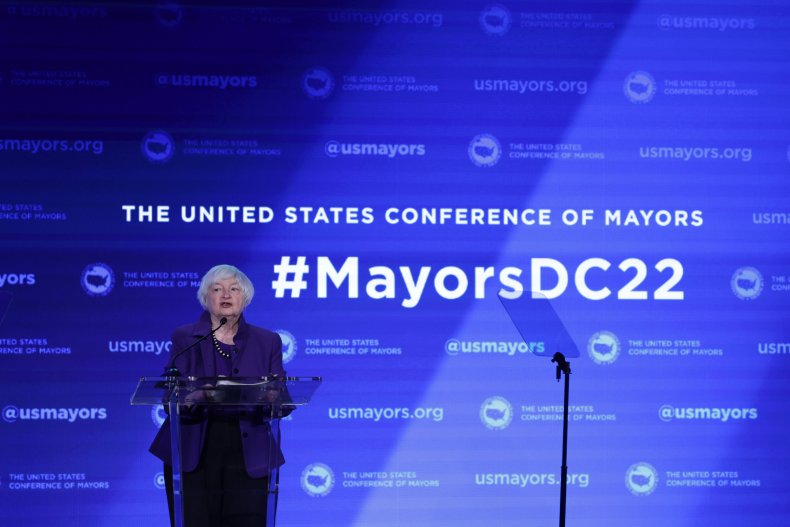 According to the Treasury Department, the ARP provided $195 billion for states, $130 billion for local governments, $20 billion for tribal governments and $4.5 billion for U.S. territories.
Yellen cited several states and examples that used the funds to help generate jobs. Columbus, Ohio, provided $1,000 signing bonuses for new teachers at childcare centers; Denver rehired 265 city staff positions; and Wichita, Kansas, hired 161 jobs ranging from animal control officers to park maintenance workers.
ARP also created provisions for other programs, including increasing the child tax credit, the earned income tax credit and a temporary 15 percent benefit increase in the Supplement Nutritional Assistant Program to roughly $27 more per person per month.
She also thanked members of local governments for their work during the pandemic, citing them as the first line of defense.
"In this country, we don't often recognize the crises that do not happen; we don't celebrate the bridge that doesn't collapse. But maybe in this case, we should," Yellen said.
The mayors' conference focused on ARP resources for cities, gun violence reductions, combating homelessness, climate change and other issues, according to the Associated Press.