1K National Guard Members Helping Ohio Hospitals Overwhelmed With Unvaxxed COVID Patients
Around a thousand members of the Ohio National Guard have been called in to help hospitals around the state handle rising numbers of COVID-19 patients.
Gov. Mike DeWine announced Friday at a press briefing the deployment of 1,050 National Guard members to several hospitals across the state. This deployment comes as more than 4,700 people in the state have become hospitalized due to the coronavirus, with nine out of 10 hospitalized patients being unvaccinated.
"Twenty-two months of this pandemic has taken its toll on our health care workers," said the governor, referring to the hospital staffing shortages that the National Guard hopes to remedy.
The deployed members include 150 medical workers, who mainly consist of nurses and EMTs. These are priority deployments and can be working in affected hospitals in the Akron, Canton and Cleveland areas as early as Monday. The other members of the Guard will be assisting current staff in as-needed hospital roles, including patient transport and food services.
"This will allow Ohio hospitals to bring in qualified nurses and other qualified personnel from out of state to fill needed positions and help ease some of the pressure on hospitals and their staff over the critical holiday period," said DeWine.
Amidst the rising hospitalization rates, a more positive trend is rising. According to the Ohio Department of Health, 59 percent of the state's population is vaccinated. DeWine praised these rising vaccination numbers and urged everyone to get vaccinated to protect themselves and their loved ones from COVID-19
"It works and it works to keep people out so we can expect to see more breakthrough cases all the experts tell us that as Omicron comes," he said, "but our battle has to be to keep people out of the hospitals."
The hospitals that the National Guard is being sent to have not been disclosed publicly.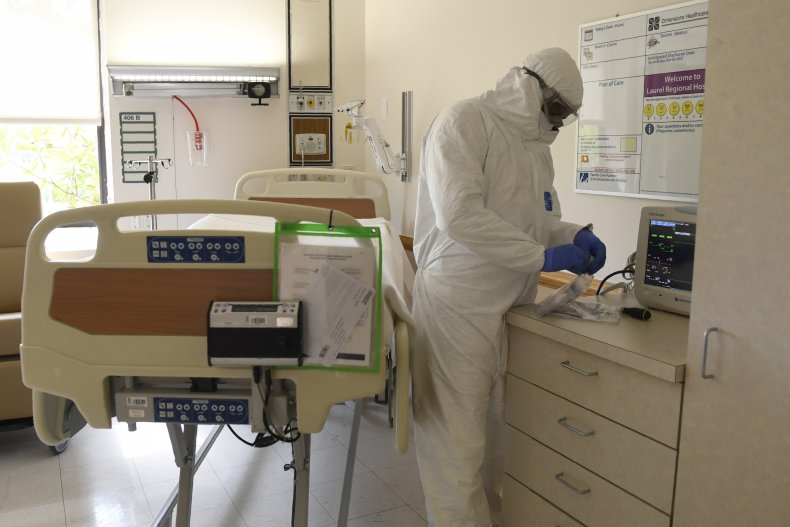 Most of those hospitals have stopped elective surgeries, and facilities elsewhere are considering the same, the governor said.
The state is facing a threefold challenge in still-surging cases attributed to the delta variant, the arrival of the faster-spreading omicron variant, and what's predicted to be a normal flu season, DeWine said.
The seven-day rolling average of daily new cases in Ohio has risen over the past two weeks from 6,880.14 new cases per day on Dec. 1 to 8,333.43 new cases per day on Dec. 15, according to data collected by the Johns Hopkins University Center for Systems Science and Engineering.
The Associated Press contributed to this report.