2 Ancient Shipwrecks Found off Israeli Coast Contain Trove of Medieval Coins, Artifacts
Israeli archaeologists discovered two ancient shipwrecks off the Mediterranean coast containing coins and other artifacts from Roman and medieval periods, the Israel Antiquities Authority announced Wednesday.
The two ships, both found near the ancient port city of Caesarea, sunk about 1,000 years apart. The first was from the Roman period, about 1,700 years ago, and the second was from the Mamluk period, about 600 years ago.
In addition to over 500 silver coins, there were figurines, ceramics and bells found among the wreckage. Also, some of the metal ship parts are considered artifacts now.
Jacob Sharvit, head of the IAA's Marine Archaeology Unit, said the unit made these discoveries in an underwater survey they have been conducting over a two-month period.
The artifacts were located on the seafloor, about 13 feet down, near the boats' remains. Sharvit told Haaretz, an Israeli newspaper, the two ships were most likely wrecked in storms while anchored offshore.
Notable discoveries include a bronze eagle figurine, bronze bells meant to deter evil spirits and pottery, Haaretz reported.
There was also a figurine of a pantomimus, or a nonverbal dancer in Roman theater that would act out scenes alone using only masks and movements, wearing a comic mask. The modern word "pantomime" was adopted from pantomimus.
There was also an octagonal gold ring with a green gemstone engraved with an image depicting the Good Shepherd, a widely known symbol for Jesus. Another ring with a red gemstone featured an engraving of a lyre, an ancient stringed instrument with biblical significance.
From the ship, the archaeology unit also recovered nails, lead pipes and a large, shattered iron anchor.
According to Haaretz, IAA Director Eli Eskozido said in a press release that Israel's coasts are "rich" in these kinds of "sites and finds."
Eskozido urged residents who might stumble upon ancient artifacts while swimming or doing water sports to report them, calling them "extremely vulnerable," and noting that discovering and documenting them where they were originally found is of the utmost importance.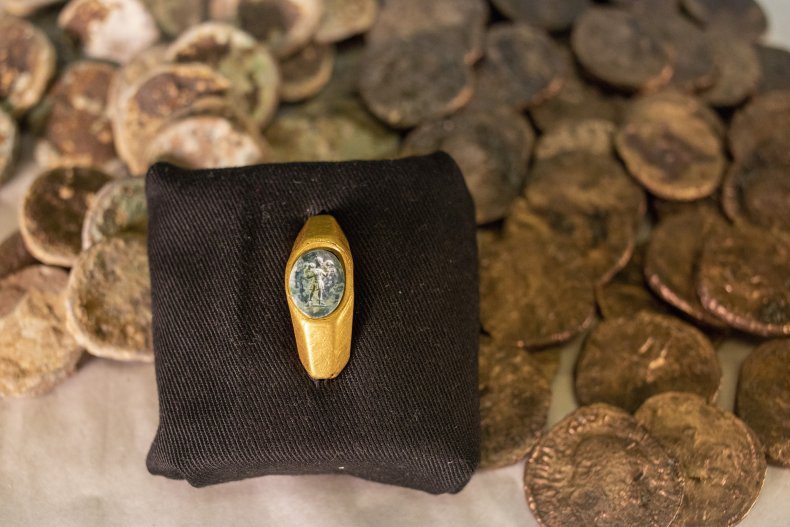 The IAA made its announcement just days ahead of Christmas and underscored the discovery of the Roman gold ring, its green gemstone carved with the figure of a shepherd carrying a sheep on his shoulders.
Robert Cole, head of the authority's coin department, called the item "exceptional."
"On the gemstone is engraved an image of the 'Good Shepherd,' which is really one of the earliest symbols of Christianity," he said.
The Associated Press contributed to this report.