2 Beluga Whales Captured in Russia and Sold to Chinese Water Park Freed After 10 Years
Two beluga whales who were captured from the ocean nearly a decade ago have now been returned to the sea.
The whales, know as Little Grey and Little White, arrived at a new sea sanctuary in Klettsvik Bay on Friday, according to global marine conservation non-profit the SEA LIFE Trust. The sanctuary, operated by the non-profit, is the first of its kind in the world for belugas.
The two 13-year-old female belugas are currently being kept in a bayside care pool area where they will acclimatize for a few weeks before conservationists release them into the wider sanctuary, which measures 344,445 square feet in area and 30 feet in depth.
According to the non-profit, the sanctuary—located in a natural, secluded sea inlet—provides the whales with "significant space" to "swim, explore and deep dive."
The whales, which both weigh around 2,000 pounds and measure about 13 feet in length, were born in Russian Arctic waters. However, they were captured at the age of two or three and taken to a Russian research center.
Subsequently, the Changfeng Ocean World aquarium in Shanghai, China acquired them and trained the whales to entertain visitors.
In June 2019, conservationists secured the release of the whales from the aquarium and transported them around 6,000 miles in specially designed containers to a land-based facility located on the Icelandic island of Vestmannaeyjar.
The whales have now entered the sea for the first time since 2011. According to the SEA LIFE Trust, the non-profit will now carefully monitor the whales until they can finally be released into the wider sanctuary.
"We're absolutely delighted to be able to share the news that Little Grey and Little White are safely in their sea sanctuary care pools and are just one step away from being released into their wider open water home," Andy Bool, Head of SEA LIFE Trust, said in a statement.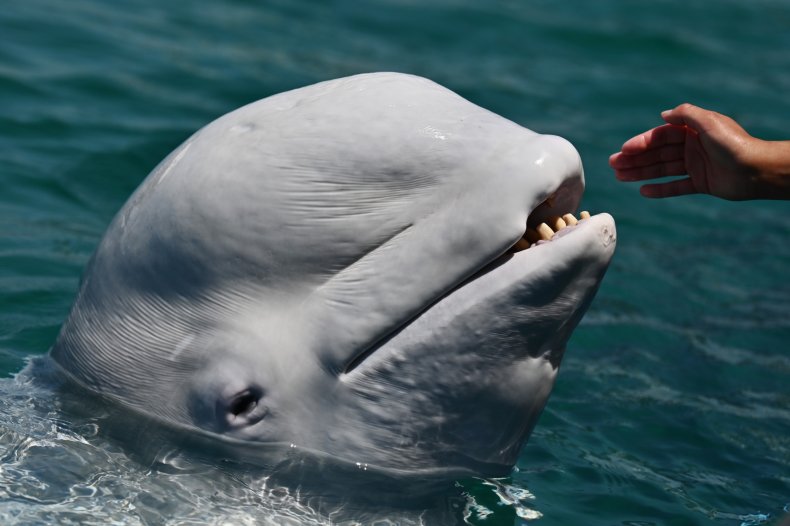 "Following extensive planning and rehearsals, the first stage of their release back to the ocean was as smooth as we had hoped and planned for. We hope to announce their final release very soon."
Because the whales have been in human captivity for so long, it is unlikely they would survive if they were released into the open ocean. The sanctuary is sealed off with nets, however, smaller marine animals such as fish can still swim through.
According to Bool, Little Grey and Little White are "ambassadors" for the 300 other belugas that are in captivity around the world.
"We hope to show that Little White and Little Grey thrive in this bay, and we're conducting a research study that will hopefully show that there's a welfare benefit to being in a natural environment like this," he told AFP.
"We hope that can then persuade others that maybe their beluga whales might be better off in a different environment."