2 Boys Steer Car Off Texas Freeway After Their Father Is Shot to Death While Driving
Two boys, ages 8 and 6, had to steer a car safely off a Texas freeway after their father was shot in the head while driving.
The incident occurred on Houston's I-10 East Freeway on Friday at around 10:40 p.m., KHOU 11 reported.
The father, who was 29, had been driving eastbound on the highway in the Toyota Sequoia when he was hit by a bullet. His sons noticed their dad slump in his seat and were forced to bring the vehicle to a stop.
They later told Houston Police that they believed their father had been hit by a rock.
An officer speaking to KHOU called the boys steering themselves to safety "a miracle."
The two boys were able to park the vehicle in a center strip lot just off the freeway, at which point they got out and ran for help.
A woman leaving a nearby Chili's restaurant saw them and helped call 911. A local police officer working an extra job at a nearby movie theater was able to hold down the scene until more officers arrived.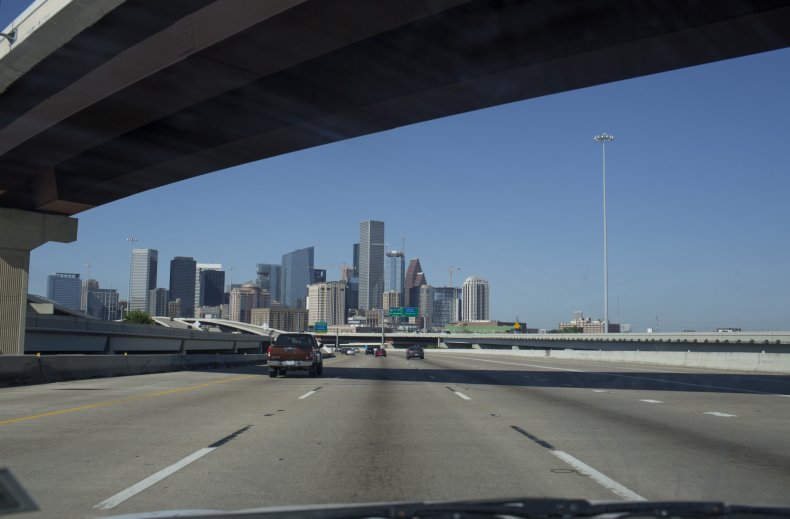 The identities of the family involved in the incident have not been revealed. The father succumbed to the gunshot wound and died. His sons were not injured.
Houston Police remain unsure what precisely happened in this case. No details are available on any potential suspects or their vehicles.
"We don't know if it was road rage or if it was someone actually trying to get these individuals," Lieutenant R. Willkens of the Houston Police told ABC 13. "So, prayers for their family. The kids are safe right now."
Authorities working on this case urge anyone with information to call Crimes Stoppers at 713-222-8477.
Newsweek has reached to the Houston Police Department to see if there have been any updates in the case.
Elsewhere in Houston, a man who had been shot six times ending up waiting upwards of a week to get surgery due to high patient loads due to COVID-19. The virus has been resurgent in every state thanks to the Delta variant, with Texas being among the states hit particularly hard.
The man, Joel Valdez, had reportedly been shot by a stranger while leaving a Kroger grocery store on August 7. The shooter was later arrested and charged for the incident a few days later.
"Having broken bones and bullets in me for over a week now, it's a little frustrating," Valdez said at the time. "I got shot in the neck right here, but I got hit three times in my left shoulder. That's what is broken and what I'm awaiting surgery for."