Two arrests have been made following a Monday confrontation between Miami International Airport travelers and police in the airport, according to authorities.
Mayfrer Serranopaca, 30, has been charged with the battery of a law enforcement officer and resisting arrest, along with several other charges including burglary and inciting a riot.
Serranopaca, in a confrontation that was posted on Twitter by Mike Majlak and shared by The Associated Press, allegedly began the encounter by jumping on an airport transportation cart being driven by an airport employee. Serranopaca asked the employee for information about his flight that had been delayed and refused to move until he got the information he was looking for.
The worker soon called for airport police to intervene since they didn't have the information Serranopaca wanted and he wouldn't get off the cart.
After the officers allegedly tried to calm Serranopaca, he began yelling at the nearby crowd and started a physical confrontation with the police. Other members of the crowd became involved, attempting to pull the officer off of Serranopaca.
Authorities allege that at one point during the encounter, Serranopaca bit one of the officers on the head before the officer drew his gun and pointed it at the crowd as the officers attempted to calm the crowd, according to CBS4 Miami.
Once the crowd dispersed, Alberto Yanez Suarez, 32, was also arrested for his actions during the fight and has been charged with battery on an officer and resisting arrest.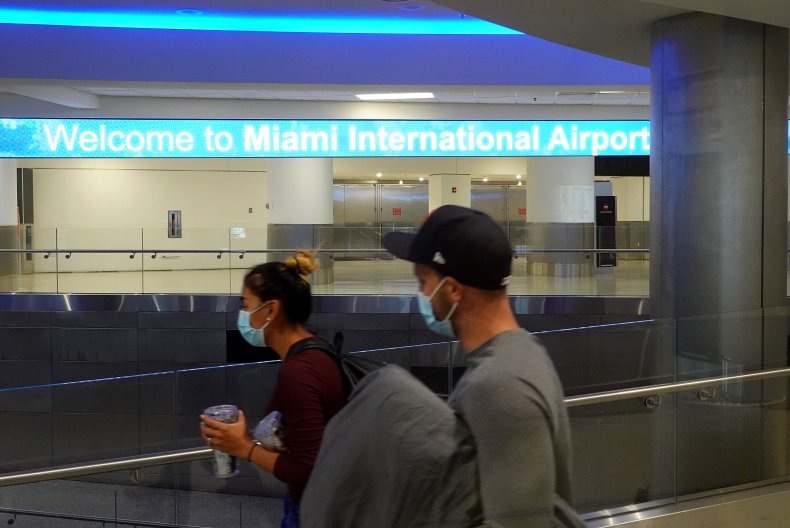 Serranopaca, of Kissimmee, Florida, and Suarez, of Odessa, Texas, were arrested in Concourse H following Monday evening's fight, according to Miami-Dade police reports.
MIA Director and CEO Ralph Cutié said in a statement that the airport is experiencing record-high passenger numbers this winter travel season.
"Unfortunately, that passenger growth has come with a record-high increase nationwide in bad behavior as well, such as the incident this evening at MIA," Cutié said Monday. "Disruptive passengers face police arrest, civil penalties up to $37,000, being banned from flying, and potential federal prosecution."
As additional officers arrived and attempted to take Serranopaca into custody, officials said Yanez Suarez intervened and attempted to pull the police off of Serranopaca, prompting officers to arrest him, as well.
Miami-Dade Fire Rescue treated Serranopaca and the bitten officer at the scene, officials said.
Serranopaca was being held on $29,500 bond, and Yanez Suarez was later freed on $15,000 bond. A defense attorney for Serranopaca didn't immediately respond to a message seeking comment from The Associated Press. Court and jail records didn't list an attorney for Yanez Suarez.
The Associated Press contributed to this report.