2 Dead, 4 Injured in Shooting at Walmart Distribution Center in California
Two people are dead after a Saturday shooting at the Walmart Distribution Center in Red Bluff, California.
At approximately 3:30 p.m. local time, a man drove into the building and started firing, according to the Red Bluff Police Department. Police said they were unable to enter the building immediately due to a fire that had broken out.
Two people were killed and four others are reported to be in fair condition, according to the St. Elizabeth Community Hospital in Red Bluff. No further information about the victims' identities has been released as of writing. It is currently unknown if there are further victims who were transported to other hospitals.
Witnesses told the Redding Record Searchlight that it sounded like the shooter had a semi-automatic weapon of some type.
"It went on and on — I don't even know how many times he fired," Scott Thammakhanty, an employee of the center, told the Record Searchlight. "I just know it was a lot."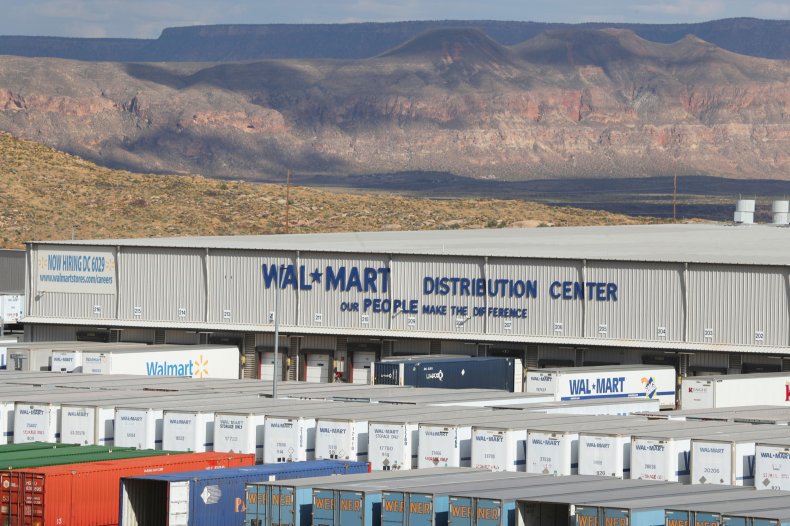 Speaking to the New York Times, another employee, Franklin Lister, said he heard between 50 and 60 gunshots before he and the members of his team climbed over a barbed-wire fence to escape.
"To hear that much gunfire, it was frantic," Lister said. "People were running as fast as they could move."
The suspect fired upon police officers once they were able to enter the building. Police said the suspect had been shot by police, though neither the condition nor identity of the suspect was yet known. The officers, including one Sergeant, that shot the suspect will be placed on paid administrative leave, following standard protocol for the department in an officer-involved shooting.
The shooting happened during the shift change, according to the Record Searchlight.
Scott Pope, the Walmart director of national media relations, told Newsweek, "We are deeply saddened by this tragic incident. Our focus is on supporting our associates, as well as their families and co-workers in the facility. This is an active police investigation and we will continue to work with Tehama County Sheriff's Office and assist in their investigation in any way possible."
The Walmart Distribution Center shooting comes one day after a shooting at the Bunn-O-Matic warehouse in Springfield, Illinois. In that shooting, two victims were killed and another was critically injured. The gunman, Michael L. Collins, 48, was found dead in his car from a self-inflicted gunshot wound. Collins was an employee at the Bunn-O-Matic warehouse. Police say they are still investigating the incident and had not yet found a motive. Collins knew all his victims, though none of them were his supervisors, according to police.
Update (6/28/2020, 12:45 a.m.): This article has been updated to include a statement from Scott Pope of Walmart.