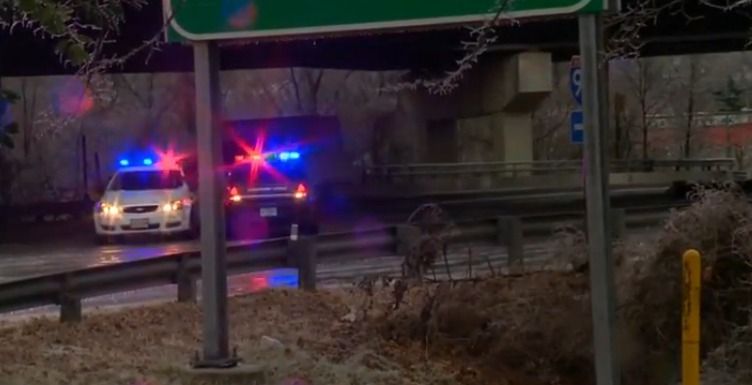 A fuel tanker skidded off a Baltimore highway and exploded on Saturday morning, sending sheets of fire in the path of the approaching traffic and triggering a deadly 55-vehicle pileup on the ice-coated roadway, Maryland officials said.
The accident on Interstate 95, which occurred at about 5 a.m., left two people dead, including the driver of the fuel truck, said Lieutenant Kevin Ayd, spokesman for the Maryland Transportation Authority Police.
The fiery pileup was one of dozens of crashes in the Baltimore-Washington area as freezing rain slowly accumulated into an icy sheet on roadways in the early morning darkness.
A second multi-vehicle crash occurred at about the same time along Interstate 95 in Baltimore, part of a major north-south corridor along the U.S. East Coast. One person was killed in that accident when one of the drivers exited his vehicle and was struck by oncoming traffic.
In the 55-vehicle pileup, a bystander's video shows the skidding fuel truck hitting a barrier and flipping over in a gap between the north and southbound lanes. As the fireball spread, approaching cars and trucks can be seen attempting to stop but instead plowing into one another.
"I want to share my deepest condolences to those affected by this morning's multi-vehicle crash," Baltimore Mayor Catherine Push said in a statement. "Today's icy road conditions remind us all that it is imperative to exercise extreme caution due to severe weather."
The crash forced the closure of the northbound lanes on the highway. Photos posted online showed dozens of emergency vehicles and tow trucks on the scene.
"We do not know when I-95 will be reopened," Ayd said. "We urged motorist to stay off the road until conditions improve."
A winter weather advisory was in effect for the Baltimore-Washington, D.C., area until noon, according to the National Weather Service, as snow and freezing rain gave way to a wintry mix or rain across much of the Eastern Seaboard.
The NWS said at 10 a.m. that the heaviest weather had moved into the mid-Atlantic and Northeast, while the Upper Midwest and Great Lakes regions continued to see a mix of precipitation.
Warnings and advisories remained in effect throughout much of the country, stretching from the central Rocky Mountains to the East Coast. Dangerously cold conditions, in part due to high winds, were still being reported in the central plains and the Mississippi Valley.