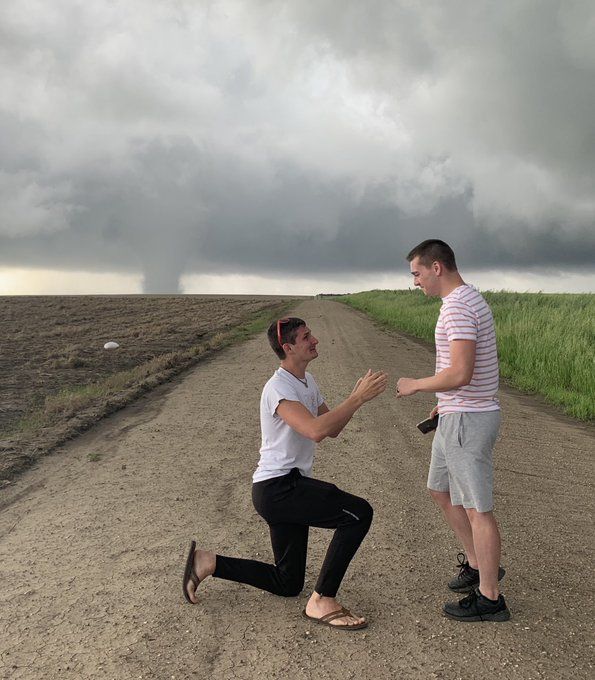 As a tornado approached a group of storm chasers on Tuesday, one of them had more on his mind than the weather.
Meteorologist Joey Krastel got down on one knee and proposed to his boyfriend, now-fiancé, Chris Scott.
Two of their friends, who were along for the ride through Kansas, took a photo of the moment and captured the tornado in the background. Krastel told NBC News that he hadn't planned to ask Scott to marry him at that moment.
"It all just kind of came together and happened so quickly. I was like 'OK, this is it.," Krastel said.
Krastel shared the photo to his Twitter account on Tuesday, captioning the photo, "The 2 loves of my life."
The couple met because of storm chasing. Krastel said they followed one another on Instagram and that Scott messaged him one day to ask if he really chased the storms that he posted about on his account.
"That's why it was always in the back of my mind to get engaged during storm chasing. I felt like it would be this perfect way to seal the deal," he said.
Scott said he grew up watching storms with his father and that his favorite movie was "Twister," a film centered around storm chasers working to develop a weather alert system during a severe tornado outbreak in Oklahoma.
Krastel said the tornado was much closer than it appears in the photo and that the twister moved further toward them while he proposed to Scott. He even ordered their friends to get back in the car for their safety.
"I was just so emotional just because it was my happiest place, being with him next to the storms," he said.
The tornado featured in the photograph, which was taken in Tipton, Kansas, was one that prompted the National Weather Service to issue a tornado emergency. A tornado later hit Linwood and Lawrence, injuring 15 people and destroying homes and businesses.
Tuesday's tornado outbreak in Kansas marked the 13th consecutive day of severe weather across parts of the United States. The National Weather Service said that over 500 tornadoes have been reported in the month of May and more severe weather is expected throughout the week from the southern Plains to the Eastern seaboard.
At least two tornadoes touched down in eastern Texas on Wednesday, marking two weeks where at least one twister has been reported in the U.S each day.