2 Men Charged With Assaulting Capitol Police Officer Brian Sicknick With Bear Spray
Julian Khater and George Tanios were arrested on Sunday and charged with assaulting Capitol Police officer Brian Sicknick with bear spray during the January 6 riot at the U.S. Capitol.
Sicknick later died of injuries sustained during the riot and was heralded by legislators as a hero, but officials haven't publicly determined if the bear spray was the cause of his death. Both Khater and Tanios are expected to appear in federal court on Monday and were charged with nine counts that are punishable by up to 20 years in prison.
Newsweek reached out to the U.S. Attorney's office for comment but did not receive a response in time for publication.
Khater and Tanios were captured on surveillance footage "working together to assault law enforcement officers with an unknown chemical substance," according to an affidavit. They allegedly appeared to time deploying the chemical substance with other rioters' efforts to remove the barriers that prevented them from moving closer to the Capitol.
At one point, Khater was reportedly seen telling Tanios, "give me that bear s---," to which Tanios tells him to "hold on" because "it's still early."
"This verbal exchange between Khater and Tanios, together with Khater's
retrieval of the spray can from Tanios, reveals that the two were working in concert and had a plan to use the toxic spray against law enforcement," the affidavit says.
Khater was reportedly seen on video deploying a canister of bear spray into the face of Sicknick and two other officers, who were identified as officers Edwards and Chapman.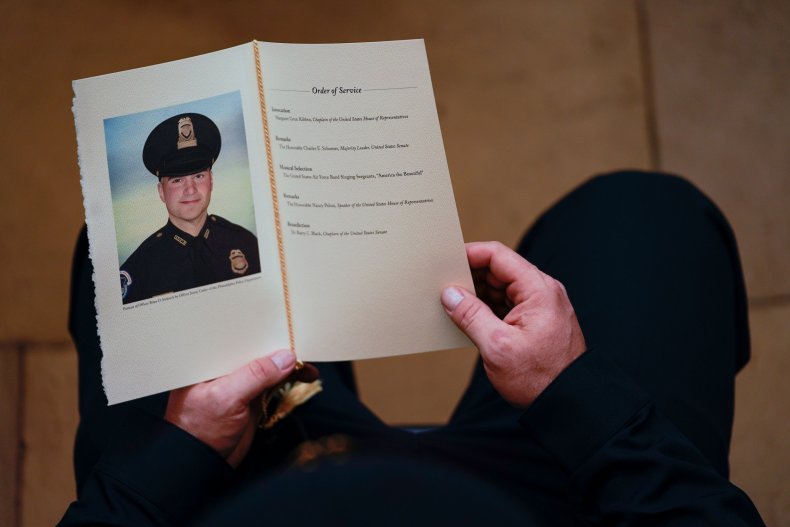 Someone allegedly identified the two from images released by the FBI. The two men allegedly grew up together in New Jersey. A tipster told the FBI that Tanios bragged about going to the insurrection at the Capitol on Facebook and a witness, identified as his former business partner, confirmed with "100 percent" certainty that Tanios was the person in one of two photographs law enforcement showed them.
Tanios was arrested at his home in West Virginia and Khater was arrested when he disembarked from an airplane at Newark Airport in New Jersey, according to the Department of Justice.
The Washington Post was first to report their arrest.
Sicknick passed away on January 7 due to "injuries sustained while on-duty," according to the United States Capitol Police. He was injured while physically engaging with rioters on January 6 and collapsed when he returned to the division office and died at the hospital.
At the end of February, the Associated Press reported federal investigators zeroed in on a suspect seen on video spraying a chemical substance on Sicknick. Initially, law enforcement thought he died after being hit in the head with a fire extinguisher, but were looking into the possibility that he ingested a chemical substance during the riot, according to the AP. At the time, federal agents hadn't identified the suspect by name, and it's unclear if Khater or Tanios were that person.
A toxicology report or autopsy has yet to be made public.
"He loved his job with the U.S. Capitol Police, and was very passionate about it. He also had an incredible work ethic. He was very serious about showing up to work on time and refused to call out sick unless absolutely necessary," his family said in a statement. "Our loss of Brian will leave a large hole in our hearts."