2 Pit Bulls Attack 2-Year-Old Girl and Her Mother Inside Apartment Building
A mother and her 2-year-old daughter were attacked by two pit bulls in a Manhattan apartment building lobby, according to the New York Police Department.
The girl was attacked by one of the pit bulls when an unidentified woman walked into a New York City Housing Authority (NYHA) building with them about 12:30 p.m., according to police sources, KTLA reported. The girl's mother grabbed the dog, and the other pit bull attacked her. This comes a dozen years after the NYHA enacted a 25-pound weight restriction and a breed restriction on full or mixed Doberman pinschers, pit bulls and Rottweilers.
The woman with the dogs grabbed both and went into an elevator, KTLA reported. It is not known what could have provoked the pit bulls. Police are reviewing footage of the incident.
No arrests have been made yet.
The girl received three puncture wounds to the right side of her face and scratches on the left side of her face, KTLA reported. The mother also suffered injuries and both were transported to a hospital nearby after the incident. The two are expected to live, Detective Martin Brown of the New York City Police Department told Newsweek.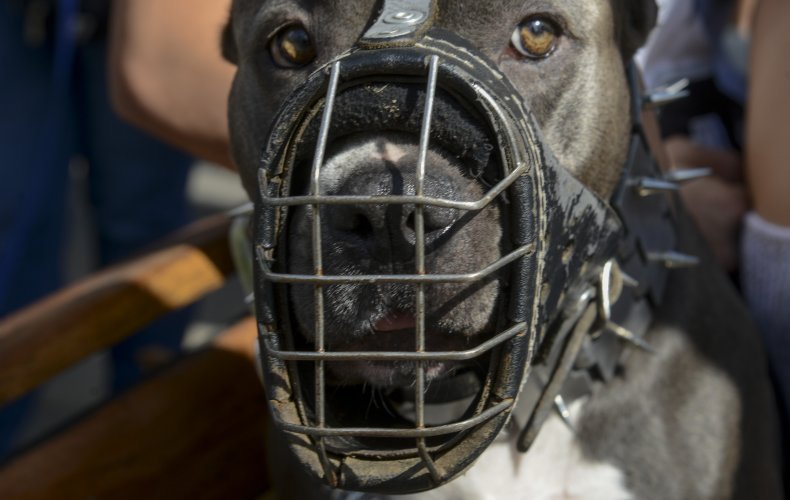 The term "pit bull" often encompasses three registered breeds of dogs, which are a Staffordshire Bull Terrier, an American Staffordshire Terrier, and an American Pit Bull Terrier, the American Rescue League of Boston reported. Often, people will see pit bulls listed as aggressive dogs and restricted from many apartment buildings.
Modern pit bulls are descendants of the English bull-baiting dog, a dog bred to bite and hold bulls, bears, and other large animals around the face and head, the American Society for the Prevention of Cruelty to Animals (ASPCA) says. The practice of baiting large animals was outlawed in the 1800s, according to the ASPCA. When this happened, people turned to dogfighting, crossbreeding the baiting dogs with terriers.
However, while pit bulls have such a history, this does not mean that they are aggressive. A majority of pit bulls were actually bred to be farm help and become family dogs, according to the American Rescue League of Boston. But regardless of breeding, pit bulls will follow "learned" behavior taught by those who raise them.
"Because of the impact of experience, the pit bull specifically bred for generations to be aggressive may not fight with dogs and the Labrador retriever bred to be a service dog may be aggressive toward people," the ASPCA says.
"All dogs, including pit bulls, are individuals," the ASPCA says. "Treating them as such, providing them with the care, training and supervision they require, and judging them by their actions and not by their DNA or their physical appearance is the best way to ensure that dogs and people can continue to share safe and happy lives together."
Update 02/14/22 3:20 p.m. ET: This story was updated to include background information and comment from Detective Martin Brown of the New York City Police Department.