2 Sailors Involved in San Diego Navy Ship Fire Response Test Positive for COVID-19
At least two U.S. Navy sailors tested positive for coronavirus after helping fight a fire aboard a ship at the Naval Base San Diego last weekend, officials said.
The two sailors worked on the amphibious transport dock USS San Diego and had tested positive after showing symptoms, U.S. Navy spokeswoman Lt. Cmdr. Nicole Shwegman said Friday.
At least 27 people who were in contact with the two sailors are now under quarantine, she added.
The Navy's statement came after several USS San Diego sailors spoke anonymously to The San Diego Union-Tribune, saying that at least five sailors from their ship had tested positive for coronavirus in the last few days.
The Navy confirmed that two of the five sailors were at the scene of a July 12 fire aboard the USS Bonhomme Richard at Naval Base San Diego.
"Two Sailors supporting USS Bonhomme Richard firefighting operations recently tested positive for COVID-19 after exhibiting symptoms," Shwegman said, added that the Navy "continues to implement COVID-19 mitigation measures to protect the health of our force."
Sailors involved with fighting the massive blaze said that responders had reportedly shared firefighting equipment that day, including masks and gloves, according to the Union-Tribune.
Photos provided by the Navy show the equipment being washed and sanitized, the newspaper reported.
Newsweek contacted the Navy for further comment, but did not hear back in time for publication.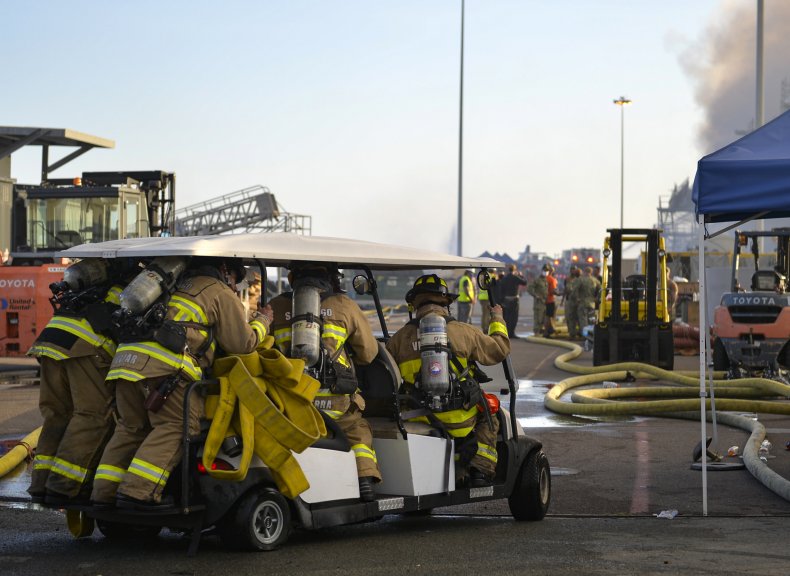 At least 63 Navy sailors and personnel were injured as a result of the fire aboard the Bonhomme Richard, which lasted until Thursday.
More than 400 sailors from sixteen San Diego-based ships helped fight the fire, Admiral Mike Gilday, chief of naval operations, said during a news conference Friday.
According to a USS San Diego sailor who spoke anonymously to the Union-Tribune, much of the Bonhomme Richard's firefighting equipment was damaged or destroyed as a result of the blaze, so its sailors had to use gear brought on from the neighboring vessels — including the USS San Diego.
The Bonhomme Richard, an amphibious naval assault ship, suffered extensive damage from the blaze. It was carrying 1 million gallons of fuel when it caught fire, and a fire suppression system that might have helped quell the flames was temporarily out of commission Sunday.
Officials are evaluating if the 22-year-old ship can be repaired, but Gilday said Friday he wasn't sure if it ever should be.
Navy fire teams are expected to continue monitoring the Bonhomme Richard throughout the weekend, surveying damage and conducting fire watches.