2 Texas Sheriffs Refuse to Transport Migrants For CBP, 'We Just Don't Have Any Resources'
Two Texas sheriffs refused requests from U.S. Customs and Border Protection (CBP) to help transport migrants into the country, saying they could not allocate limited local resources to support undocumented immigrants.
CBP reportedly asked Brooks County Sheriff Urbino "Benny" Martinez and Nueces County Sheriff John Hooper for support transporting migrants into the country amid a surge of arrivals at the U.S.-Mexico border.
"We just don't have any resources," Martinez told Newsweek, explaining why he refused Border Patrol's request to use the department's only van to move migrants.
"[U.S. Customs and Border Protection] was asking if we would assist him in moving immigrants who are in the country illegally from the border area up into Kleberg and the Corpus Christi area, Nueces County, and I advised him that the Nueces County Sheriff's Office would not be assisting in that," Hooper told KHOU 11.
Border authorities are grappling with crowds of migrants escaping political instability and economic strife in their home countries. More than 100,000 migrants were detained in February, and Secretary of Homeland Security Alejandro Mayorkas said last week that the U.S. on pace for a 20-year high in migrants coming to the border.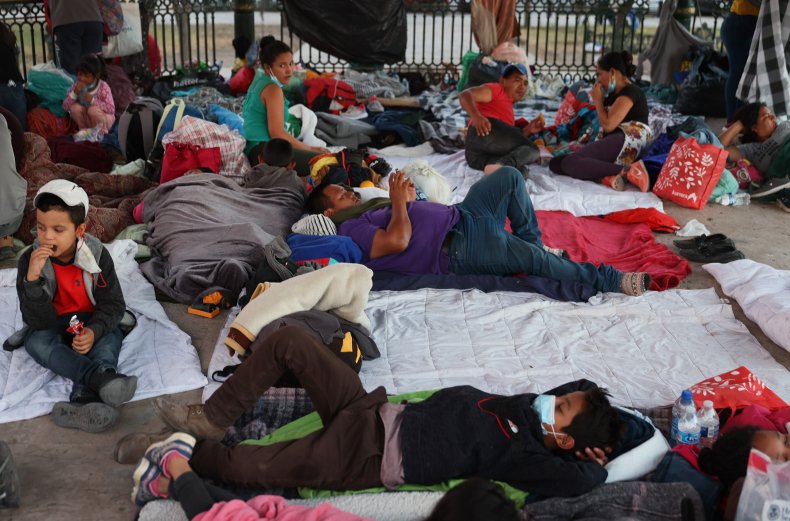 President Joe Biden has made his message clear to migrants that now is not the time to cross the border, but migrants are attempting the dangerous journey anyway under new-found hope stirred by the new president's promise to overhaul U.S. immigration policy. Biden repealed former President Donald Trump's Migrant Protection Protocol, which forced asylum-seekers to return to Mexico while awaiting immigration hearings.
Now, asylum-seekers are permitted to stay in the country until their hearings, but the high number of arrivals has overwhelmed the Biden administration's ability to shelter migrants, compelling them to seek support from local authorities like Hooper and Martinez.
Martinez said his town of Falfurrias lacks a bus depot, a hospital, COVID-19 testing infrastructure and social service organizations, all of which are needed to support the migrants.
"We don't have the capacity to hold anyone for that matter," Martinez said, adding that it's also not clear if migrants released in the town have been tested for COVID-19.
In addition, the buses are likely to be too full to handle a large group of migrants by the time they arrive at local bus stops, which aren't high-volume transport depots, Martinez told Newsweek.
"For a while, they've been trying to bring them up in vans and drop them off at the local Valero convenient store or Stripes, and it's not a bus depot, the bus stops there, but the bus I'm thinking about is already full because they're already coming from the valley," Martinez told KHOU 11. "You could see 100 or so people just kind of filtering around."
He added that he had an "honest conversation" with CBP, but the agency ultimately supported his decision to refuse help after it recognized the sheriff couldn't offer adequate resources to handle the arrivals.
Martinez said he anticipates similar situations in the future given how overwhelmed CBP is, but his community wasn't looking to develop any new resources to support migrants.
Hooper said CBP asked him for access to the county's 50-person prison transport bus to take migrants to organizations that have been providing collateral support and shelter to offset the overwhelmed immigration facilities.
"We had information going back two weeks that there was a good, high likelihood that Border Patrol would be transporting into Corpus Christi and dropping off in front of social service agencies, governmental and non-governmental social service agencies," Hooper said.
Newsweek reached out to Hooper and CBP for comment on the transport of the migrants but did not receive a reply by publication time.