2 U.S. Bishops Urge Donald Trump to Halt Remaining Executions
Two U.S. Bishops, Archbishop Paul Coakley of Oklahoma City and Archbishop Joseph Naumann of Kansas City, called to end federal executions in a joint statement on Monday.
"We renew our constant call to President [Donald] Trump and Acting Attorney [Jeffrey] General Rosen: stop these executions," the archbishops said in their statement sent to Newsweek Tuesday. "It is long past time to abolish the death penalty from our state and federal laws, and we call on the new Congress and President-elect [Joe] Biden to make this a priority."
"Every person is created in the image and likeness of God, and we encourage everyone to work to rid the death penalty from our state and federal laws and to develop a greater appreciation for the sacred dignity of every human life," the archbishops added.
Two people are scheduled to be executed at federal prisons in the next three days. A third, Lisa Montgomery, was issued a stay of execution on Tuesday by a federal judge.
Cory Johnson and Dustin John Higgs, two Black men, are scheduled to face execution on Wednesday and Thursday, respectively.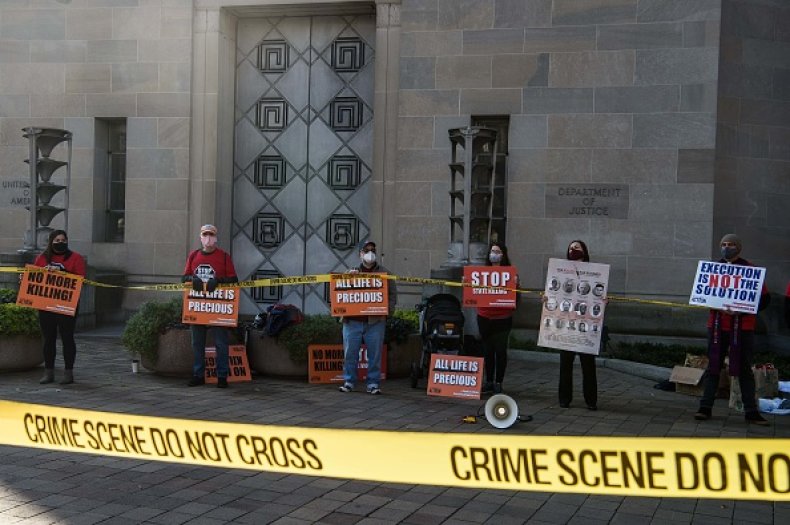 In a letter sent to Congress on Monday, the archbishops reiterated their calls to end federal executions.
"It is past time to end the federal death penalty once and for all," Coakley and Naumann said in their letter. The pair then urged Congress to instate the Federal Death Penalty Prohibition Act.
The Act was proposed by a group of Democrats led by Representative Ayanna Pressley and Senator Richard Durbin. The legislation would prohibit capital punishment at the federal level and require re-sentencing of inmates on death row.
"The U.S. Conference of Catholic Bishops has also long called for an end to the death penalty because it is an affront to human dignity, is racially and economically biased, and is often arbitrary based on location," wrote Coakley and Naumann.
"Perhaps worst of all, more than 170 people have been wrongfully convicted and sentenced to death only later to be exonerated," the pair added.
In 2020, the federal government executed more people than in all of the 50 states combined. According to a December report from the Death Penalty Information Center, 10 inmates were put to death at the federal level, while only seven state-level executions were carried out in 2020.
Before last year, according to the information center's database, no federal executions had occurred in the U.S. since 2003, and only three federal inmates were executed since the reinstatement of the federal death penalty in 1988.
The information center's executive director, Robert Dunham, told CNN in December that "no president in the 20th or 21st century before this year presided over double-digit executions in any calendar year. The Trump administration has carried out ten in the space of five months."
Dunham added that the last president to see numbers comparable to Trump's administration was former President Gover Cleveland's second administration in 1896.