2 World Champion Swimmers Have COVID, Including Second-Fastest Distance Swimmer on the Planet
Ten Italian swimmers tested positive for COVID-19 at a training center in Livigno. Among them were Simona Quadarella and Gabriele Detti, who are world champions.
All 10 swimmers were asymptomatic, according to Swimming World magazine. Athletes began training in Livigno on October 11, and the camp was to wrap up on November 5. Training has been temporarily paused, and the athletes who tested positive for coronavirus are recovering in quarantine at the facility.
The other swimmers who tested positive are: Federico Burdisso, Martina Caramignoli, Marco De Tullio, Stefano Di Cola, Sara Gailli, Edoardo Giorgetti, Matteo Lamberti and Alessio Proietti Colonna.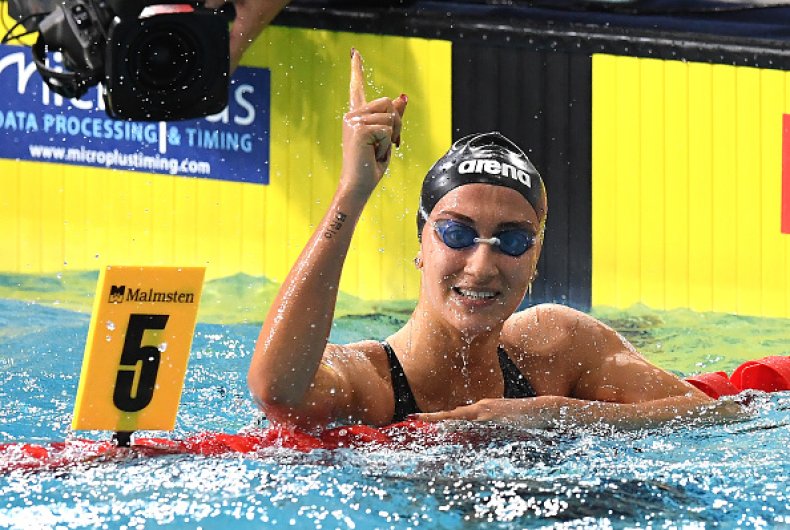 Quadarella, 21, is the headliner of this group. She won the 1,500-meter world championship in 2019. She would have challenged American phenom Katie Ledecky in the race, but Ledecky withdrew from before the final—because of a stomach illness.
Quadarella swam that race in 15 minutes, 40.89 seconds, which makes her the second-fastest in the world—behind Ledecky's 15:20.48 during 2015. Ledecky holds the top 10-fastest swims in history in this race.
Also in 2019,Quadarella won silver in the 800-meter freestyle and bronze in the 400 freestyle at the world championships.
Detti, 26, was the 2017 world champion in the 800-meter freestyle. She also took home bronze medals in both the 400- and 1,500-meter freestyle races at the 2016 Rio de Janeiro Summer Olympics.
The coronavirus was first detected in Wuhan, China in late 2019, and COVID-19 became a worldwide pandemic by early 2020. South Africa's Cameron van der Burgh, who was the Olympic gold medalist in the 100-meter breaststroke in 2012 and silver medalist in 2016, was diagnosed with COVID in March. He chronicled his physical struggles during his 14th day in battling coronavirus.
"I have been struggling with Covid-19 for 14 days today. By far the worst virus I have ever endured despite being a healthy individual with strong lungs (no smoking/sport), living a healthy lifestyle and being young (least at risk demographic)," he tweeted.
"Although the most severe symptoms(extreme fever) have eased, I am still struggling with serious fatigue and a residual cough that I can't shake. Any physical activity like walking leaves me exhausted for hours."
"The loss in body conditioning has been immense and can only feel for the athletes that contract Covid-19 as they will suffer a great loss of current conditioning through the last training cycle. Infection closer to competition being the worst," he wrote.
He urged his fellow athletes to use caution when training to prepare for the 2020 Tokyo Games.
"Athletes will continue to train as there is no clarification re summer Games and thus are exposing themselves to unnecessary risk - and those that do contract will try rush back to training most likely enhancing/extending the damage/recovery time.
"Please, look after yourself everyone! Health comes first - COVID-19 is no joke!"
A week prior to van der Burgh's diagnosis, officials for the 2020 Tokyo Summer Olympics vowed that they would not shut down the Summer Games for the virus. They later postponed the Tokyo Games until 2021.