Updated | A 2-year-old child killed his 1-year-old brother in an accidental shooting Monday in Mobile, Alabama, after finding his parents' loaded 9 mm pistol left out in their bedroom.
The tragedy marked the 123rd child under the age of 11 in the United States killed or wounded in gunfire since January 1, according to GunViolenceArchive.org, which tracks shootings. It was also the second fatal shooting of a child in the U.S. that day.
Mobile Police Chief Lawrence Battiste told reporters outside the children's home Monday afternoon that the siblings were together in their parents' bedroom when the toddler apparently discovered the handgun. Their mother had walked to an in-law unit behind the home to let the boys' grandmother know she was leaving.
Shortly after, the 2-year-old came out and told his grandmother his ears were ringing, according to Battiste. "We believe this was an accidental shooting."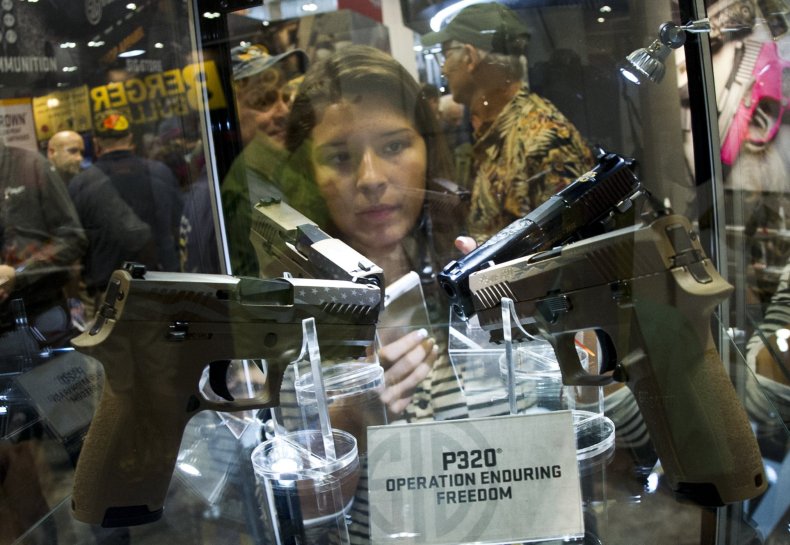 A spokesman for the police department told Newsweek that the parents were not expected to be charged with any related crime, but Battiste called their actions "negligence."
"Really, it boils down to a parent being responsible with their right to bear arms and not being negligent about where they leave those types of weapons," Battiste said. "I can't imagine the type of pain that this family will be going through, but it's going to be compounded by the fact that one of the children was injured as a result of their negligence."
About 40 minutes earlier, in East Carroll Parish, Louisiana, a 12-year-old boy fatally shot his 7-year-old little brother while he played with a .22 revolver, East Carroll Parish Sheriff Wydette Williams told Newsweek.
The children's mother had gone out to run an errand at the time, leaving the children home alone, along with three or four other siblings who ranged in age from 4 to 12, Williams said.
The shooting has devastated the 12-year-old boy who fired the gun, according to Williams. "He's really broken down," he said. "You would think people would be more careful with guns, provide more education" about firearms to children living in homes where one is present, Williams said, but he added that the revolver may have been locked away before the boy retrieved it.
The tragedies come as the nation is in the grips of a heated debate over gun control. On Friday, following the mass shooting at Marjory Stoneman Douglas High School, Florida Governor Rick Scott signed into legislation a gun bill that included several reforms and was seen as a mixed bag among people on both sides of the gun debate.
The measure raised the minimum age to purchase a rifle from 18 to 21 (the age to buy a handgun was already 21), which the National Rifle Association (NRA) opposed, and expanded legal protections for those who use a firearm in self-defense. The law also permits teachers to carry firearms in the classroom if both the local school district and local sheriff's department agree, a controversial policy that many education and gun control advocates oppose.
Alabama and Louisiana were two of the top three states for firearm-related death rate in 2016, according to the Center for Disease Control and Prevention's most recent data. Alabama was second in the nation with 21.5 firearm deaths per 100,000 people, followed by Louisiana, with 21.3 deaths per 100,000. Alaska ranked first with 23.3.
All three of those states are also among the easiest to purchase a gun in. None of them require a gun permit to purchase rifles, shotguns or handguns, according to the NRA.
This story has been updated to include comments from East Carroll Sheriff Wydette Williams.
Correction: A previous version of this story incorrectly attributed the shooting stastics to the site GunViolenceArchive.com. The site is GunViolenceArchive.org.