2 Years After Soleimani's Killing, Secret Service Takes Iran Threats to Trump 'Seriously'
Two years after the slaying of Iran's most revered military official, the U.S. Secret Service continues to track and monitor threats of vengeance against former President Donald Trump, who ordered the act that shocked the region.
"The U.S. Secret Service takes all threats to our protectees seriously," Secret Service spokesperson Justine Whelan told Newsweek.
But as per protocol, she would not get into detail about the process implemented to vet potential threats.
"In order to maintain operation security," Whelan added, "the Secret Service does not discuss the means and methods used to conduct our protective operations or matters of protective intelligence."
While open calls for retribution against the former president and his top officials have emerged steadily since the Jan. 3, 2020, airstrike that killed Iranian Quds Force commander Major General Qassem Soleimani along with the second-in-command of Iraq's Popular Mobilization Forces and their entourage at Baghdad International Airport, an uptick has manifested in the recent weeks surrounding the two-year anniversary of the event.
Some threats have been issued in the form of public speeches, such as when Iranian President Ebrahim Raisi demanded Trump "must be brought to justice, retribution must be carried out" against him and inner circle figures such as former Secretary of State Mike Pompeo during an address earlier this year.
"If the mechanism for a fair trial of Mr. Trump, Pompeo and other criminals is provided, they will be punished for their shameful acts in a fair trial for committing this horrific crime," Raisi said. "If not, I tell all American statesmen that do not doubt that revenge will come."
Another warning came via an animated video published Thursday by the office of Supreme Leader Ayatollah Ali Khamenei. The short clip depicts an imagined airstrike in Call of Duty-like fashion involving spy drones and warplanes against Trump and his former officials as they play golf at his Mar-a-Lago resort in Palm Beach, Florida.
"Soleimani's murder and the one who gave the order will pay the price," reads a message seen in the video.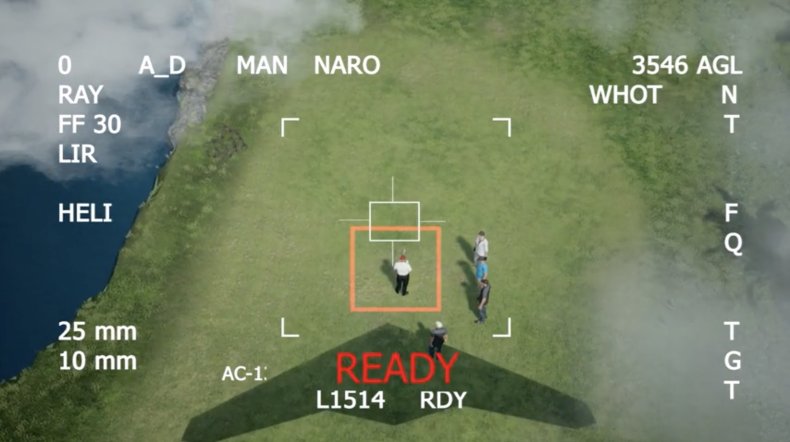 It's not the first time Khamenei's office has imagined targeting Trump while playing his favorite sport at his resort residence.
Last January, one Twitter account believed to be tied to the supreme leader's office shared a doctored image that, just like Thursday's video, appeared to show the shadow of a U.S. B-2 stealth bomber looming over the former president and his cohorts in Mar-a-Lago. That image, too, bore the title, "Revenge is Definite."
The tweet earned that account a suspension and remains offline much like the account of Trump himself, whose Twitter privileges were revoked just two weeks earlier after the January 6, 2021, storming of the Capitol in Washington, D.C.
And while few anticipate such an elaborate, improbable Iranian operation on U.S. soil, the anger towards Trump's actions remains palpable in Iran, where officials issued a warrant for his arrest in June 2020. Around the first anniversary of Soleimani's killing last January, Iraq's judiciary also followed suit, charging Trump with murder, a crime punishable by death according to the country's penal code.
The severe downturn in relations between Washington and Tehran that occurred under the previous U.S. administration has had lasting effects for President Joe Biden. Soleimani's killing followed a series of worsening tensions that began with Trump's decision in 2018 to abandon a historic nuclear deal struck with Iran and major powers three years earlier and U.S. officials today remain locked in negotiations in an attempt to return to the accord.
And violence continues to target U.S. troops in Iraq and Syria, where rocket attacks often attributed to Iran-aligned militias have regularly occurred. At sea, ships have been struck, with the U.S. and Israel pointing the blame toward Iran, which denies responsibility and instead accuses Israel of its own maritime attacks against Iran-linked vessels.
Noting the ongoing frictions in the region as well as Iran's recent decision to impose sanctions on 51 U.S. citizens, most of them current and former military officials, for their suspected role in Soleimani's killing, White House national security adviser Jake Sullivan warned last Sunday that, "Should Iran attack any of our nationals, including any of the 51 people named yesterday, it will face severe consequences."
In the meantime, Iran has continued to enrich uranium at higher levels than allowed by the limits of the nuclear deal, a decision based on the non-compliance of Western signatories not living up to their trade obligations for fear of facing U.S. sanctions. While Iran has dismissed the idea that it was seeking a nuclear weapon, it has continued to build up its conventional arsenal and demonstrated advanced launch capabilities by recently sending a satellite to space by rocket.
Though Soleimani remains a divisive figure, championed by his supporters and loathed by his foes, the head of the elite force that oversaw the satellite launch gave an interview with Khamenei's office in which he paid tribute to the influential fallen commander who helped establish a region-wide network of Iran-partnered militias and led their fight against the Islamic State militant group (ISIS).
In it, he raised the prospect of revenge and its manifestation among Iranian youth.
"At present, revenge has turned into a strategy, a wish, an aspiration and a starting point," Revolutionary Guard commander Major General Hossein Salami said. "Basically, the tendency of the youth to wage jihad has increased after Qassem's martyrdom. This poses a danger to the enemy. We are dangerous whenever we are not afraid of death."