20/20 in 2020? Jameis WInston's LASIK Surgery Has Social Media Blasting His 30 Interception in 2019
Tampa Bay Buccaneers quarterback Jameis Winston became the first NFL quarterback in history to throw 30 touchdowns and 30 interceptions in the same seasons, making him the lone member of the dubious 30/30 club.
Winston underwent LASIK surgery to correct his vision, hoping to perhaps have close to 20/20 vision for the 2020 season.
The unforgiving nature of social media laid into Winston on Wednesday. Before showing the remarks from Twitter, here's a recap of Winston's 2019 season, which was actually the best he's had as a professional—sans the interceptions.
Here are his 2019 numbers, which were by far the best in his career:
380 completions
626 attempts
5,109 yards
33 touchdowns
319.3 yards per game
On the flip side of that, however, were some pretty dismal numbers:
30 interceptions
57.1 QB rating
4.8 interception percentage
7-9 record as a starter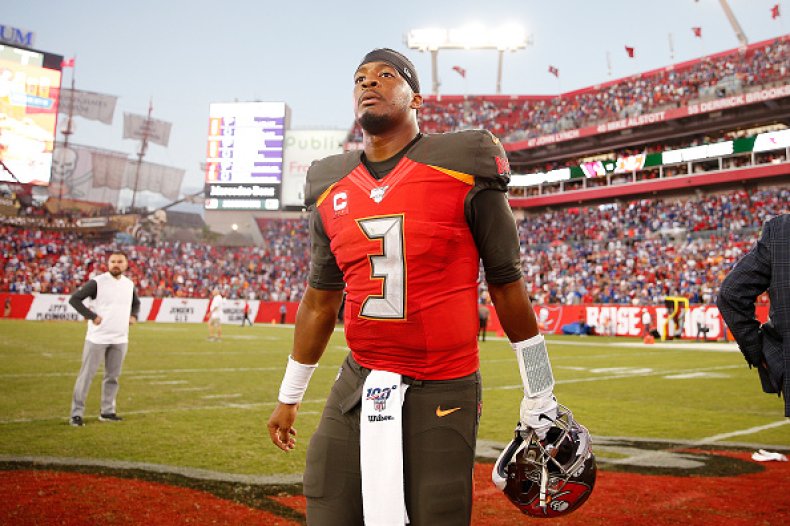 The Buccaneers began the season with a 3-7 record before rolling off four-consecutive wins—despite the interceptions piling up. Tampa Bay then lost their final two games of the season.
Winston threw an interception on his team's opening drive five times in a seven-game span, and six times for the season, which was most in the league. He's thrown the most interceptions (87) since he entered the NFL in 2015, and he has the most three-plus interception games (11) in that same span.
Of his 30 picks in 2019, six of them (20%) were returned for touchdowns. That's the most pick sixes thrown in one season since 1950.
Winston has dealt with nearsightedness since his days at Florida State, where he won a Heisman Trophy in 2013 while leading the Seminoles to the national championship. At the conclusion of the 2019 NFL season, Buccaneers coach Bruce Arians acknowledged Winston's vision problems.
"[Winston] can't read the scoreboard but he can see the guys in front of him," Arians said in this Rotowire story.
After a game late in the 2019 season when Winston threw four interceptions against the Houston Texans, Arians said the team's turnovers needed to be corrected, and apparently the quarterback's vision as well.
"You just can't have them; you can't have that many," Arians said. "Throwing it to the right guys, those guys have got to win, too. We've been winning one-on-ones. He's used to guys winning one-on-one when he reads it properly and we didn't win."
Then there was Twitter on Wednesday, which drilled into Winston's interceptions. Some said he might now see the right jersey colors, while others said that even if he drops his interception total in half, he will still have 15 picks. Here are some of the comments: