Twenty-four people, including four children, were pulled alive from a pile of rubble in Haiti, one week after a devastating 7.2 magnitude earthquake killed over 2,000 people and destroyed tens of thousands of homes.
The earthquake victims were found alive this weekend near Pic Macaya, the country's second-largest mountain, according to Miami station WSVN. The 24 people were safely rescued and immediately taken in a helicopter for treatment, the TV station said.
The successful rescue comes as the nation's death toll from the August 14 earthquake continues to climb. On Sunday, Haiti's Civil Protection Agency said at least 2,207 people have died, 344 are missing, and 12,268 have been injured. Additionally, at least 53,000 homes and buildings were destroyed, leaving tens of thousands of vulnerable people homeless.
Rescue efforts last week slowed because of the heavy rains and strong winds from Tropical Storm Grace. Hospitals have been overwhelmed with treating injured patients, and many wounded individuals have had to lie outside in sweltering heat as authorities rushed to shelter them from severe weather.
The country has also been riddled with gang violence, as criminal leaders have blocked roads, hijacked aid trucks and stolen medical supplies. Gangs have also reportedly kidnapped a doctor and a surgeon in separate incidents, resulting in life-threatening delays of treatment for some patients.
In some places, desperate Haitians have been seen looting food from aid trucks, and thousands remain homeless and hungry. Last week, Prime Minister Ariel Henry declared a one-month state of emergency for the entire country and said he was rushing aid to areas where towns and hospitals were almost completely razed by the damage.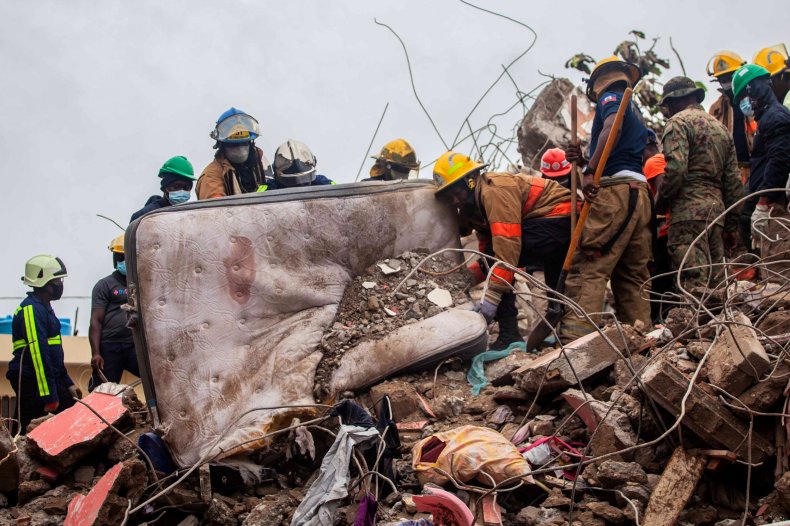 The earthquake and tropical storm hit just one month after President Jovenel Moïse was assassinated, amid the nation's efforts to slow the spread of the coronavirus.
The poorest country in the Americas, Haiti has suffered from political instability, gang violence and food scarcities for decades. The Caribbean nation has also faced devastation from earthquakes and hurricanes. In 2010, a massive 7.0 magnitude earthquake struck Haiti, killing an estimated 300,000 people and rendering over 1 million homeless.
Earlier this week, Henry said that his administration will work to not "repeat history on the mismanagement and coordination of aid," referring to the 2010 quake, when the government was accused of not getting proper relief to people who needed it, the Associated Press reported.
The U.S. Agency for International Development (USAID), which is helping to coordinate the American response to the quake, said Saturday that it has delivered food, shelter repair kits, blankets and hygiene products to some 50,000 survivors.
"The search and rescue teams we've deployed include engineers, paramedics, search and rescue dogs and their handlers. They are uniquely prepared to recover people who may be trapped in earthquake rubble," the USAID said in a statement.
The agency added that more than 130 helicopter missions have been flown, over 300 people have been rescued and 8,500 pounds of medical supplies have been delivered to the country's hardest-hit areas.