20% of Asian Americans Report Being Encouraged to Americanize or Whiten Their Name: Poll
Amid an increase in anti-Asian violence in the United States spurred by the coronavirus pandemic, a new survey released Tuesday provided more details on the discrimination these Americans have experienced.
Twenty percent of Asians and Asian Americans said they've been encouraged to Americanize or "whiten" their names, according to the poll conducted by Survey Monkey and AAPI Data.
That was more than every other racial and ethnic group polled, with the exception of Native Hawaiian or Pacific Islanders, 27 percent of whom reported being encouraged to make their names sound more American or white.
Forty-one percent of Asians surveyed said people have acted as if they don't speak English, and about two-thirds reported being asked "Where are you from?," with the person assuming they were not from the United States.
Regarding hate crimes, nearly one-third of Asian Americans worry "all the time" or "often" about being the victim of such an incident. One in four reported experiencing a hate crime, and 10 percent reported having been victimized already in 2021.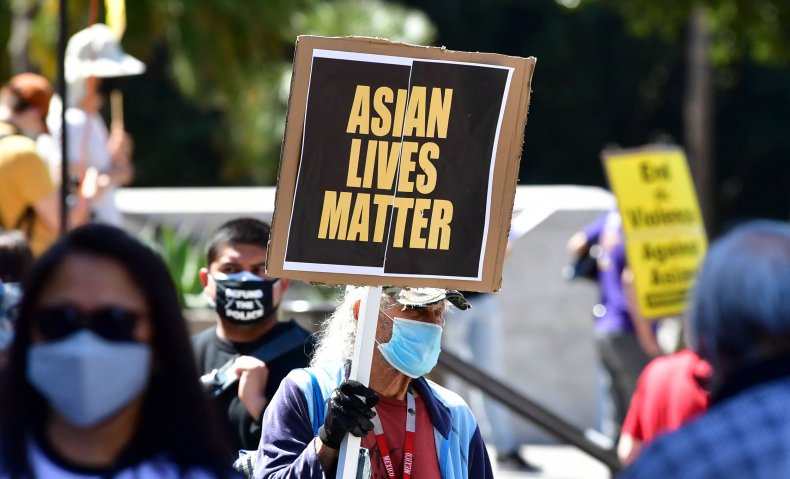 A recent report found that hate crimes against Asian Americans in major cities surged by nearly 150 percent in 2020, even as the number of overall hate crimes in the country fell.
Earlier this month, mass shootings in Atlanta that left six Asian women dead ignited nationwide protests and outrage over the disturbing trend. While police have not yet determined the motive for the shootings, many are calling for them to be the first test of Georgia's new hate crime law.
On Tuesday, President Joe Biden announced steps Tuesday to protect Asian Americans from violence and discrimination. Under his initiatives, the Department of Justice will track reports of anti-Asian hate crimes, and the FBI will hold training sessions for state and local law enforcement.
In addition, the Department of Health and Human Services will allocate $49.5 million to programs to help victims of domestic violence and sexual assault in the Asian American, Native Hawaiian and Pacific Islander communities. And the National Science Foundation will spend $33 million to study bias and xenophobia against Asian American communities.
"As President Biden said during his first prime-time address, anti-Asian violence and xenophobia is wrong, it's un-American, and it must stop," the White House said in a statement.
Survey Monkey and AAPI Data surveyed 16,336 U.S adults between March 18 and 26. The poll's margin of error is plus or minus 1.5 percentage points for the full sample and 3.5 percentage points for the Asian American or Pacific Islander subgroup.