20 Attorneys General Call on Trump Administration to Improve Worker Protections at Meat Processing Plants
The attorneys general of 19 states and Washington, D.C., joined forces Tuesday in calling for President Donald Trump to secure greater protections for meat industry workers during the coronavirus pandemic.
"The conditions for workers in meat and poultry processing plants have become much more dangerous during this pandemic," Maryland Attorney General Brian Frosh said in a news release. "The industry's failure to protect employees and the Administration's failure to support testing, provision of personal protective equipment, and enforcement of safety standards will continue to endanger the health and well-being of employees."
The coalition was led by Frosh as processing plants continued to report COVID-19 outbreaks among their employees. According to data updated Tuesday by The New York Times, three plants were listed among the top 10 virus hotspots in the U.S, two of which reported more than 1,000 cases each.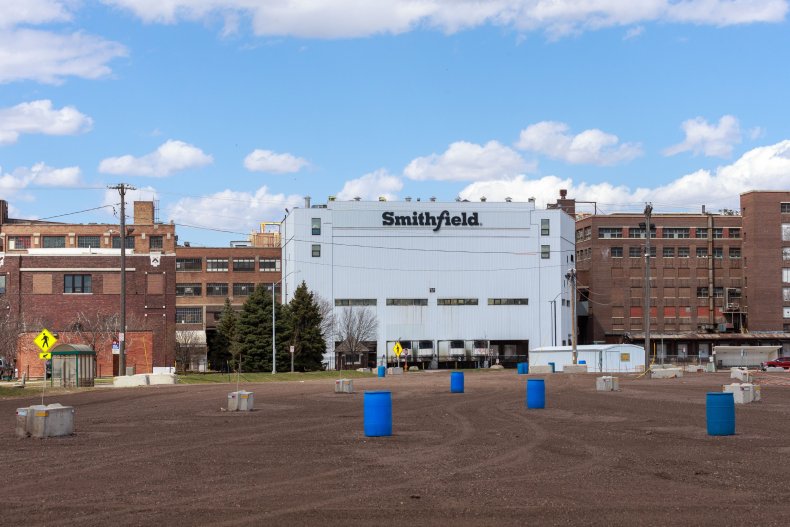 The attorneys general of California, Colorado, Delaware, Illinois, Maine, Massachusetts, Michigan, Minnesota, Nevada, New Jersey, New Mexico, New York, Oregon, Pennsylvania, Rhode Island, Virginia, Washington and Wisconsin joined Frosh and Washington, D.C., Attorney General Karl Racine in signing the letter addressed to Trump. The letter said the president's executive order last month invoking the Defense Production Act (DPA) contributed to the problem and alleged the U.S. Department of Agriculture's approval of plant-submitted waivers enabled line production to speed up and "force employees to work faster and closer to one another." The attorneys general called for a halt of these waiver approvals as one of their requests to the president.
According to a spokesperson with the Food Safety and Inspection Service, the waivers that have been processed this spring were submitted by plants before the pandemic began and go through a review process before they are approved. The FSIS stopped accepting waiver requests on March 20, the spokesperson told Newsweek.
Since the president's executive order invoking the DPA was signed, "USDA has worked collaboratively with establishments as well as our federal partners and state and local authorities to ensure the CDC/OSHA guidance for worker safety is implemented so facilities can resume or maintain their critical operations," the FSIS spokesperson said in a statement. "Over the past week, more than 10 large establishments have resumed operations across the country. OSHA is the federal agency responsible for worker safety and as such any enforcement action would be under their purview."
While the letter also referenced the "sporadic" use of personal protective equipment and adherence to social distancing guidelines at processing plants, the FSIS said all plants had been advised to follow the Centers for Disease Control and Prevention guidelines for industry workers, which were published last month.
As states have begun reopening their economies and allowing employees to return to work, the attorneys general called for new measures to be introduced at meat processing plants to protect workers from further spread of the virus. In addition to asking for priority testing and personal protective equipment distribution among all plant workers, the letter also requested strict adherence to social distancing guidelines and full pay for workers in quarantine.
"Without adequate and enforceable mandates to protect worker safety, your Executive Order may perpetuate this spread of illness and death," the letter said.
The White House did not respond to Newsweek's request for comment in time for publication.