20 Best Playstation 2 Games on 20th Anniversary of Console's Release
Today (October 26) marks 20 years since the second model of Sony's Playstation, PlayStation 2 (PS2), launched.
Back at the beginning of the new millennium, the first generation of the Playstation (PS1) was well-loved across the globe, competing with the Nintendo 64 console. But before the first year of the 00's was up, Sony had a new console to take its place, as well as some new competitors.
"The PS1 was one of the most influential consoles of all time—it changed the face of gaming and launched countless franchises," says freelance computing and gaming journalist, Mike Jennings. "The PS2 squared up against the Nintendo GameCube, the first Xbox and Sega's Dreamcast—the successor faced huge pressure."
But boy, did it deliver. The PS2 set a new standard for home console gaming, raising the bar for players and developers. To this day, it is the best-selling and most played console of all time, selling over 155 million consoles worldwide. According to Sony, it had almost 4,000 games release up to late 2013.
"There are several reasons why it succeeded," explains Jennings. "Superb components delivered incredible graphics and bigger games helped the PS1 generation grow up with their new machines.
"Gamers trusted the PlayStation brand, its competitors faltered and the big games kept on coming—along with more affordable versions of the machine," the gaming expert continues. "Sony knew not to change things for change's sake, too—the controller was only tweaked slightly, for instance, and many of the PS1's franchises expanded on the PS2."
While some franchises were continued such as TEKKEN, the PS2 came with its own classics such as ICO, Shadow of the Colossus and Grand Theft Auto: San Andreas. Some of these classics remain popular today, with some emulated for the PlayStation 4 (PS4).
"It's impossible to pick a winner between the first and second generation PlayStations, but there's no denying that Sony did a tremendous job of building on the PS1 with its second console," muses Jennings. "After twenty years it's worth remembering the PS2—especially as it helped solidify Sony in the gaming market.
"If that hadn't happened, who knows if we'd be getting a PlayStation 5 at all."
To help gamers reflect on the defining console, Newsweek has created the top 20 PS2 games, using scores from Metacritic to rank them.
The Ultimate 20 PlayStation 2 Games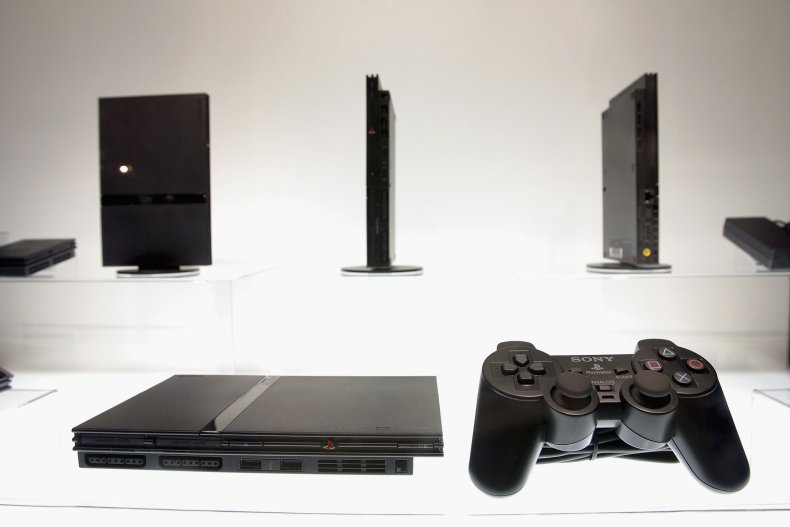 20. SSX 3 — Metacritic score: 93
Developed by Electronic Arts Canada, this snowboarding game gives players freestyle events, racecourses and the chance to learn tricks. Characters are also customizable, similar to what we see in games such as Fortnite today.
19. SSX —Metacritic score: 93
The first in the SSX franchise, this game was Electronic Arts' first extreme sports games for the PS2. This game was developed by EA Sports Big and seems to have a slightly higher user score on Metacritic than its newer counterpart.
18. God of War II— Metacritic score: 93
Released in March 2007, this game was voted Game of the Year by Metacritic in the same year. The story in the game focuses on mortal warrior Kratos, who is now the God of War, decided to journey to the far reaches of the earth to defeat "untold horrors" to change his destiny. The game gives players the control of Kratos, using deadly blades and rage as well as magic and new combat moves.
Metacritic describes the game as vividly striking with challenging puzzles and mini-games intricately woven into the story.
17. Burnout 3 Takedown—Metacritic score: 93
The third game in the franchise introduced the unique "crash and burn" racing concept. Metacritic describes it as having one-of-a-kind special effects, delivering "spectacular visuals."
It also has multiple single-player, multiplayer and online crash and race modes, offering players to race through busy city streets and rewarding them for taking risks.
16. Virtua Fighter 4—Metacritic score: 94
The fourth in the series, the game features two new characters—Lei Fei and Vanessa Lewis—with their own unique styles based on real martial arts. Like many other fighter games, players can play in arcade mode, against a friend after training their character through sparring.
15. God of War—Metacritic score: 94
The first game in the God of War franchise sees Kratos, an ex-Spartan warrior, embark on a quest to destroy Ares, the God of War. The hero of the game fights off against mythical creatures such as Medusa, Cyclops, the Hydra and more, while solving puzzles as the story progresses. It's definitely not for those PG-13 and under.
14. NCAA Football 2004—Metacritic score: 94
Developed by EA Sports, this American football game allows players to take their rivalries online. Features include new trick plays, new animations for sideline tackles, stumbles and over-the-shoulder passes as well as user-controlled celebrations.
The new QB Rollout camera and the Play-Action Pass camera mean the gameplay is more accurate and true-to-life. This game also has "New College Classics" mode, where players can replay 20 of the greatest college football games from the last two decades (pre 2004).
Users can play as one of 36 1-AA teams or one of the 100+ classic teams including 1930 Notre Dame, 1956 Oklahoma, 1972 USC, 1985 Auburn and 2002 Ohio State.
13. Metal Gear Solid 3: Subsistence—Metacritic score: 94
The first time Metal Gear went online. Players could battle or team up with up to seven other friends online or they could make the most of the different gameplay modes offline. The all-new online modes include Death Match, Team Death Match, Sneaking Mission, Capture Mission and Rescue Mission.
12. Madden NFL 2004—Metacritic score: 94
It won Metacritic's 003 Playstation 2 Game of the Year award, so no wonder it's scored high on this list. The key features for this version of the game include New Playmaker Control and a new Owner Mode, as well as the most realistic NFL playbooks ever"—all from 32 officially licensed coaches and head coaches.
11. Madden NFL 2002—Metacritic score: 94
Seems to score slightly higher than the 2004 version—this game, for its time, had new player face and body technology as well as the ability to create player own teams with custom helmets, uniforms and stadiums.
There was also a new training mode which meant people could learn from Madden himself.
10. Devil May Cry—Metacritic: 94
Dante, a private investigator of the supernatural, is seeking revenge for the death of his mother and brother. Luckily for the guy, he's not an "ordinary man" and has his father's sword to help avenge mankind in the demon realm.
9. Tony Hawk's Pro Skater 4—Metacritic score: 94
PS1 fans will remember when the first game in the franchise was launched, so it's no surprise that fans love this fourth in the series. Launched in 2002, this game allows you to build your skills, earn respect and show your character has what it takes to go pro. In this game, there are no time clocks, no constraints as well as pro-specific challenges.
You can also interact with other skaters in the multiplayer modes.
8. Madden NFL 2003—Metacritic score: 95
The game goes online with this version of the franchise. Players can meet, chat and play head-to-head against others or they can focus on the Mini-camp, where they can hop on the cruiser tour bus and travel to all the NFL cities to complete skilled tasks.
Players can also play 30 years of Franchise mode and draft players each season with tips from scouts.
7. Gran Turismo 3: A-Spec—Metacritic score: 95
Another franchise started in the PS1 era, Gran Turismo has evolved along with the consoles. In the third game, there are two new courses—downtown Tokyo and Monte Carlo Grand Prix courses—as well as an amazing range of cars from Vipers to Cooper Minis. The soundtrack also disappoint, including artists such as Lenny Kravitz and Jimi Hendrix.
6. Grand Theft Auto: Vice City—Metacritic score: 95
Probably one of the most memorable GTA games, it won Metacritic's 2002 PS2 Game of the Year. Based in the 1980s, the game focuses on Tommy Vercetti who is sent to Vice City by his old boss, Sonny Forelli.
However, he's set up and is left with no money and no merchandise, with his boss wanting his money back. But the biker gangs, Cuban gangsters and corrupt politicians stand in his way—basically most of Vice City seems to want Tommy dead.
This Rockstar-developed game allows players to fully immerse themselves in the world of Vice City, driving sports cars, pizza delivery bikes and even helicopter. This game definitely set the bar high for the following GTA games.
5. Grand Theft Auto: San Andreas—Metacritic score: 95
Another Metacritic PS2 Game of the Year winner, this GTA game was another classic for gamers. The story sees Carl Johnson (CJ) escape the pressures of Los Santos only to return in the early 1990s after the murder of his mother.
On his return to the neighborhood, a couple of corrupt cops frame him for homicide. CJ is forced on a journey that takes him across the entire state of San Andreas, to save his family and to take control of the streets.
4. Metal Gear Solid 2: Sons of Liberty—Metacritic score: 96
Launched in 2001, this game focuses on Solid Snake, now a member of the anti-Metal Gear group "Philanthropy," going after a prototype Metal Gear developed by the U.S. Marines and on route to a secret destination. Of course, things go a bit awry and Snake has to change tact.
3. Resident Evil 4—Metacritic score: 96
Following the story of Leon S. Kennedy, the Raccoon City Police Department's idealistic rookie cop from "Resident Evil 2", the game is set six years since the destruction of Raccoon City. Leon is now a U.S. agent with a top-secret mission—look into the abduction of the President's daughter. His investigations has led him to a mysterious location in Europe with unimaginable discoveries awaiting him.
2. Grand Theft Auto III—Metacritic score: 97
Launched in 2001, a year after the console was released, this game puts players right at the heart of gangster paradise. The graphics much improved from before, players were able to see a fully-realized three-dimensional city with a large cast, over 50 vehicles such as sports cars and ice cream trucks, three hours of music and loads of street-ready weapons.
1. Tony Hawk's Pro Skater 3—Metacritic score: 97
Another game launched a year after the console, Pro Skater 3 allowed players to challenge up to four friends in online competitions over a LAN or the Internet. Modes included Trick Attack and Graffiti modes.
According to Metacritic, it was the Best PS2 Game of 2001 and was one of the most discussed and shared game of the year on its platform.