20 Breakout 'Shark Tank' Products The Internet Loves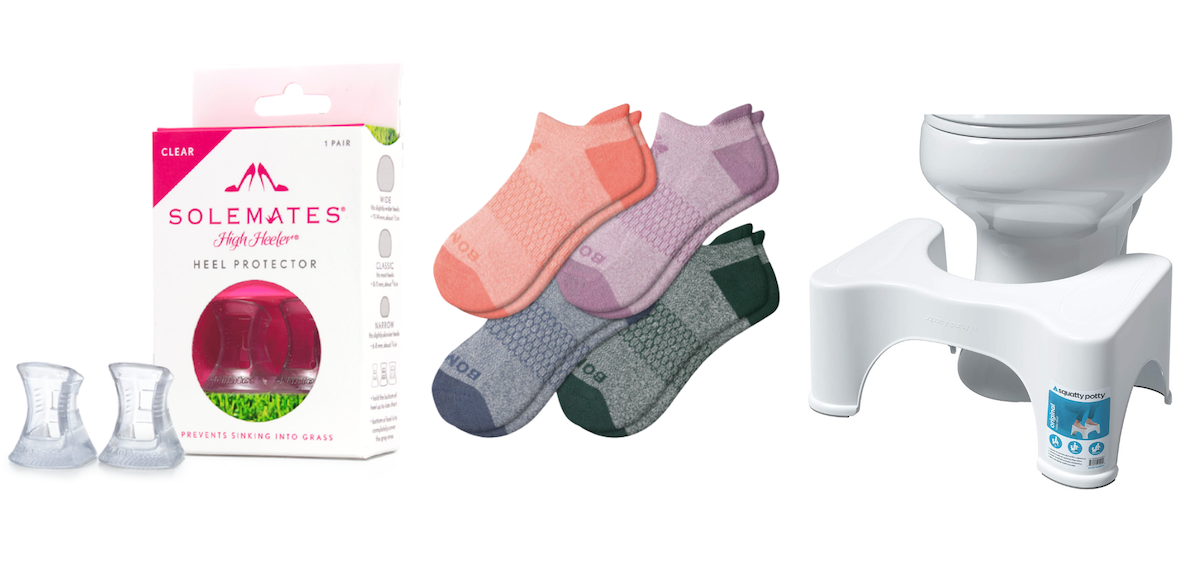 Over the past decade that Shark Tank has been on TV, hundreds of entrepreneurs (both the authentic and the wanna-be) have appeared on the pitch-at-your-own risk business development reality television show to share their product and company ideas. And while some have been downright delusional and others hilarious, a select few have hit the mark and made it big. In fact, there are some Shark Tank products that people really swear by.
These are the 20 best Shark Tank products that blew up, according to sales, reviews and ratings. As always, the prices listed may fluctuate over time as products go on sale.
20 "Shark Tank" Products People Swear By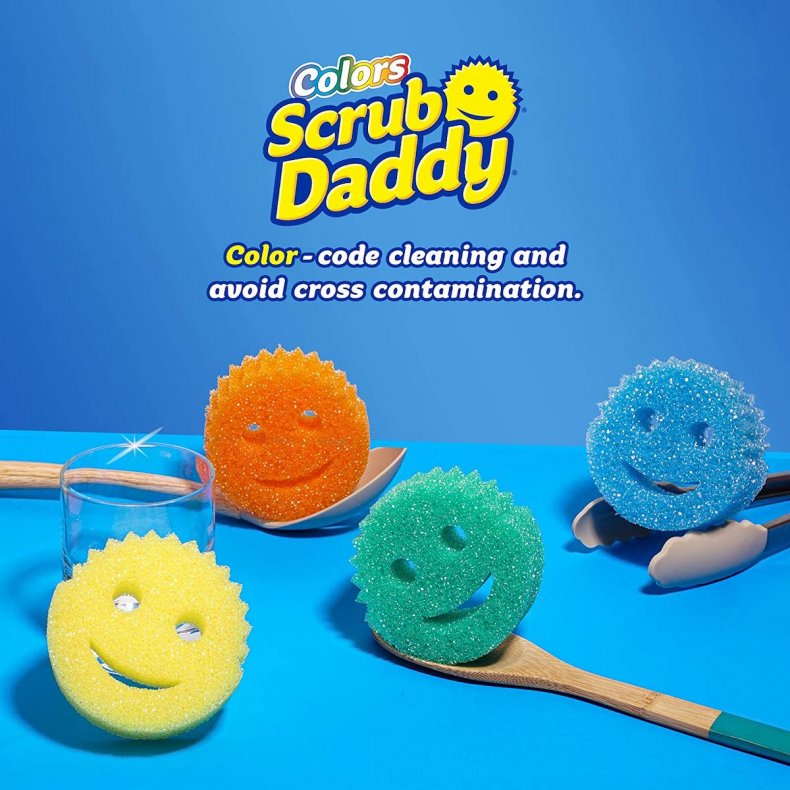 Once you go Scrub Daddy, you simply can't go back. Sorry, but it's true. Its 4.9-star rating (out of a possible five) and 3,000-plus Amazon reviews prove it. By October 2019, the company's sales were already $209 million. Backed by Shark Tank veteran inventor and entrepreneur Lori Greiner, this kitchen scrubber not only smiles back at you as you wash, but its FlexTexture foam stays firm in cold water and soft in warm water for the ultimate dish-scrubbing tool. It's also scratch-free and soft and safe enough to use on stainless steel, cast iron, nonstick coatings, copper, chrome and leather. Not to mention, his happy little eyes make it easier to reach deep into tall mugs and cases, and his smile offers better grip as you scrub utensils. One Amazon.com reviewer wrote, "After using this on many items with the exception of drinking glasses, this little round sponge rocks!!! It's especially great for cleaning tubs, sinks and kitchen counters! The round grip and size is perfect for this type of cleaning. You're getting five stars from me, Scrub Daddy! I love it! No smell, either!!"
Buy a four-pack on Amazon for $14.99.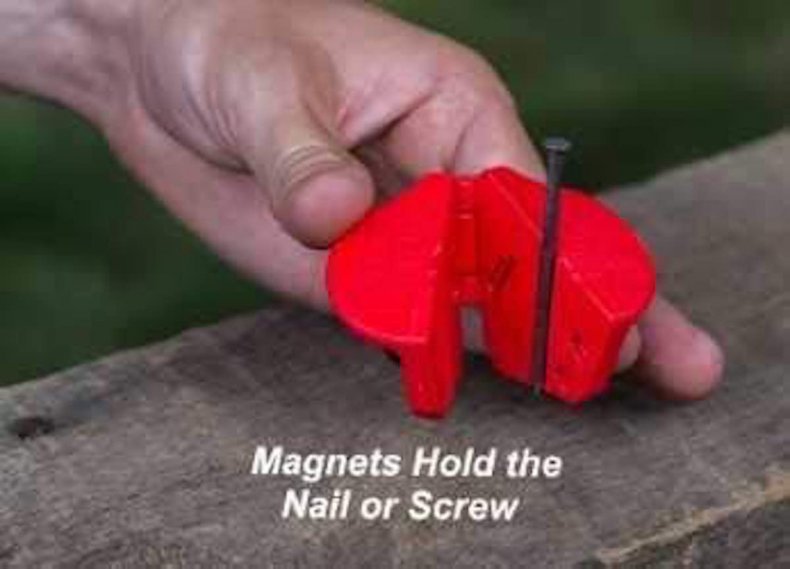 The Safety Nailer Framer changes the game for frequent (or even infrequent) DIY-ers. After all, the whole point of this product is to keep your nails and screws in place so that you never have to worry about dropping them ever again. Designed for both left- and right-handed people and using magnets to keep the nail (or screw) steady, the Safety Nailer Framer—which scored a deal with investor and shark Mark Cuban, entrepreneur and Shark Tank recurring guest star Rohan Oza, and Greiner—is made of tough, long-lasting plastic that makes it near-impossible to accidentally hammer your finger. One Amazon.com reviewer wrote, "I have this and the finish nail size and they are both great! I have nerve pain in my hands and Safety Nailer removes any chance of me banging my fingers with a hammer. What a relief! It's great for those of us who are not as dexterous as we once were. One of the best construction gadgets I've ever purchased."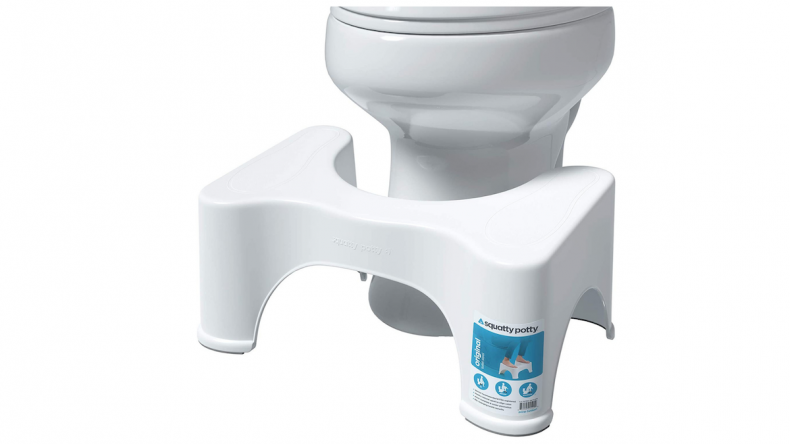 Ah, the Squatty Potty—another Greiner-backed fan-favorite product among anyone who has a bowel movement! This ingenius Shark Tank product is simply a step-stool of sorts for your feet to rest on as you sit on the potty. Adjusting your toilet-posture into more of a squat (as nature intended it to be), the Squatty Potty makes it easier to get out whatever you need to get out. And according to the 4.6-star rating and more than 10,000-plus reviews, people love it! One meticulous Amazon.com reviewer wrote, "I gingerly climbed on top of the plastic contraption now ringing my porcelain throne. It soon became apparent that I couldn't keep my britches at my ankles as I normally did. No, they had to go entirely, along with my underthings. And if there is anything more ridiculous on this planet than the sight of a human man wearing a t-shirt and nothing else, I have yet to experience it. So, in the interest of saving myself this unfortunate view, I doffed the shirt as well. Now entirely naked, I again attempted to step onto the device. I was unsure, but it seemed to hold. I settled down to the seat, with only the extremities of my posterior touching. My knees were up at my chest. This, plus my complete nakedness, felt very primal.... It felt... right. I concentrated on the task at hand. I had felt a slight urge to go, and had been eager to try out the new purchase. I had been intrigued by the promise that my business would henceforth require substantially less effort on my part, because of the wild beast–man position it forced upon me. But I was still skeptical. It sounded too good to be true. Surely the difference couldn't be that dras—holy hell I'm pooping."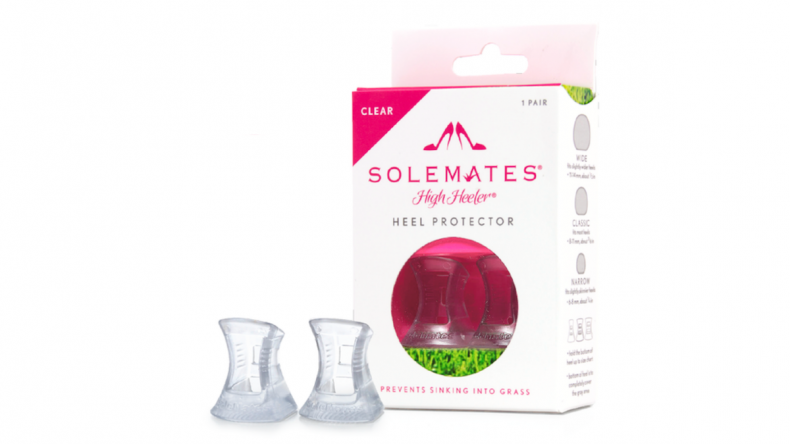 If you've ever worn heels on grass, then Solemates Heel Protectors are for you, Girl. Though the female-founded company didn't close a deal on Shark Tank, they're still kicking. In fact, with a surge of outdoor weddings à la the COVID-19 pandemic, Solemates is thriving. Their original Solemates Heel Protectors are obviously a big-selling item—after all, these tiny, clear plastic bits pop onto the bottom of your heel in order to stop them from sinking into grass, dirt, sand or otherwise soft ground—but the company has also expanded in recent years to also offer shoe fresheners, blister protectors and more shoe-related products.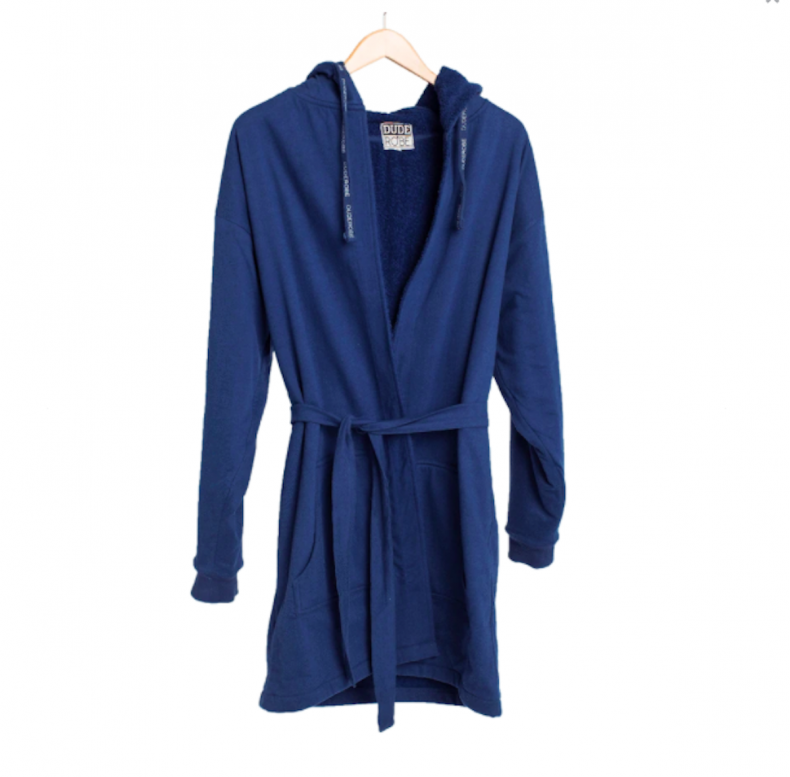 Can you swear by a robe? Hold on, let me get my boyfriend. No, but all jokes aside, the DudeRobe brand doesn't make ordinary robes. It makes robes for dudes and takes into consideration all the things dudes love—including hoodies. The DudeRobe Luxury Men's Hooded Bathrobe is made of premium sweatshirt material on the outside and is particularly comfortable and absorbent on the inside. It also features permanently attached belt (that you'll never lose), an extra pocket in its interior and a convenient above-the-knee length that guys dig. Unfortunately, DudeRobe didn't snag a deal when the company appeared on Shark Tank, but that hasn't stopped customers (and viewers!) from giving them their money. One DudeRobe.com reviewer wrote, "Loving my gray Dude Robe so far! Super comfortable cotton materials. Hoodie is great for colder mornings. Couldn't be happier with it! Would recommend it."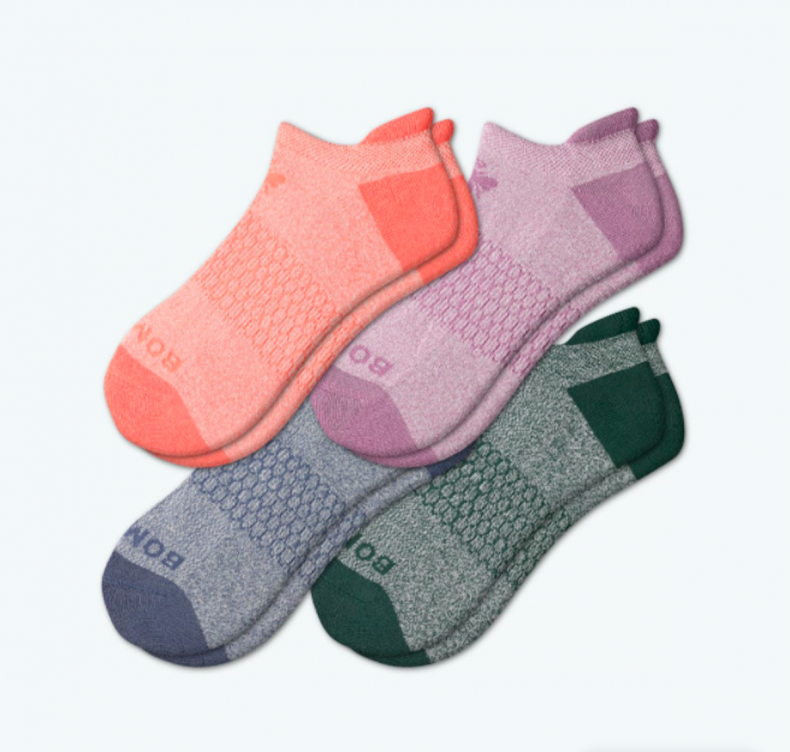 Everybody and their mother has Bombas socks nowadays! Shark Tank investor Daymond John made a deal with the company and even said that it was "one of the top three investments" he made throughout his time on the show. And the numbers are definitely there to back him up. After an undoubtedly successful appearance on The Today Show in 2015, Bombas had quite an increase in sales, helping the company reach a projected annual revenue of $1.1 million. But—they're just socks, right? Wrong. Bombas makes socks for men, women and children (as well as underwear and other apparel)—all while giving back and donating a pair of socks for every pair purchased. On Bombas.com, the Bombas Women's Originals Ankle Sock 4-Pack have earned a 4.8-star rating and garnered more than 17,000 reviews. One happy customer wrote, "These are the most comfortable ankle socks I've ever worn!! I can be on my feet all day and feel amazing at the end of the day!"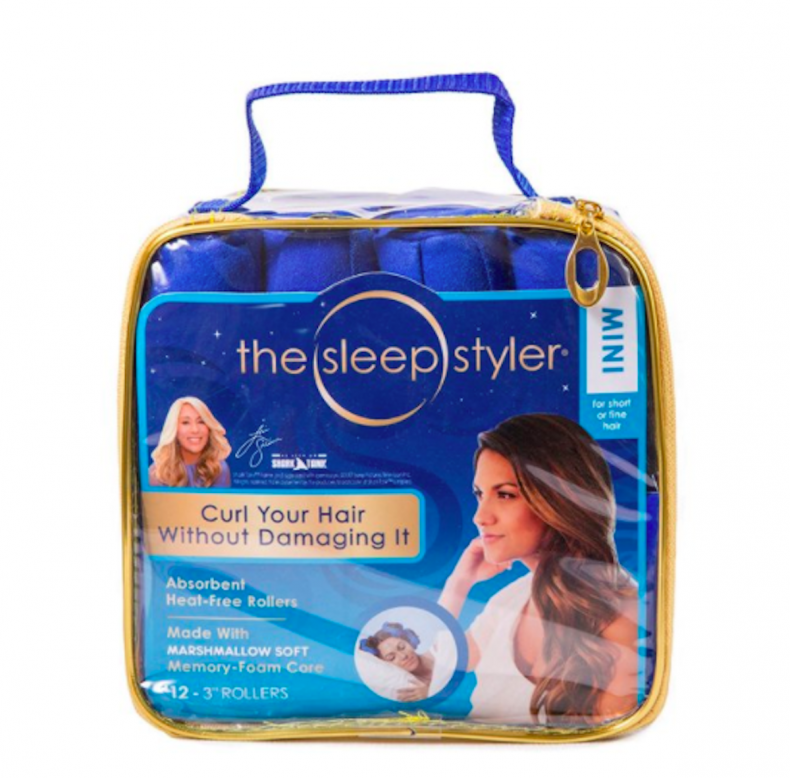 After Tara Brown's episode of Shark Tank aired—an episode in which she made a deal with Greiner for her invention, The Sleep Styler—all of Brown's inventory, all of it, sold out within minutes. Three months later, The Sleep Styler had garnered $50 million in sales with even Greiner having said, "The response after The Sleep Styler aired was unbelievable. I'd never hit this kind of number in that amount of time with any of my Shark Tank entrepreneurs." Designed to both dry and curl your hair while you sleep—without the help of heat—The Sleep Styler still to this day routinely sells out at Walmart.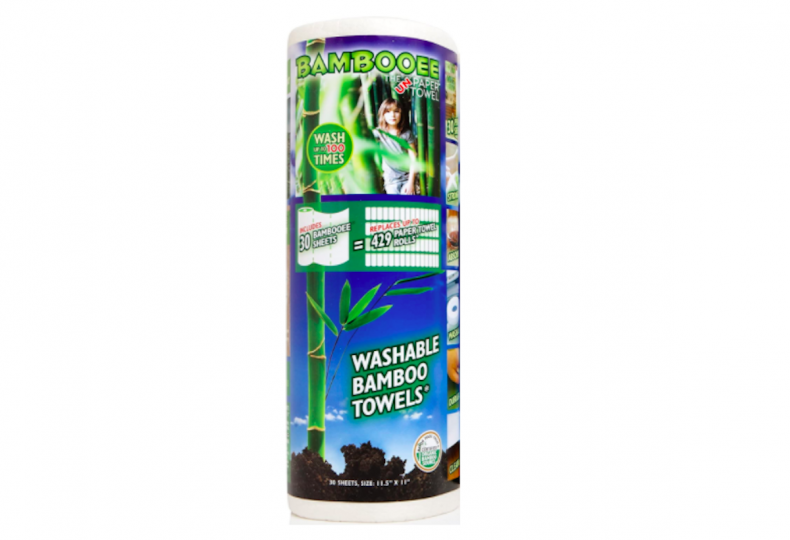 Greiner made another standout deal with Bambooee Paper Towels on Episode 517. A sustainable alternative to single-use paper towels, these are made with eco-friendly bamboo and can be washed and reused. For every roll sold, the brand promises to plant a tree, and with a 4.5-star rating and more than 1,600 reviews on Amazon.com, it's clear that many customers prefer reusable towels to throwaway ones. (After all, one reusable roll can replace up to 286 single-use ones.) One reviewer wrote, "My guy uses paper towels like they grow on trees. I know, silly statement but I complain constantly how he cleans the house with them and the price! Like others, I saw them on a rerun of Shark Tank and a light bulb went off. This could save our relationship, I thought to myself. I emailed him a link and his reply was, 'Hmmm.' I decided to buy them since he seemed so excited, ha-ha! For the price, I thought they should be a Christmas gift, so they were. I think they are his favorite gift. I came home from work yesterday and he proudly told me that he 'mopped' the kitchen floor with one so I had to add my review. What's not to love? He has used three so far and washed them and loves them but I don't think he needed to use three already. There I go complaining again. Best purchase in a long time. Bye bye paper towel lover, hello tree saver!"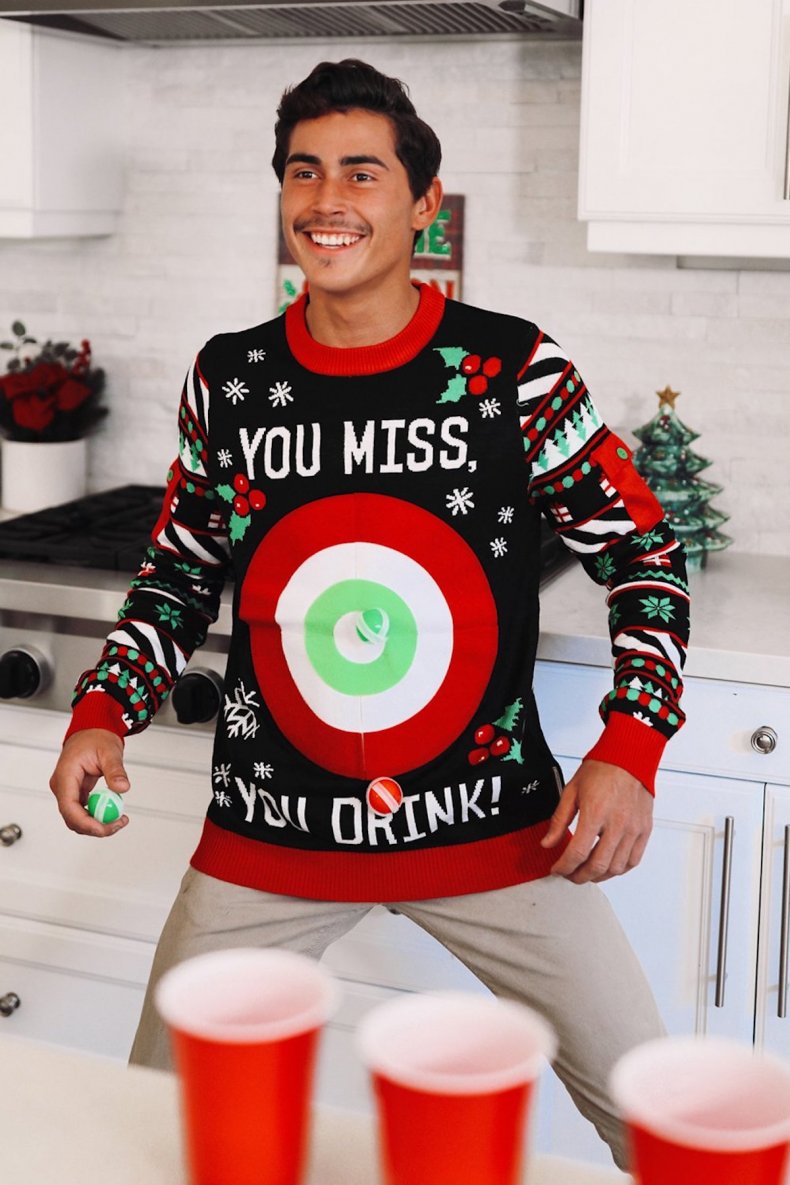 To this day, Tipsy Elves is talked about with pride on Shark Tank. After all, investor Robert Herjavec offered them $100,000 in funding back in 2013, and in their first two years as a silly-holiday-apparel company, Tipsy Elves brought in $1 million. Nowadays, it's the go-to spot for holiday-themed sweaters, socks, onesies and more. If you want any chance of taking home the first prize at your next ugly sweater party this December, grab yourself something from Tipsy Elves.
Buy at Tipsy Elves for $64.95.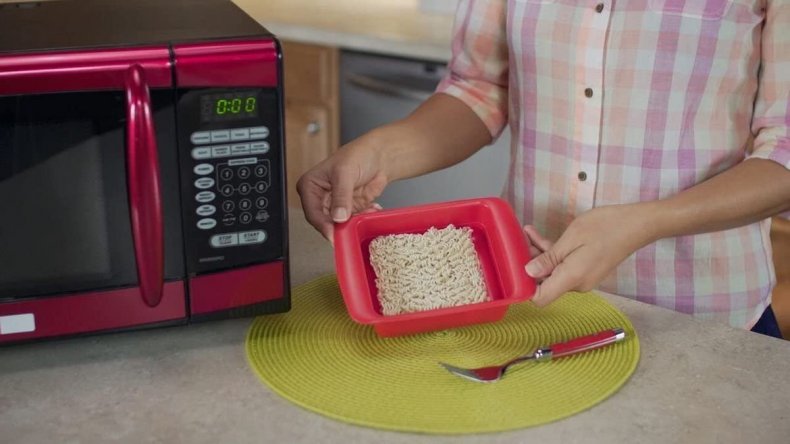 Why dirty a large saucepan when you can simply use this appropriate-size Rapid Ramen Cooker? Though it got Cuban's attention on Shark Tank, ultimately, a deal didn't close. But even without one, the Rapid Ramen Cooker turned into one of the show's most successful products, earning 4.7 stars and more than 15,500 reviews on Amazon.com. One reviewer wrote, "I had the recent pleasure of going on yet another deployment with the Navy at sea. Before leaving my co-workers and I filled the office with snacks and noodles and other microwavable foods because sometimes you just want to work through lunch or the lines be really long. For 4 months we had been heating our noodles in the microwave using the clear Rubbermaid containers. While the noodles were still good, you had to microwave them for at least 8-9 minutes and still they would have this weird taste to them. It wasn't until I was restocking on noodles and other snacks that Amazon recommended me this little bowl that claimed it cooked your noodles in the microwave in 3 minutes and they would come out just like they would if they were made on a stove. It was cheap and so I decided to try it. OH MAN! This is the way to eat noodles. I had bought two packs of two bowls and ended up giving them to a few of my co-workers who now love these things. DEFINITELY A GREAT PURCHASE. Followed the directions exactly and got perfect results. I am going to recommend this to new sailors when they ask what they should bring on a deployment."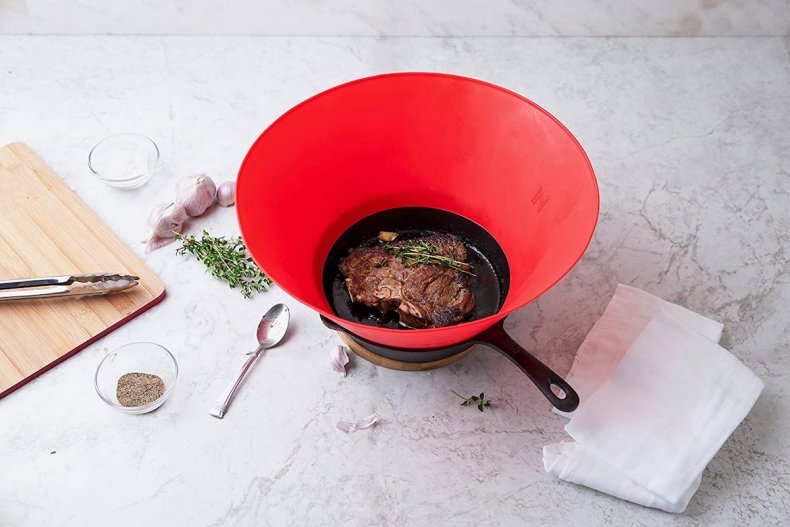 Another fan-favorite Shark Tank product that's been making waves in the kitchen is the Frywall Splatter Guard. Made of BPA-free, FDA-compliant and dishwasher-safe silicone, the Frywall Splatter Guard, which Grenier invested in, fits most 10-inch pans and stops oils, mist and condensation in its tracks before it can splatter all over the stove or onto you. What users love most about it—its 4.2-star rating and 4,400-plus reviews on Amazon.com can attest—is that while it guards splatter, it leaves the pan largely accessible, unlike most other splatter guards. This way your food doesn't get sacrificed so your skin doesn't get burned!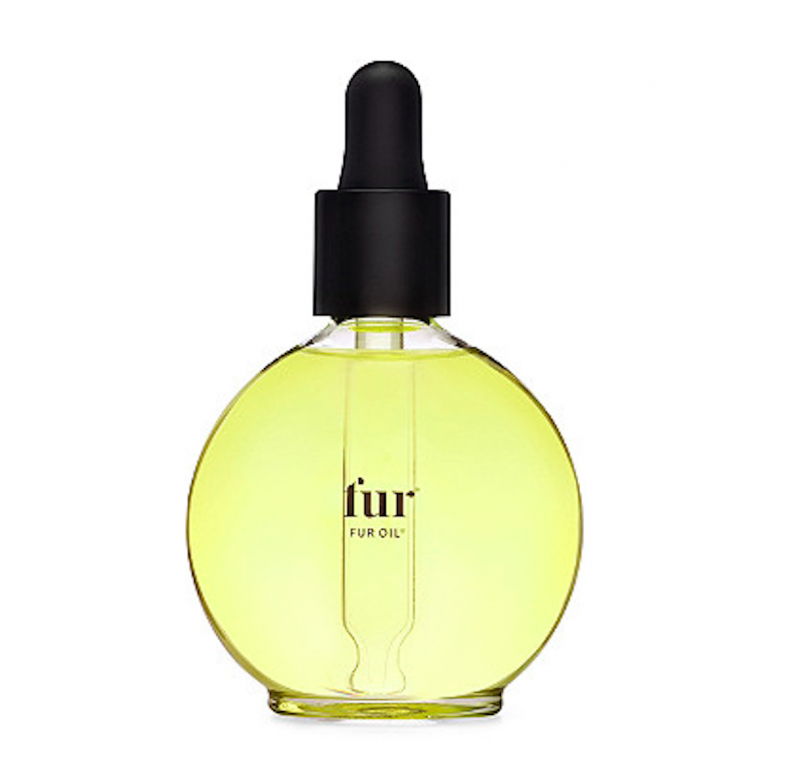 The Queen of QVC—that's Grenier, of course—also lent her hand to Fur Oil, an ingrown-hair concentrate that seeks to soften pubic hair in order to prevent ingrowns and other pubic-related problems. Made with natural ingredients—grape seed oil, jojoba oil, clary sage and tea tree oil—most users describe Fur Oil as a conditioner for your pubic hair. It relieves irritation and can also be used on other areas of the body, too: the underarms, legs and, hey,—even your face! One reviewer and frequent user wrote, "This is one of the best purchases I've made. I am an African American woman with very curly hair. I love getting waxed but had the worst hair bumps. I discovered this product. Its directions are to use once every day after taking a shower and drying off and the hair bumps were gone after two days. The bottle is small but I can't go without now. It's the only thing that has worked for me. I highly recommend."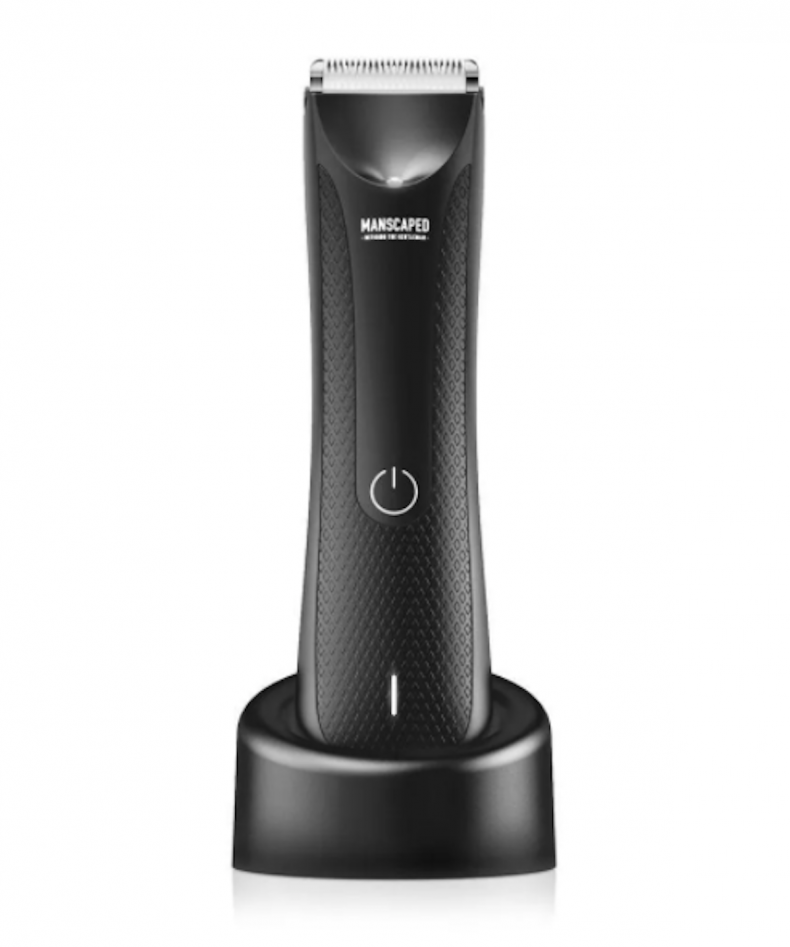 Don't landscape—manscape! Designed to help men actually enjoy their grooming routine, Manscaped as a brand makes everything from the Lawn Mower 3.0 (an electric groin and body-hair trimmer) to deodorants, body wash, ball wipes and more. Though Cuban invested in Manscaped the company and not just this hair trimmer, the Manscaped Lawn Mower 3.0 is definitely the place to start if you're new to manscaping. Dudes love that it comes to an adjustable guard with two lengths, a rechargeable battery and is waterproof to boot. One Manscaped.com reviewer wrote, "Great product. Looks awesome, and cleans you up without any problems. No cuts or scrapes, just smooth skin. Definitely buy if you are in the market."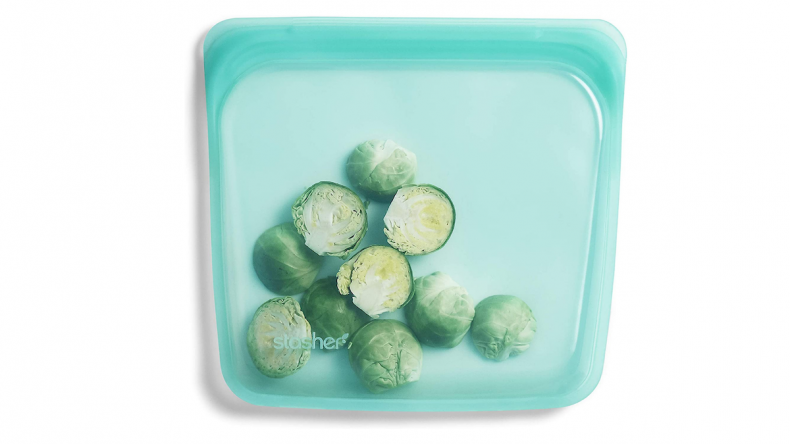 You can purchase a Stasher Bag just about anywhere nowadays—Whole Foods, Amazon.com, Target—but you may shocked to know that it first stirred things up on Shark Tank. Cuban made a deal with the company and since then, the eco-friendly storage alternative industry has never been the same. (And neither has Ziploc baggies.) Stashers come in all sizes but the most popular by far is the Stasher Sandwich Bag. It's the more earth-friendly option to single-use sandwich baggies because it can be washed and reused infinitely, thanks to its durable, nontoxic silicone material that's also leak-proof. One Amazon.com reviewer wrote, "I've tried a lot of reusable bags as there are a lot of options out there all using a variety of materials. The fabric ones just get gross over time. The vinyl ones are hard to clean and aren't usually dishwasher safe. There are other silicone ones that need a separate rod to close them that you can easily lose. This one is the most simple and easy to use. No separate pieces to lose. Can withstand any temperature/microwave/dishwasher/whatever. And if they get gunky, they are very easy to clean and I trust that they aren't hiding gross crumbs in any of the crevices. My only complaint is the cost—they are the most expensive and I wish they offered a bulk discount. If they were cheaper I would use them for everything (open cheese in cheese drawer, all snacks on the go, etc)."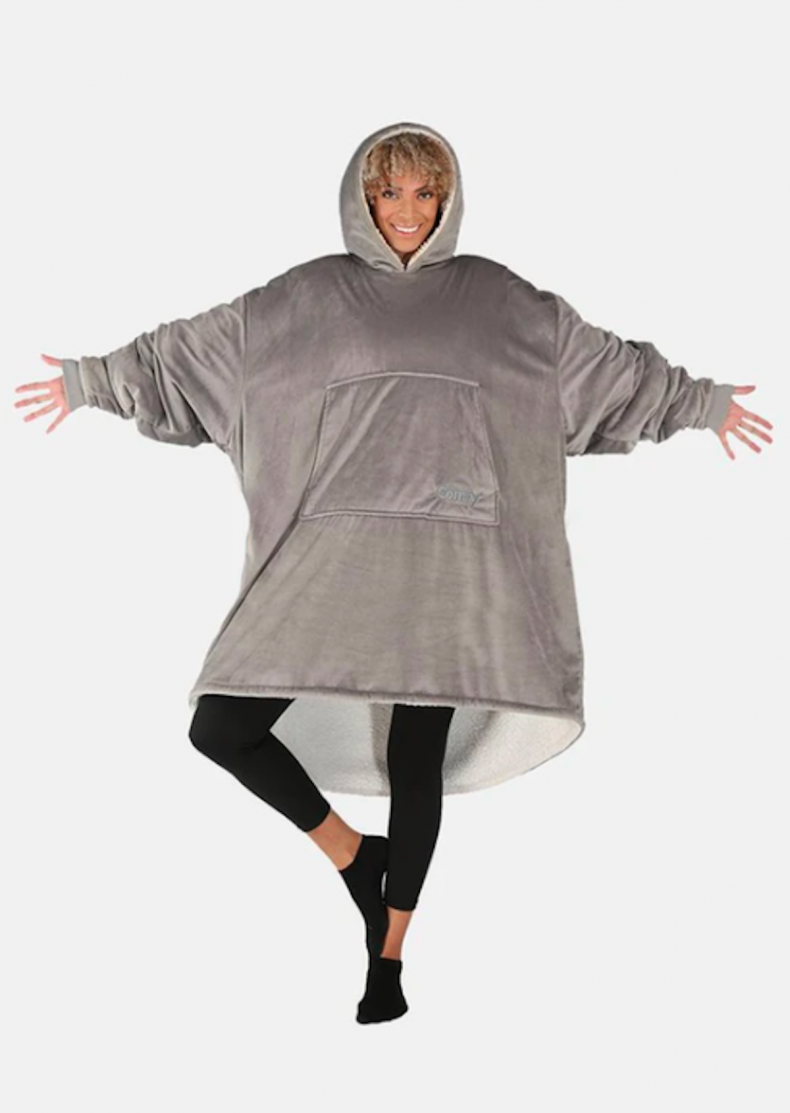 Move over, Snuggie. The Comfy—an oversize, fleece-lined blanket-slash-sweatshirt with a hoodie—got everyone's attention when it first hooked a deal with Barbara Corcoran on Shark Tank back in 2017. It's largely known to this day as "that Shark Tank product" because of just how popular it became, with USA Today ranking it the fifth best-selling Shark Tank product in history (as of 2019).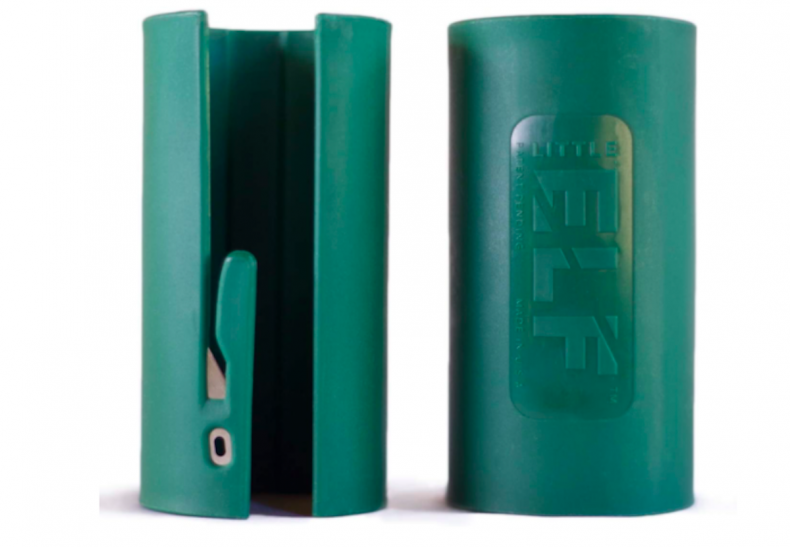 Wrapping paper, come the holidays, isn't always easy and frankly, it isn't always fun, but The Original Little Elf Gift Wrap Cutter certainly makes it more convenient. This functional little gadget has more than 7,000 reviews on Amazon.com, and people love that the gadget is made in the U.S. and can effortlessly cut gift wrap and rolled vinyl like it's nobody's business. Promoted by Greiner and now even available in the Container Store, the Elf in The Original Little Elf Gift Wrap Cutter apparently stands for "easy, lightweight and fast." One Amazon.com reviewer wrote, "I definitely suggest buying this ELF original brand rather than buying one of the cheaper off brands that are dull and flimsy. Used this one on a couple of presents so far. It is sharp and has cut the wrapping paper with ease and without ripping it. I still end up with uneven cuts but maybe it's something that takes practice. Either way, it is still easier than using scissors."
Buy a 2-pack at Amazon for $13.99.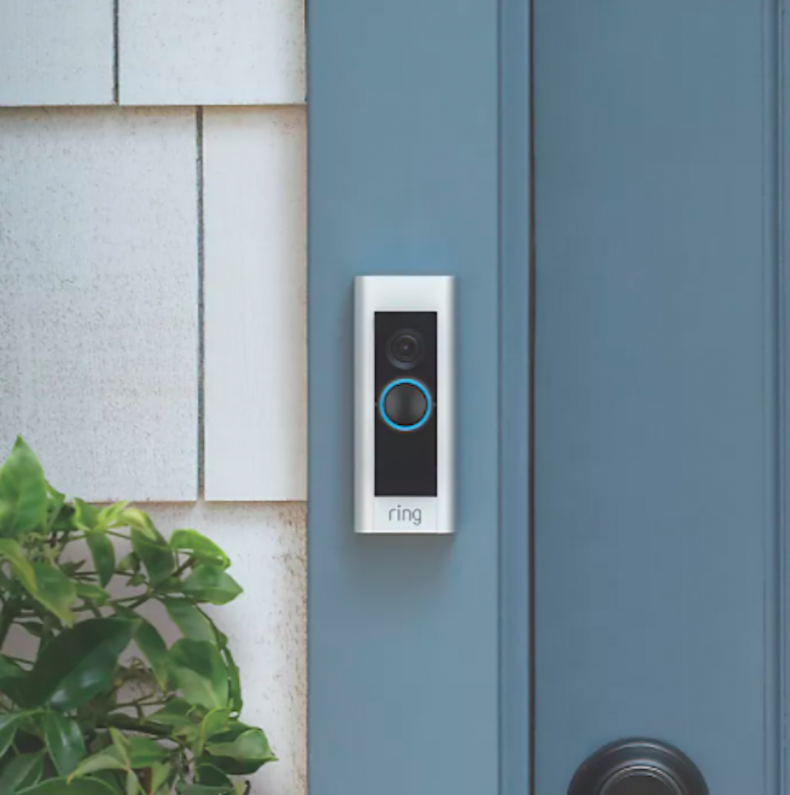 Surely you've heard of Ring before! Can you believe that it's actually a Shark Tank castoff? Yes, when first presented to the Sharks back in 2013, the Ring company was called something else—DoorBot. It didn't manage to score a deal, but nowadays, Ring is a household name and one of the most recognizable in front-door security.
Buy at Bed Bath & Beyond for $169.99.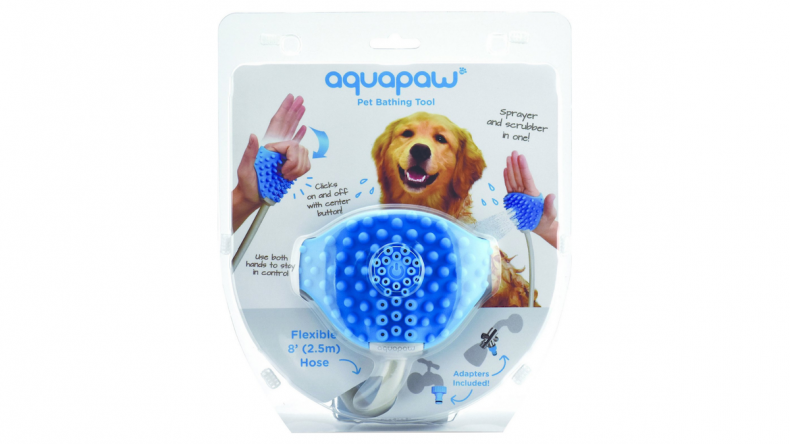 The AquaPaw Pet Bathing Tool is a game-changing product that all pet-owners need, despite the owners of the company walking away from a multi-Shark deal from Herjavec, John and Skinnygirl CEO Bethenny Frankel. (The owners refused to give up such a significant amount of equity.) Whether your pet enjoys bath time or loathes it, the AquaPaw really makes tub time easier, thanks to the amount of control it lends to the human. This slim, flexible gadget is basically a bathing globe that can be used with just one hand, so that you can, you know, keep your dog or cat in the tub! It comes with hose adapters that make it easy to use either inside or outside, and it even makes for a more efficient bath because the water has a more direct line right into your pet's fur. One Chewy.com reviewer that gave the product a five-star rating wrote, "I've had to give my 4.5 month old pup several medicated baths and I wish I had purchased this from the beginning. Installation was easy and the entire wash process took maybe 30 seconds to wet him down and 1 minute to thoroughly rinse off the shampoo. Combined it with a licky mat with frozen peanut butter for a dream of a bath time."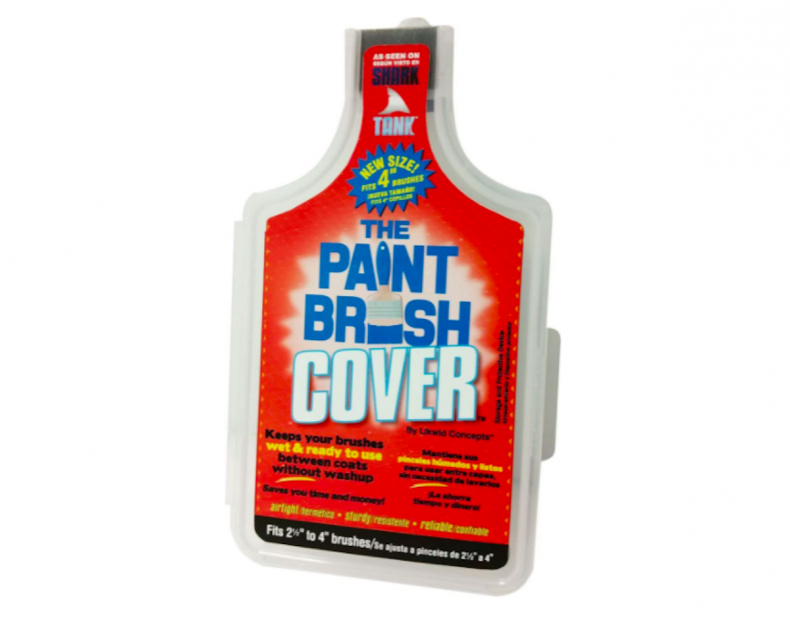 The Paint Brush Cover is one of those random ones but its success has been anything but random—thanks to a deal with Grenier. The company redesigned their packaging and sales jumped to $2.5 million in its first year after its Shark Tank appearance. You can find the product on Amazon, of course, but also in The Home Depot and Ace Hardware—and for good reason: Paint brushes are messy! Paint is messy! But this seemingly simple invention takes that mess out of the equation by providing a safe place to put down your brush in between painting breaks. One Amazon.com reviewer wrote, "This paintbrush cover worked very well to keep my oil based stain-infused paint brush moist for a day or two. I used it five or six times over the course of six or eight days, and I never had to clean the brush. However, after the first couple of uses, the cover warped so that it never would click closed again. I had to put weights on top in order to keep it closed. Not the end of the world, so I only docked my rating by one star."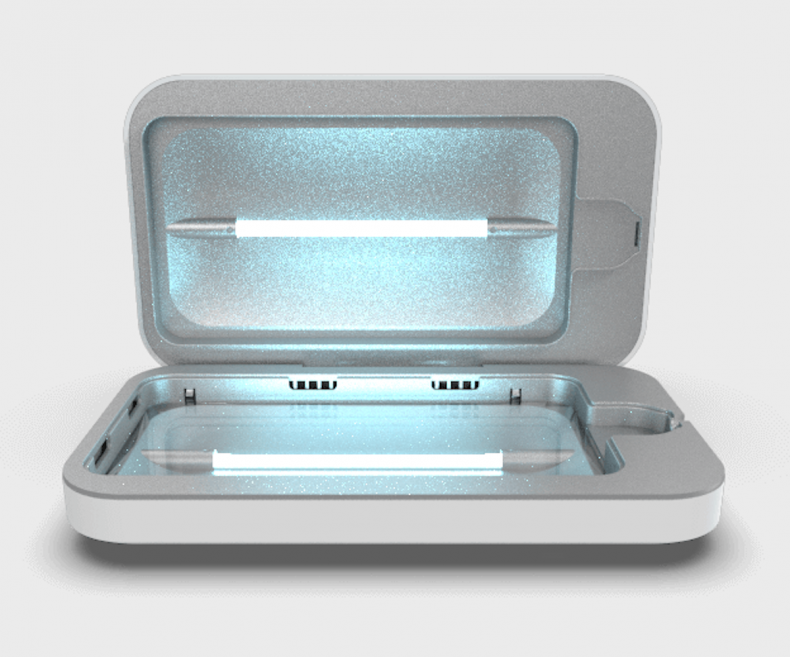 In the wake of the coronavirus global pandemic, PhoneSoap 3 and the rest of the company's gadget-sanitizing products have never been so relevant. Another Grenier special, it sanitizes phones—and really, anything else that can fit inside of the PhoneSoap 3—with UV rays that can kill up to 99.99 percent of viruses and bacteria. In 2019, PhoneSoap made $46 million in sales, and numbers have likely only gone up since the health crisis. With got a near-perfect 4.8-star rating and 2,880 reviews on PhoneSoap.com, this review left by a five-star rater echoes the sentiment of many: "Gave it as a gift to a family member. He loves it and uses it all the time. I have one and truly glad I got it. It cleans the phone fast.... Able to take it on travels too. Would recommend to friends and family."
Newsweek may earn a commission from links on this page, but we only recommend products we back. We participate in various affiliate marketing programs, which means we may get paid commissions on editorially chosen products purchased through our links to retailer sites.