20 Facts About Memorial Day and Why We Observe It
Memorial Day 2020 may look a little different from normal. Usually, the celebration of freedom and remembrance marks the start of the summer season. Community pools open, barbeques are seen around town, and social gatherings are a tradition.
But 2020 will host a different kind of celebration, one that will require many Americans to reflect on the holiday's meaning from their own homes, due to COVID-19.
There are a lot of things to think about when it comes to Memorial Day. Here are some facts about the celebration, and why it means a whole lot more than just a summer soiree.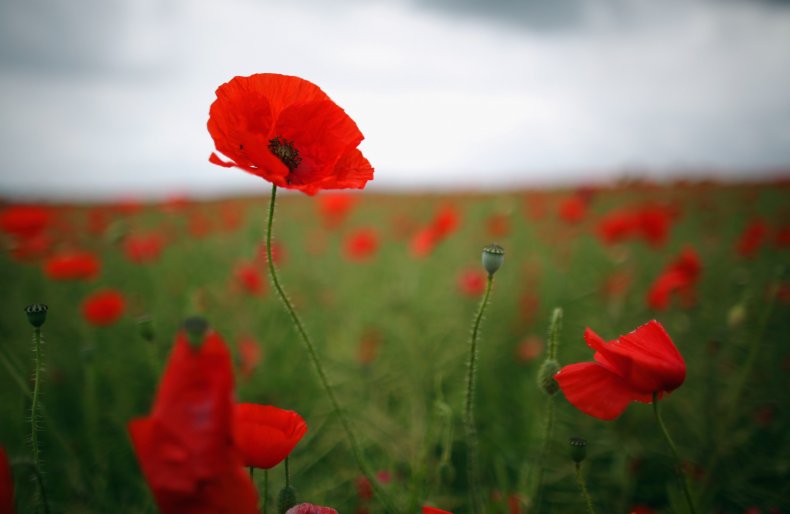 Ancient Greece Hosted Something Similar
Americans weren't the first to declare a day to remember lost loved ones. In Ancient Greece and Rome, a similar tradition existed to decorate the graves of those passed, even of soldiers, according to the History Channel.
It Started After the Civil War
There's a lot of historical contradiction on how the first Memorial Day started, and by who. But it's known that shortly after the Civil War, a few different memorial activities started.
620,000 Americans Died in the Civil War
The Civil War saw a gigantic loss of life for the country, with a huge number of soldiers never returning home.
Freed Slaves May Have Organized the First Memorial Day
Some reports say former slaves who were freed at the end of the Civil War were among the first to memorialize the fallen soldiers, according to the History Channel. Others contribute the start to a group of women who laid flowers on the graves of fallen soldiers in the same year.
General John H. Logan Officially Declared It a Holiday
On May 5, 1868, this general declared May 30 a day "designated for the purpose of strewing with flowers, or otherwise decorating the graves of comrades who died in defense of their country during the late rebellion, and whose bodies now lie in almost every city, village and hamlet churchyard in the land," History.com reported.
It Used to Be Called Decoration Day
Memorial Day wasn't the first name of the holiday. It was called Decoration Day first, because it was a day to decorate the graves of lost loved ones.
It Started in Waterloo
There are contradicting claims as to where Memorial Day really started, but the federal government declared that it began in Waterloo, New York.
It Wasn't a National Holiday Until 1971
While Memorial Day was observed by many from the Civil War's end and on, it was federally declared a holiday in 1971.
May Was Chosen Because of the Natural Flowers
The natural beauty that spring brings to America inspired the flower-based holiday, according to Reader's Digest.
There Was a Massacre on Memorial Day
The Chicago massacre, called the Memorial Day Massacre, occurred in 1937 when police shot and killed a group of 10 protesters during the Little Steel strike.
We're Legally Asked to Take a Moment of Silence
The federal government asks that all Americans take a moment of silence at 3 p.m. on Memorial Day to remember the fallen soldiers who have fought for our country. It's called the National Moment of Remembrance.
The Poppy Symbolizes Fallen Soldiers
You've probably seen people wear poppies on Memorial Day. It all stems from a poem titled "In Flanders Fields" by Lieutenant John McCrae.
Some Cities Hold Parades
Most parades are canceled in 2020 due to COVID-19, but Plymouth, Massachusetts, will still have a parade with some cautionary changes, according to Hometown Life.
Others Visit Graves
It's still a tradition to visit the graves of fallen soldiers during Memorial Day remembrance and some visit family members.
Some Simply Party
Others don't necessarily reflect on the lost military members. The holiday has become commercialized.
Barbecues Even Come From a Tradition
Even barbecues are a slight reflection of an early tradition, which saw families hosting picnics at the graves of their deceased loved ones.
There's Also a Biker Event
Rolling Thunder was an annual motorcycle event that had its last run in 2019, according to The Washington Post. This year, a new event called Rolling to Remember will take its place to honor all of the veterans lost. Now, the new event also advocates for memorializing all veterans who die by suicide in and out of deployment, according to their website. The event is asking individuals to ride 22 miles in their hometowns to advocate for the 22 veterans who die by suicide daily.
Memorial Day Now Hosts Some of the Biggest Retail Sales
You've probably already heard the Memorial Day ads this year. Big businesses market giant savings during the long weekend which both speaks to American pride and the start of summer.
Some Celebrate Confederate Memorial Day
There's still a separate Memorial Day to celebrate only fallen Confederate soldiers. This is celebrated in some Southern states on a variety of days.
There's an Official Flag Routine
If you're flying an American flag on Memorial Day, it should be held at half-staff until noon, then at its full height from noon to sunset, according to the U.S. Department of Veteran Affairs.