The owners of a dwarf cow that is drawing huge crowds in Bangladesh despite COVID-19 lockdowns have appealed to Guinness World Records in hopes of being awarded the record for the world's shortest cow.
The diminutive cow named Rani has been measured at a height of 51 centimeters, or about 20 inches, according to an article published Thursday by Agence France-Presse (AFP). The farm where Rani lives has reportedly been swarmed with visitors after pictures of the tiny all-white bovine appeared on social media.
"People come long distances despite the coronavirus lockdown. Most want to take selfies with Rani," Shikor Agro farm manager M A Hasan Howlader told AFP. "More than 15,000 people have come to see Rani in the past three days alone... Honestly speaking, we are tired."
"We did not expect such huge interest," Howlader added. "We did not think people would leave their homes because of the worsening virus situation. But they have come here in droves."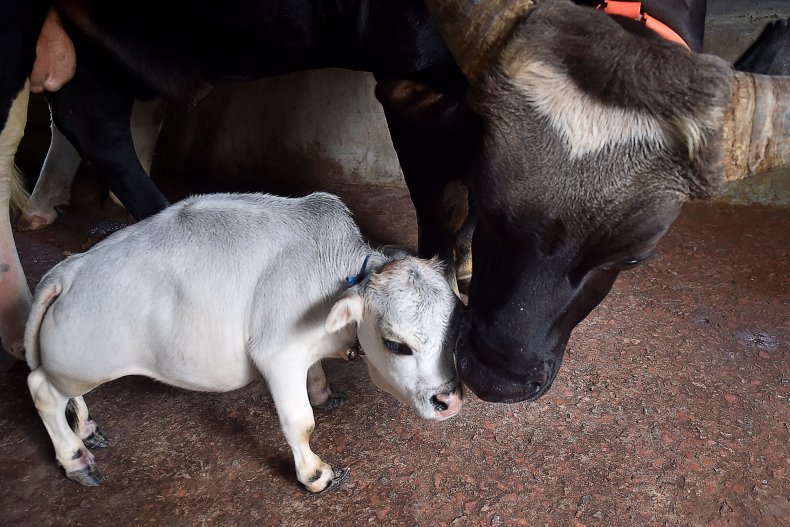 Rani is said to be about half the size of the other Bhutanese cows on the farm. Bhutanese cows are one of the most in-demand cow breeds for meat in Bangladesh—where beef is a popular delicacy. In neighboring India, the consumption of cows is generally frowned upon due to religious and cultural sensitivities.
Manikyam, the cow that is the current world record holder for shortest cow, was officially measured at 61 centimeters tall in June 2014—10 centimeters taller than Rani. Located in the Indian state of Kerala, Manikyam is a Vechur cow, a dwarf breed that usually grows to around 90 centimeters tall.
"It is hot and particularly humid here, and we believe this has an effect on the height of our cattle," local veterinarian Dr. E M Muhammed told Guinness World Records. "If Vechur cattle are taken elsewhere in the country, over time they increase in height. It's only in Kerala that they maintain their dwarf stature. Really interesting!"
Bangladeshi veterinary official Sajedul Islam told AFP that Rani, at 23 months old, would likely not grow any further and was the product of "genetic inbreeding."
Islam also urged the farm to restrict the number of visitors who are flocking to see Rani, warning that the tourists "may carry diseases here that threaten Rani's health."
Concerns about the health risks associated with COVID-19 appear to have had little effect on the cow tourism influx so far, despite cases of the virus rising dramatically in Bangladesh over the past month.
"I have never seen anything like this in my life. Never," 30-year-old visitor Rina Begum said after viewing the tiny cow.
Newsweek reached out to Guinness World Records for comment.