20 Million Coronavirus Tests a Day Might Not Be Enough to Fully Protect U.S. Public from Covid-19, Harvard Report Says
Carrying out 20 million coronavirus tests a day in the U.S. still may not be enough to protect the public from the coronavirus, according to experts who warn the COVID-19 pandemic is a "profound" threat to democracy.
The Roadmap to Pandemic Resilience report published on Monday by Harvard's Center for Ethics states a combination of widespread testing to identify cases, contact tracing to find those who may be infected, and measures to isolate the sick is needed to re-open the economy while stopping the coronavirus spreading. This would enable the country to regain some sense of normalcy by August, they indicated.
The authors included experts in economics, public health, technology, and ethics from institutions including Harvard, the University of California, Berkeley, Columbia University, Princeton, as well as organizations including Microsoft.
Since the COVID-19 pandemic started in China late last year, the U.S. has emerged as the country with the most known cases, as shown in the Statista chart below.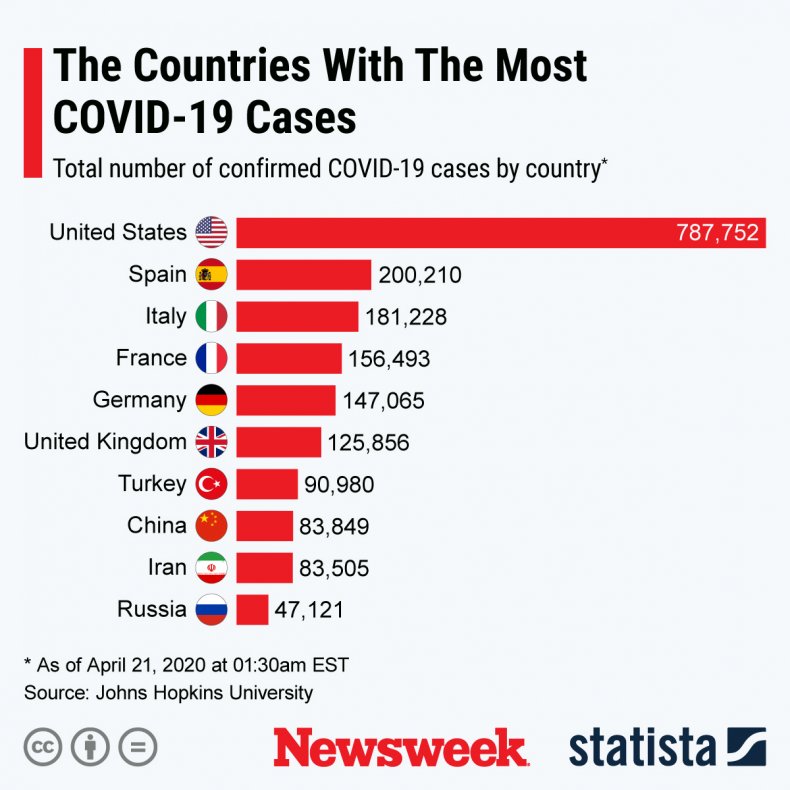 In order for social distancing measures to be eased without a spike in infections, five million tests must be carried out each day in the U.S. by early June, the authors said. According to the Oxford University-run Our World in Data, the U.S. has carried out four million coronavirus tests since the outbreak started in late 2019.
The authors of the report said: "This number will need to increase over time (ideally by late July) to 20 million a day to fully remobilize the economy. We acknowledge that even this number may not be high enough to protect public health."
In the period leading up to August, the U.S. should attempt to relaunch the economy while growing its capacity to test its workforce, the report suggests, arguing this approach will prevent the country from going through cycles of locking down and re-opening.
This would allow the country to "steadily reopen the parts of the economy that have been shut down, protect our frontline workers, and contain the virus to levels where it can be effectively managed and treated until we can find a vaccine," they said.
A Pandemic Testing Board, "akin to the War Production Board that the United States created in World War II," should be set up by the government and tasked with ensuring the U.S. has access to screening supplies and the correct infrastructure to test en masse.
In addition, the authors agreed with guidance from the JHU Center for Health Security that at least 100,000 people should be recruited to carry out contact tracing. Jobs must meanwhile be protected, and workers offered support during periods of quarantine and isolation as well as access to health care.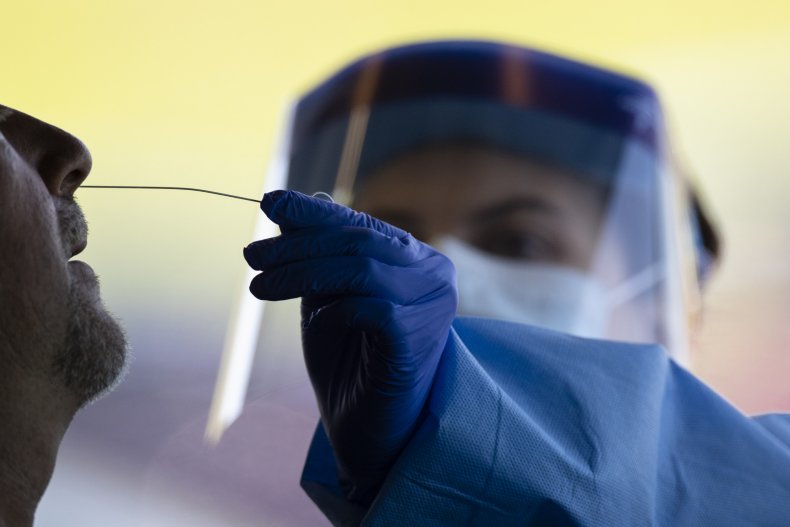 The experts warned: "If we rely on collective social distancing alone to tide us over until a vaccine is available, the economy will be shut down on and off for 12 to 18 months, costing trillions of dollars.
"We can instead fully restart the economy by August through a program of massive investment in public health infrastructure, especially diagnostic and serological testing, combined with effective contact tracing-and-warning programs, and supported individual quarantine and/or isolation."
The team said: "Broad and rapid access to testing is vital for disease monitoring, rapid public health response, and disease control."
The cost of delivering testing and tracing at such a scale "will require a rapid coordination of business activity unprecedented since World War II" and will cost $50 to 300 billion over two years."
But this is "dwarfed by the economic cost of continued collective quarantine of $100 to 350 billion a month."
The report continued: "Furthermore, this calculus neglects the lives being lost every week among workers in essential sectors and the vulnerable populations they serve who remain exposed to the virus even when stay-at-home advisories are in place. It also neglects the fraying of the social fabric created by extended collective quarantine."
The COVID-19 pandemic, the experts warned, "is a profound threat to our democracy, comparable to the great depression and World War II.
"As ever, the greatest bulwark of democracy is us. What we do together—for one another and, even more, with one another—to fight this terrible disease, protect human life, secure our institutions, and prevent the destruction of our economy will determine whether free societies will prove resilient in the face of existential emergency."
Centers for Disease Control and Prevention Advice on Using Face Coverings to Slow Spread of COVID-19
CDC recommends wearing a cloth face covering in public where social distancing measures are difficult to maintain.
A simple cloth face covering can help slow the spread of the virus by those infected and by those who do not exhibit symptoms.
Cloth face coverings can be fashioned from household items. Guides are offered by the CDC. (https://www.cdc.gov/coronavirus/2019-ncov/prevent-getting-sick/diy-cloth-face-coverings.html)
Cloth face coverings should be washed regularly. A washing machine will suffice.
Practice safe removal of face coverings by not touching eyes, nose, and mouth, and wash hands immediately after removing the covering.
World Health Organization advice for avoiding spread of coronavirus disease (COVID-19)
Hygiene advice
Clean hands frequently with soap and water, or alcohol-based hand rub.
Wash hands after coughing or sneezing; when caring for the sick; before, during and after food preparation; before eating; after using the toilet; when hands are visibly dirty; and after handling animals or waste.
Maintain at least 1 meter (3 feet) distance from anyone who is coughing or sneezing.
Avoid touching your hands, nose and mouth. Do not spit in public.
Cover your mouth and nose with a tissue or bent elbow when coughing or sneezing. Discard the tissue immediately and clean your hands.
Medical advice
Avoid close contact with others if you have any symptoms.
Stay at home if you feel unwell, even with mild symptoms such as headache and runny nose, to avoid potential spread of the disease to medical facilities and other people.
If you develop serious symptoms (fever, cough, difficulty breathing) seek medical care early and contact local health authorities in advance.
Note any recent contact with others and travel details to provide to authorities who can trace and prevent spread of the disease.
Stay up to date on COVID-19 developments issued by health authorities and follow their guidance.
Mask and glove usage
Healthy individuals only need to wear a mask if taking care of a sick person.
Wear a mask if you are coughing or sneezing.
Masks are effective when used in combination with frequent hand cleaning.
Do not touch the mask while wearing it. Clean hands if you touch the mask.
Learn how to properly put on, remove and dispose of masks. Clean hands after disposing of the mask.
Do not reuse single-use masks.
Regularly washing bare hands is more effective against catching COVID-19 than wearing rubber gloves.
The COVID-19 virus can still be picked up on rubber gloves and transmitted by touching your face.