The 20 Most Expensive Toys on eBay
Toys are a staple in children's lives, but certain playthings are so valuable to collectors you might want to keep them away from kids.
Some who discover hidden collectables often decide to sell them for a bit of extra cash.
Below, Newsweek rounds up the most expensive toys available to buy right now on eBay. Listings accurate on August 15, 2021.
20. Ghost HE'E Longboard ($11,796)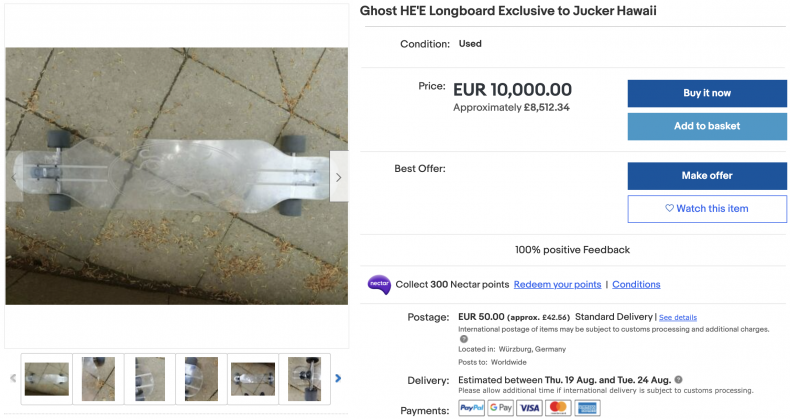 The Ghostboards are handmade by Russ Warner and Brent Johnson in Utah from acrylic glass which the description states makes the items "unique in their design and flex."
The eBay listing adds: "Even in terms of stability, nothing remains to be desired, so that the HE'E can carry up to 120 kg body weight.
"[If] you want to see the road under you, you should definitely get a Ghostboard.
"However, don't forget to look forward from time to time, even if the look down makes your pulse beat faster and the adrenaline rises to the ends of the hair."
19. Littlest Pet Shop Collection ($11,796)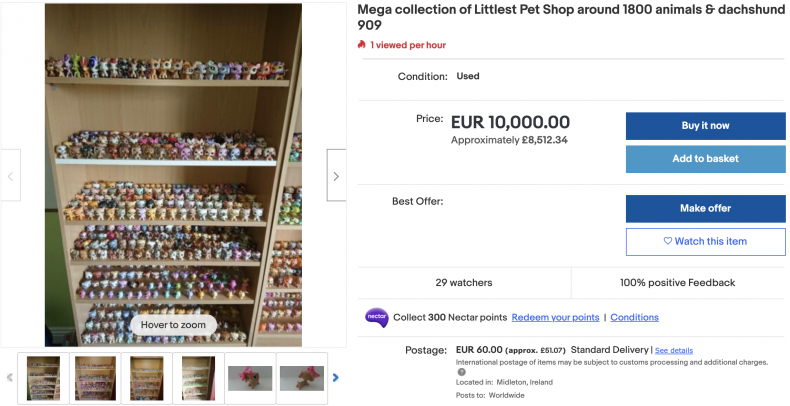 Littlest Pet Shop is a popular toy franchise owned by Hasbro and in production from the early 1990s.
This "mega collection" contains a reported 18,000 toy animals and the eBay listing states: "No duplicates, each different, nothing damaged [and] very well cared for."
18. Antique Boxing "Ringside" Prototype ($12,500)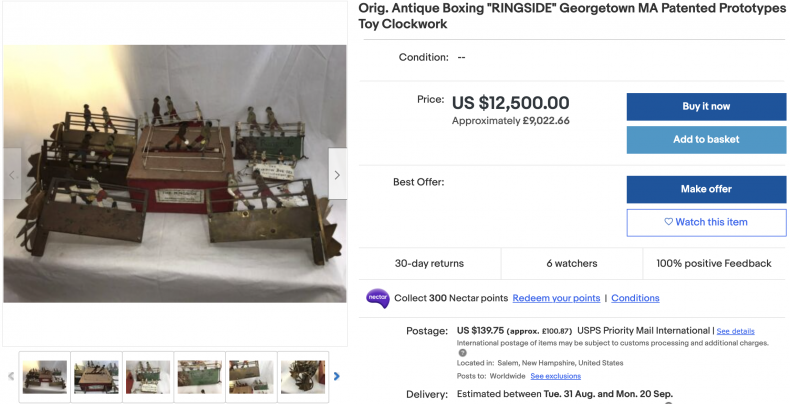 This original "Ringside" prototype boxed item was designed by Weatherwise Toys in the 1920s, according to the listing.
It states: "The toys are handmade and are made of metal. This group was purchased at a garage sale in Georgetown, MA in the 1970's and has not been on the market until now.
"There are several different models of the toy, one of the most complete toys is clockworks driven and many are wind-powered.
"There are many pieces and designs by maker. They are all handmade and in different stages of development and completion.
"Some of the pieces are marked with the toy name and patented. The lot includes many pieces and parts along with the more complete pieces."
17. Lehmann 'Man With Two Dogs' ($13,658)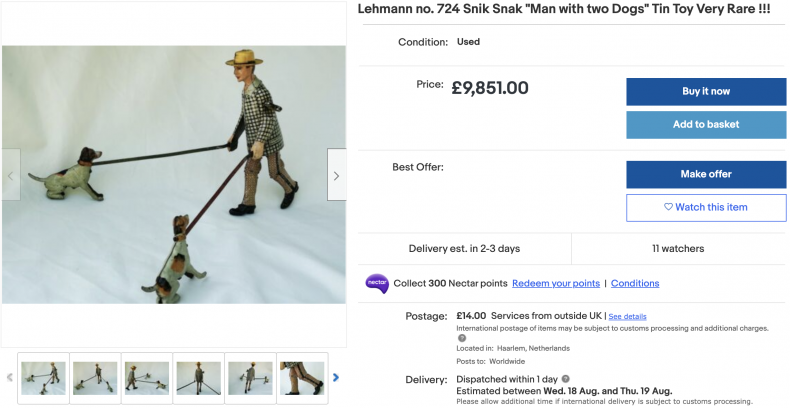 This vintage wind-up tin toy designed by Lehmann stands a reported 8 inches tall and stretches 16 inches across.
The toy is listed as "new" in regards to condition, but adds that owing to its age there is "small paint damage."
16. Dinky Toys Simca Dove ($28,522)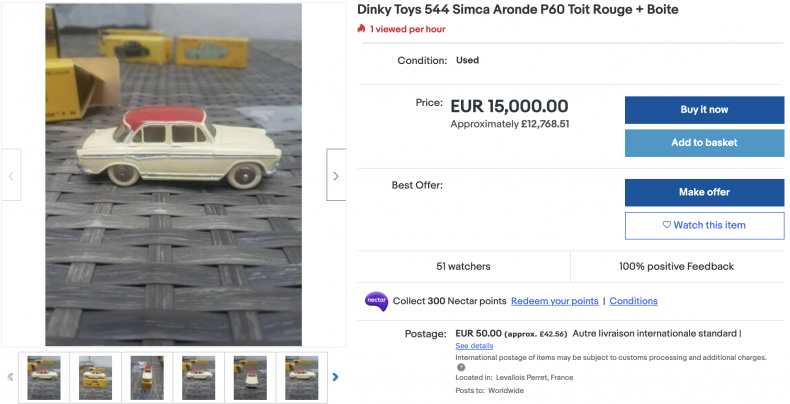 Dinky Toys is the brand name for the range of now highly collectable die-cast zamac zinc alloy miniature vehicles produced by Meccano from 1934 to 1979, from a factory in Liverpool, England.
The eBay listing translates from French as: "The Simca Dovetail P60 is known in two common colors–Brick / Cream and 2 shades of gray.
"Completely original car and in very good condition. Box in very good condition."
15. Bandai Terrahawks Battlehawk Toy ($18,000)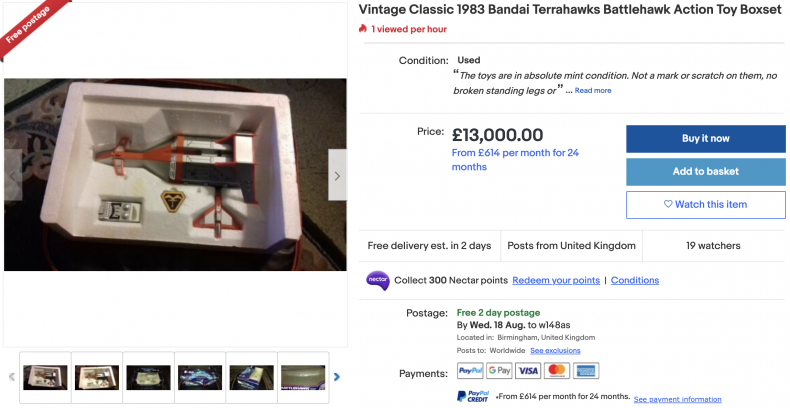 This complete fully-boxed original Bandai Terrahawks Battlehawk toy gun is described in the eBay listing as a "Holy Grail" among "serious toy collectors."
The advert adds: "Vintage toy collection complete boxset from 1983 containing original 1x die-cast Battlehawk, 1x original lightweight small-sized Terrahawk, 1x original die-cast Battletank and 1x original Terrahawks Logo badge with clip still sealed never worn.
"All the toys have never been played with or used since new. 99 percent of the time they have remained inside the package box and stored, except when carefully removed for rare photography reasons such as now."
14. Ty Beanie Babies Sweetheart Orangutan ($19,750)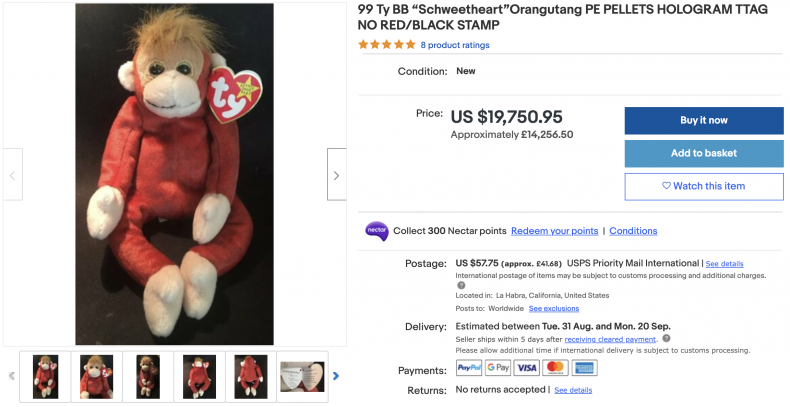 This extremely rare Beanie Babies toy dating from 1999 comes complete with both its heart-shaped tag and original display case.
The eBay listing states: "Ty Beanie Baby Sweetheart–authentic original. Condition is new."
13. Vintage Defender Dan Toy ($20,000)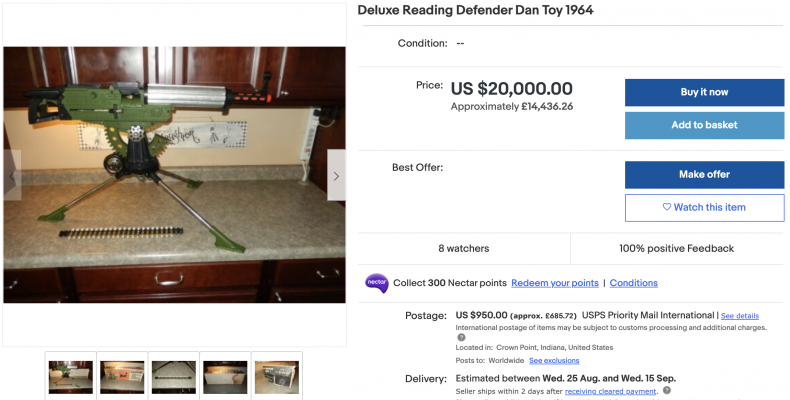 This rare defender dan automatic toy machine gun, designed by Deluxe Reading toy corporation in 1964, is a full-size scale, measuring almost 3ft in length and 2ft in height,
The replica weapon is constructed from tough durable plastic and metal parts, allowing 4 bullets to be fired in quick succession until the spring-pull lever is pulled back ready for the second barrage.
The eBay listing states: "The toy defender dan is in very good condition and works!
"Has some pitting on the chrome legs, come with accessories, belt, box has wear, all parts are originals made in 1964 by Deluxe Reading.
12. Bernstein-Hemis Chess Set ($21,823)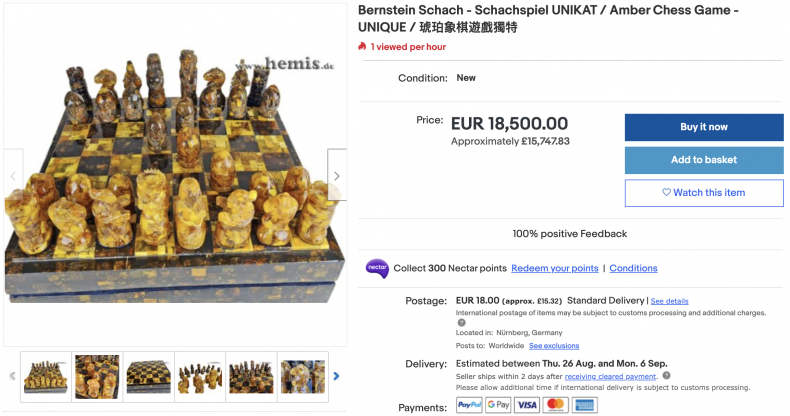 Available on eBay is this exquisite chess set with 32 figures hand-carved in natural amber.
The kit, which comes complete with a velvet-lined box, is by German designer Bernstein-Hemis, which is this year celebrated its 30th anniversary.
The bay listing states: "The shading and transparency may differ slightly from the illustration. Any deviations are natural and testify to the authenticity and high quality of the product."
11. Lego Spiderman Mini-figure ($23,592)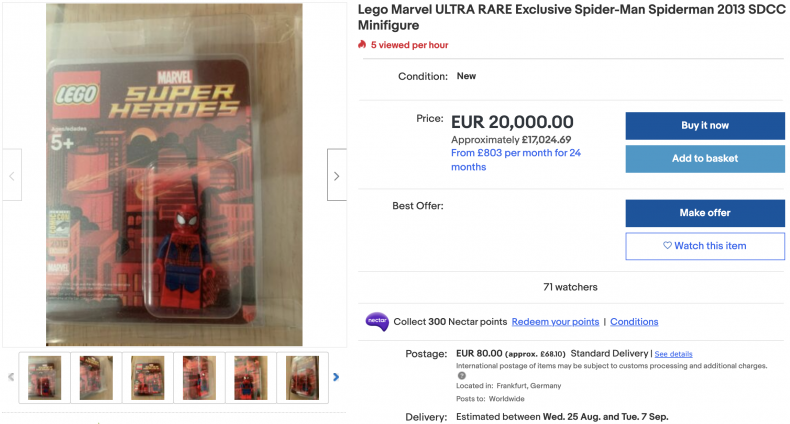 This Marvel Comics Lego Spider-Man San Diego Comic-Con 2013 mini-figure is called "ultra-rare and exclusive" by the eBay seller.
They add: "This is a truly hard to find mini-fig and a masterpiece for everyone's collection. The figure is in a very flawless, mint condition and comes as shown in the pictures.
"My pricing should simply illustrate that I am in no rush to sell any of those items at all and I'm very sure the minifigs will continue to grow in price value the longer they keep sitting in the bank vault :)"
10. Bearbrick Medicom Toy ($28,522)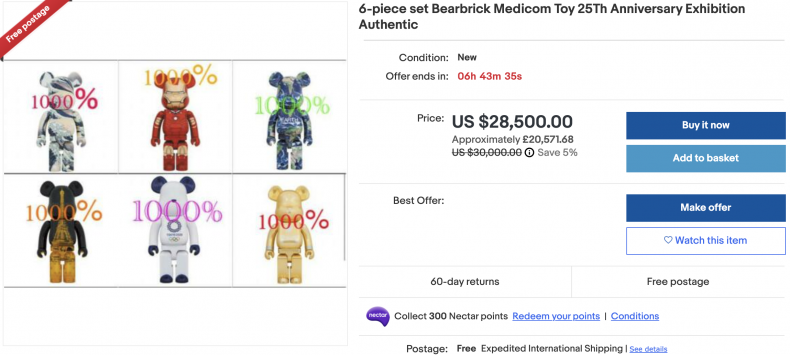 These limited-edition Medicom toys have been released to celebrate the Japanese manufacturer's quarter-century.
Designs included in the offer include Earth Be, Eiffel Tower, Japan Gold, Iron Mark. III, Katsushika Hokusai and Katsushika Hokusai.
The items are listed on eBay as "a brand-new, unused, unopened and undamaged item.
9. Combat Edge Toy Pilot Flight Helmet ($45,007)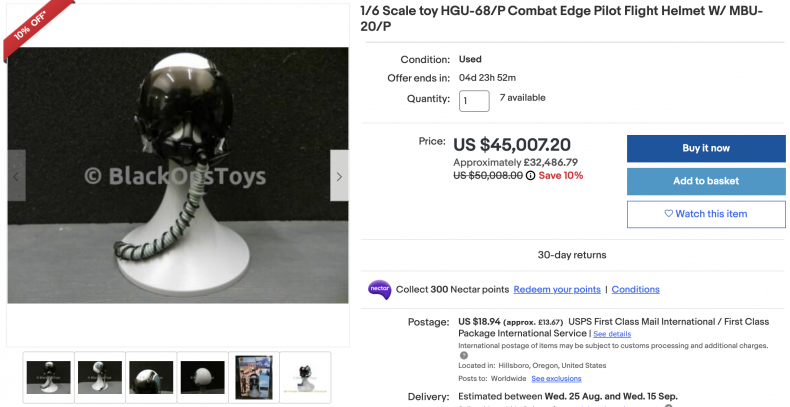 This U.S Airforce replica military helmet reportedly perfectly imitates the real thing.
The listing states: "Listing is for a 'Mint In Box' item, packaging may show minor signs of shelf wear."
8. KAWS X Hajime Sorayama No Future Companion ($64,878)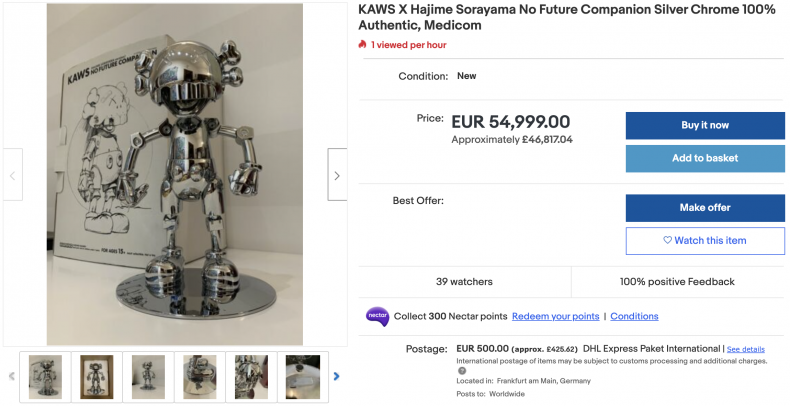 This KAWS X Hajime Sorayama No Future Companion Silver Chrome comes from a private collection.
The limited-edition figurine arrives with the artist's stamped signature, stamped with its individual number and its original box, according to the eBay listing.
7. Funko POP! Games Warhammer ($78,525)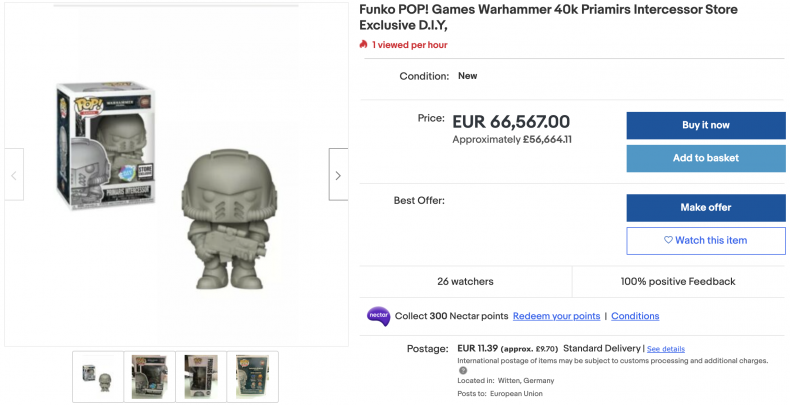 Games Workshop has collaborated with pop culture creators Funko, resulting in the 2019 release of this Warhammer 40,000 figurine.
The Germany-based seller describes the toy's condition as: "A brand-new, unused, unopened and undamaged item."
6. Hot Toys' Spider-Man PS4 Iron Spider ($94,371)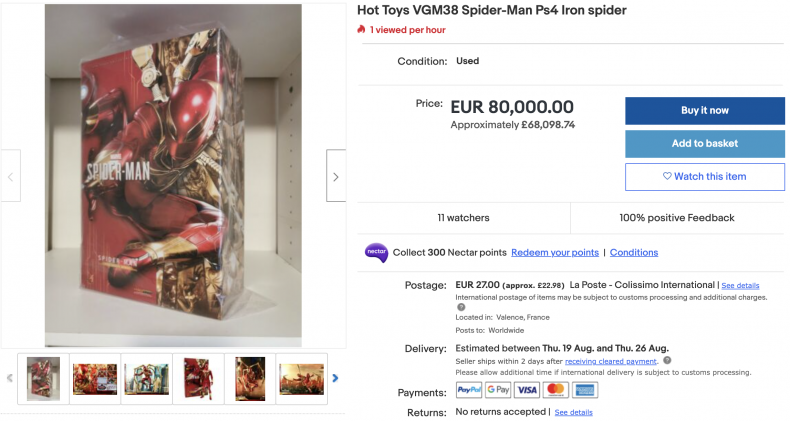 This sixth Scale Figure by Hot Toys depicts the Iron Spider Armor that features in the critically-acclaimed video game Marvel's Spider-Man.
This collectable figure incorporates distinct elements of Tony Stark's Iron Man design, as well as a newly crafted masked head sculpt; all-new metallic red and gold Spidey suit with a gold spider emblem on chest; three highly-detailed mechanical pincers; matching interchangeable hands for different classic postures; a variety of web accessories; and a dynamic figure stand for aerial poses.
The eBay listing adds: "Perfect condition, just unsealed, all accessories and perfect box."
5. Kaws Dissected 4ft Figure Companion ($159,251)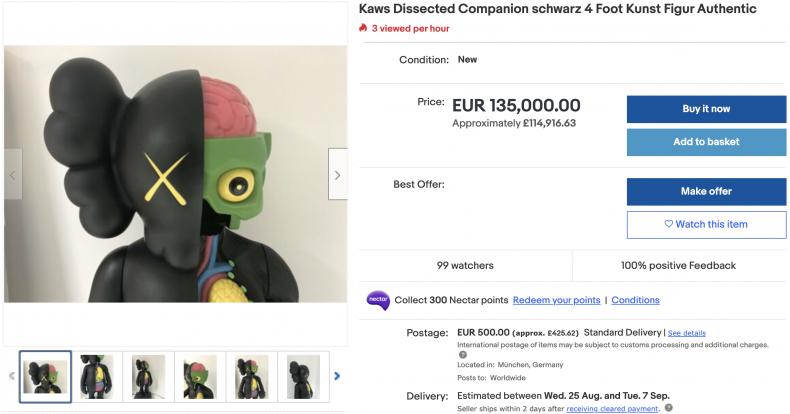 This 4ft-tall signature "art figure" by renowned street artist KAWS is available on eBay.
The Germany-based seller writes in the item's listing: "Here you got the rare opportunity to get your hands on a real art piece [and] it comes with the original box and authenticity card."
They add: "The prices only go up, if you see the last at auction in HK [Hong Kong] it ended at E125,000 [$147,454]."
4. Vintage Tamagotchi Toy Collection ($235,927)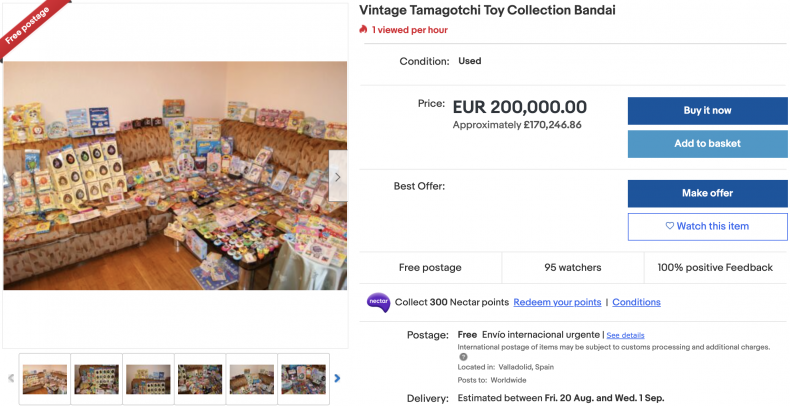 This seller has placed on eBay what he describes as "the Biggest and rarest Tamagotchi collection in the world", including 177 vintage toys dating between 1996 and 2014.
They add: "It has been collected over the past 20 years, from all over the World, and always it has been taken care of and kept in a safe place away from dust, pets and sunlight.
"It needs a new home or perhaps a special place as an artwork in a glass cabinet in a museum.
"This a great business or investment for the person who buys it. In the future, I am sure it will be revalued."
3. Zinga Air Trampoline Park ($974,402)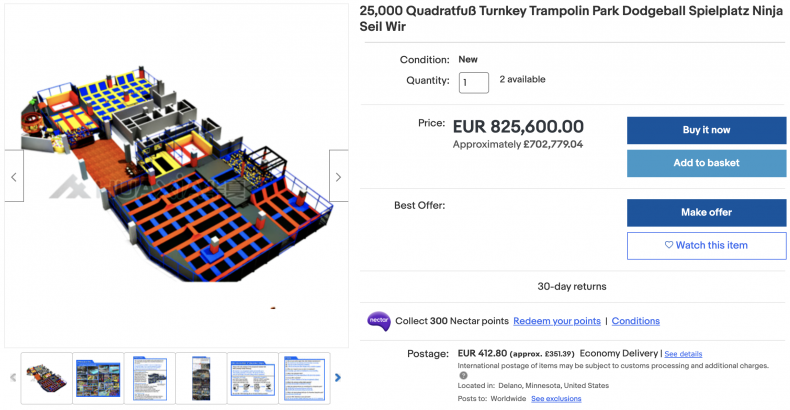 eBay is offering the opportunity to buy a full-scale, brand-new trampoline park of your own .
Manufacture ZingAir writes on its site: "Indoor trampoline park and family fun centers are a fast-growing industry that proves to be recession-proof.
"They appeal to all ages and offer a healthy, safe way to have fun with friends[and family.
"Our top of the line equipment pass the same strict ASTM Certifications as the franchise manufacturers."
2. Sailor Moon Figure ($999,939)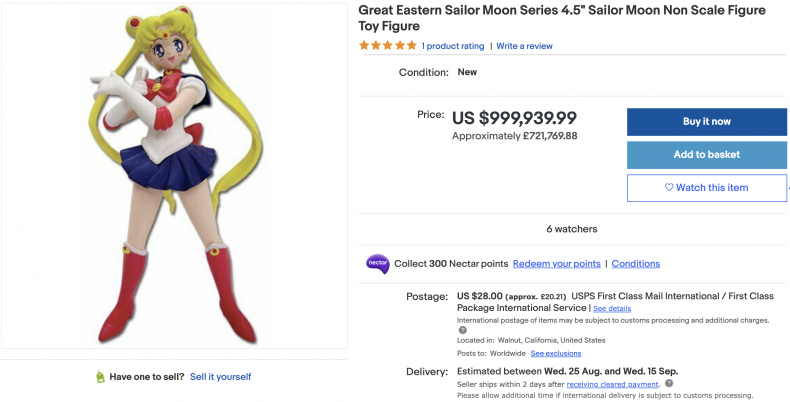 The toy doll depicts the lead character from the cult classic Sailor Moon, a Japanese shōjo manga series serialized between 1991 and 1997.
The Sailor Moon figurine's condition is described as "brand-new, unused, unopened and undamaged."
1. Vintage Furby Collection ($1,061,675)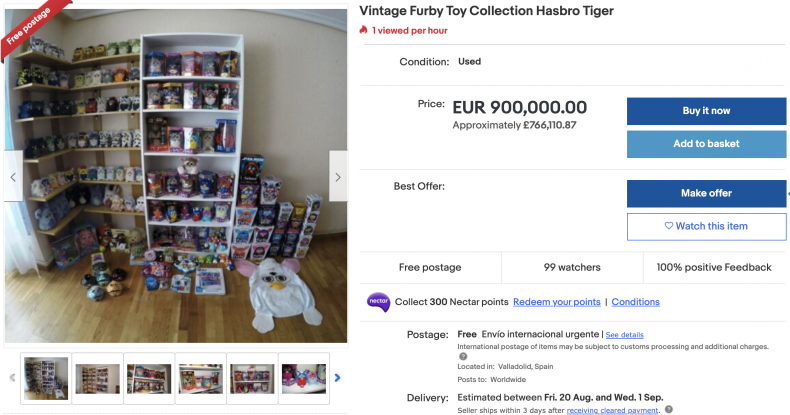 eBay is offering an opportunity for collectors to buy 121 rare and original Furby toys, reportedly dating from 1998 to 2016, in addition to "lots of accessories."
The eBay listing states: "This is possibly the largest and the most exclusive Furby Collection for sale in the World in many years. From Tiger Electronics and Hasbro.
"It has been collected over the past 20 years, from all over the World, and always it has been taken care of and kept in a safe place away from dust, pets and sunlight.
"It needs a new home or perhaps a special place as an artwork in a glass cabinet in a museum."