20 Percent of Americans Believe Pro-Trump Capitol Rioters Were Actually Antifa
One in five Americans believe that President Donald Trump's supporters who stormed the U.S. Capitol in a violent insurrection on January 6 were actually Antifa—a conspiracy theory promoted by some Republican lawmakers.
The survey, conducted by Ipsos from January 14 to 15, showed that 20 percent of respondents believed it is true that the people who broke into the U.S. Capitol were actually undercover members of Antifa, a decentralized group of left-wing activists who oppose fascism with sometimes aggressive tactics. Among respondents who get their news from conservative media outlets including Fox News, one in four believed the rioters were left-wing extremists.
GOP House Minority Leader Kevin McCarthy of California dismissed this conspiracy theory, which was circulated by fellow Republicans shortly after the insurrection, in a House floor speech ahead of an impeachment vote against Trump last week.
"Some say the riots were caused by Antifa," McCarthy said. "There is absolutely no evidence of that, and conservatives should be the first to say so." But others in the House, such as Trump-loyalists Matt Gaetz of Florida and Mo Brooks of Alabama, have pushed the false narrative.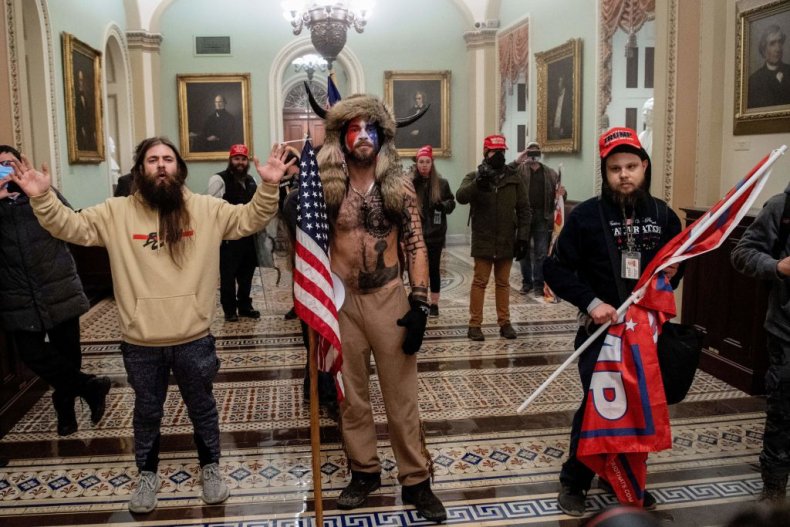 The FBI said on January 8 that there was "no indication" that Antifa took part in the Capitol violence. However, one individual connected to left-wing demonstrations has been detained since then. John Sullivan of Utah was arrested last week for alleged involvement in the riots. Although Sullivan claimed to be a journalist, prosecutors say that is not true.
Sullivan previously organized and participated in demonstrations during the Black Lives Matter protests last summer. However, leaders of the BLM movement there had distanced themselves from him months ago, raising concerns about his motivations and actions. Regardless, the overwhelming majority of rioters have been identified as right-wing and supportive of Trump.
The Ipsos survey also found that only 49 percent of Americans believe it's definitely "false" that a group of Satan-worshipping elites that run a child sex ring is attempting to control politics and media in the country. Eighteen percent said it was "true," and 34 percent said they were "unsure."
The idea of powerful Satan worshippers controlling the government and media has been promulgated through the bizarre and baseless QAnon conspiracy theory, which a large number of Trump supporters ascribe to either wholly or partially. At least two freshman Republican members of the House—Marjorie Taylor Greene of Georgia and Lauren Boebert—have previously expressed a belief in the unfounded conspiracy theory.
The Anti-Defamation League has called QAnon "a dangerous theory that has inspired violent acts." FBI documents reported by Yahoo News in 2019 showed that the agency views fringe conspiracy theories like QAnon as a growing domestic terrorism threat.