20 Percent of Unvaccinated Delta Workers Receive Shot Within 2 Weeks of Surcharge Prompt
Just two weeks after Delta Air Lines announced they would begin penalizing unvaccinated employees with a $200 monthly surcharge, the company said that nearly 20 percent of those staff members have opted to receive the COVID-19 vaccine.
Delta's chief health officer, Henry Ting, said the figure represents "a huge number in terms of shifting that group that's most reluctant," during a media briefing held last week by the Infectious Diseases Society of America, according to Insider.
Ting said that out of Delta's 20,000 unvaccinated workers, around one-fifth have gotten the shot in the past two weeks. The rising vaccination rates come after the company said that unvaccinated employees enrolled in Delta's health care plan will face a $200 monthly surcharge beginning in November.
When the extra fee was first announced on August 25, roughly 74 percent of Delta's 80,000 employees were vaccinated. Now, Delta's vaccination rate has climbed to 78 percent, Insider reported.
In announcing the vaccine penalty last month, Delta said the initiative was "necessary to address the financial risk the decision to not vaccinate is creating for our company."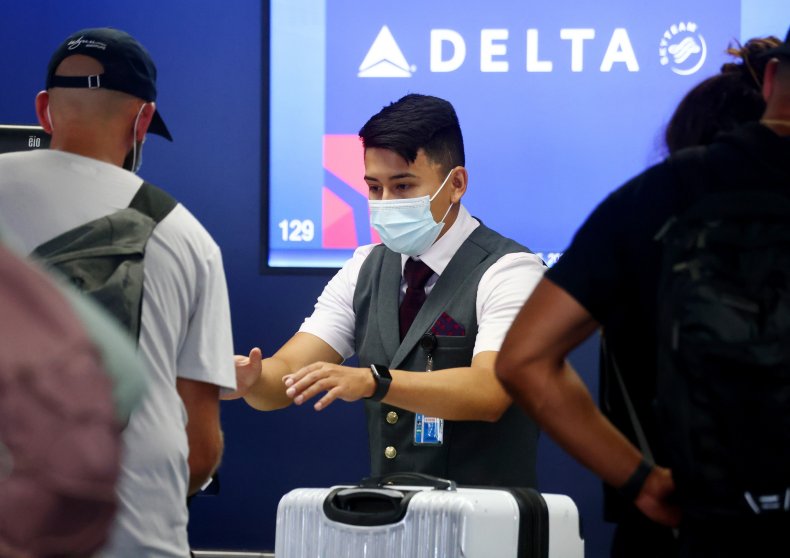 The company said the $200 fine was calculated based on the average hospital stay for COVID-19 patients, which has cost the company $40,000 per employee. The airline also noted that every employee that has recently been hospitalized for COVID-19 has not been fully vaccinated.
"With this week's announcement that the FDA has granted full approval for the Pfizer vaccine, the time for you to get vaccinated is now," Delta CEO Ed Bastian said in a statement. "We can be confident that the Pfizer vaccine is safe and effective, and has undergone the same rigorous review for other approved medications to treat cancer and heart disease, as well as other vaccines."
In addition to the financial penalty, Delta employees in the U.S. who aren't fully vaccinated are required to take weekly COVID-19 tests. The company also announced in May that all of its new hires would be required to show proof of vaccination.
Starting in October, Delta will also only offer coronavirus pay protection to fully vaccinated employees who become infected with the virus, forcing unvaccinated workers to use their own sick days or medical leave to take time off if they get COVID-19.
Other airlines, including American Airlines, Air Canada, Alaskan Airlines, and United Airlines have similarly adopted COVID-19 vaccination policies and cash incentives to increase vaccination rates among staff members.
"Protecting yourself, your colleagues, your loved ones and your community is fundamental to the shared values that have driven our success for nearly a century," Bastian said last month. "Vaccinations are the safest, most effective, and most powerful tool we have to achieve our goals, live up to our values and move forward."
Newsweek reached out to Delta Air Lines comment but did not hear back in time for publication.