20 Ways the Biden Infrastructure Bill Affects the Auto Industry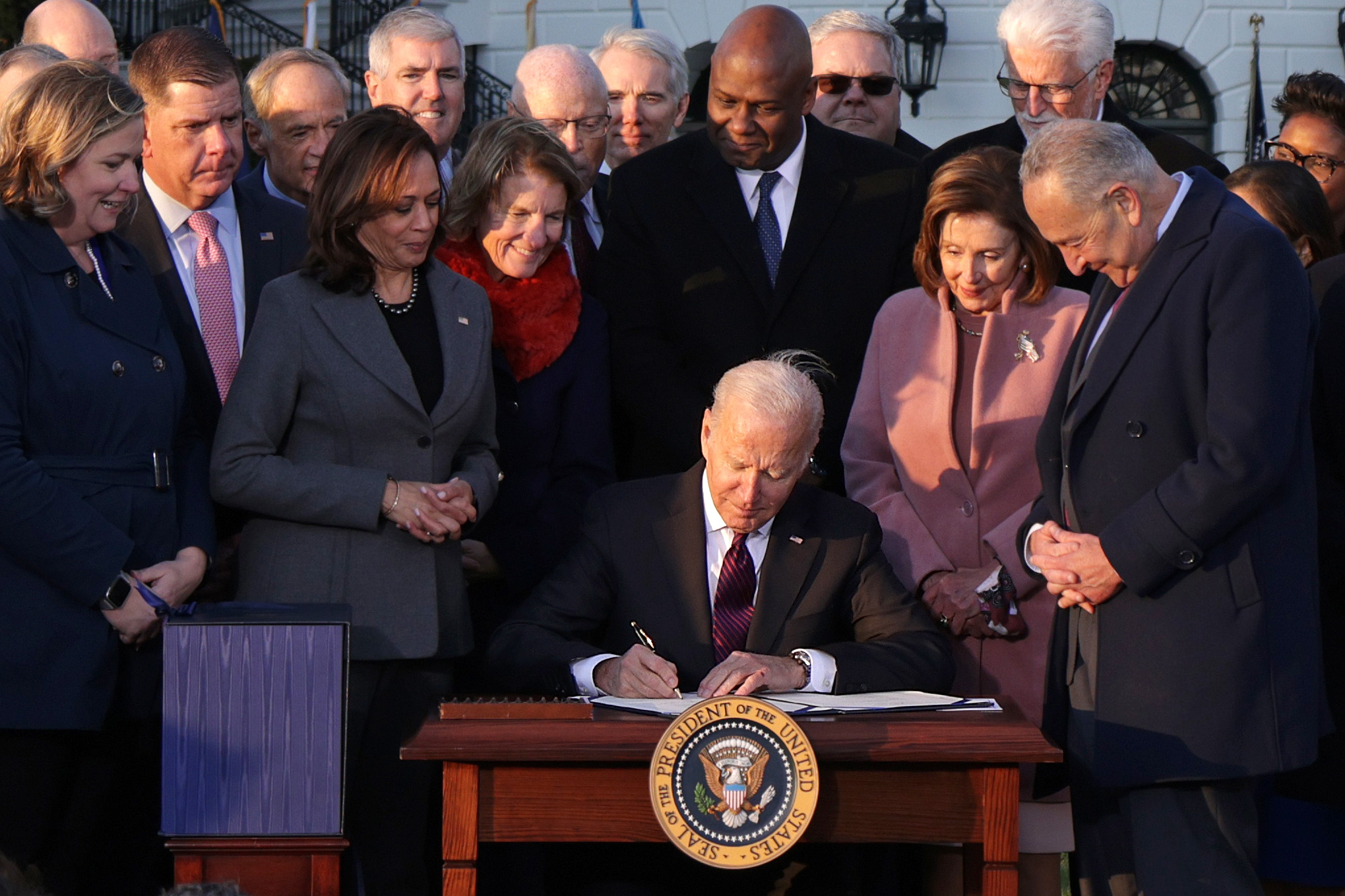 President Joe Biden has signed the $1.2 trillion infrastructure bill into law. A large part of the bill, formally called the Infrastructure Investment and Jobs Act, is devoted to the administration's automotive priorities, including funding for electric and other fuel alternative vehicle infrastructure.
To match Biden's push for ramping up electric vehicle sales, Congress included billions in funding for the infrastructure to build electric vehicles and keep them charged. Government studies about battery recycling and second-life battery applications are also in the mix.
A large section of the bill is devoted to updating automotive safety standards, including directives on headlamps, crash avoidance technology and driver distraction.
Here's a look at some of the key automotive elements in the bill.
$2.5 billion over five years for charging and fueling infrastructure grants
"...Establish a grant program to strategically deploy publicly accessible electric vehicle charging infrastructure, propane fueling infrastructure, and natural gas fueling infrastructure along designated alternative fuel corridors or in certain other locations that will be accessible to all drivers of electric vehicles, hydrogen vehicles, propane vehicles, and natural gas vehicles...Not later than 1 year after the date of enactment...the Secretary shall establish a grant program to award grants to eligible entities..."
As part of the Biden Administration's electric vehicle (EV) push, the bill includes a $2.5 billion grant program to organizations and public entities for building up infrastructure surrounding EVs and alternative fuel vehicles. Biden recently signed an executive order calling for 50 percent of new car sales to be electrified units by 2030.
Gilbert Castillo, senior group manager of product strategy & regulatory compliance for Hyundai Motor North America, said in an interview with Newsweek that the bill also represents a chance to expand the relatively small market of hydrogen fuel cell electric vehicles (FCEV), but that it's a multi-year project that requires a lot of moving parts. It also takes a lot of investment in equipment to build a fueling station. Forty-seven of those stations currently operate in California.
According to the California Fuel Cell Partnership, a hydrogen fueling station can cost approximately $2 million to either build from the ground up or convert an existing station. Castillo says that equipment costs and the limited number of stations are a factor.
"As the number of stations increase and as parts can be advertised at a larger volume, those costs can start coming down," Castillo told Newsweek.
Report on emerging alternative fuel vehicles (hydrogen, natural gas and propane) and infrastructure
"Not later than 1 year after the date of enactment of this Act, to help guide future investments for emerging alternative fueling infrastructure, the Secretary shall submit to Congress and make publicly available a report that:
includes an evaluation of emerging alternative fuel vehicles and projections for potential locations of emerging alternative fuel vehicle owners during the 5-year period beginning on the date of submission of the report
Infrastructure needs
Limitations
Estimates for future need
Evaluation tool of scenarios for adoption and use for states..."
Currently, the Hyundai Nexo and the Toyota Mirai are the only FCEVs being produced. Fewer than 100 Nexos are driven off the lot in any given month. The company doesn't want to expand sales of that unit faster than it can get fueling stations online and getting regulatory approvals in several other states and building up infrastructure is estimated to take several years.
"Ten years from now, we would hope to see hydrogen fuel cell vehicles available in a number of states, but it certainly wouldn't be a national solution," Castillo said. "Globally, we've announced a plan to be able to have the capacity to sell upwards of 700,000 fuel cell components that would go into a number of different vehicles."
Castillo says that just like electric battery vehicles, the power source in a FCEV will need to be replaced. The amount of electricity that a fuel cell can generate will naturally decrease over time.
"For our current vehicles, we're talking well in excess of 100,000 miles in terms of life span," he said. "We're also working on fuel cell stacks for the heavy-duty side that are orders of magnitude higher than that."
He added that the hydrogen tank would need to be replaced at a similar interval. The pressurized vessel could make a limited number of high and low pressure changes, or cycles, before needing to be replaced.
Study on impact of electric vehicles
"Not later than 120 days after the date of enactment of this Act, the Secretary shall conduct, and submit to Congress a report describing the results of, a study on the cradle to grave environmental impact of electric vehicles..."
While most researchers agree that driving an electric vehicle more often than not creates a smaller carbon footprint than driving a gas-powered vehicle, concerns have been raised over the energy it takes to produce electric vehicles. A 2019 report by the Massachusetts Institute of Technology Energy Initiative found that building batteries and fuel sources for EVs produce higher emissions than traditional car production.
Motor carrier safety
"Not later than 2 years after the date of enactment...the Secretary shall complete a study on equipping a variety of commercial motor vehicles...with automatic emergency braking systems...including an assessment of the feasibility, benefits, and costs associated with installing...systems on a variety of newly manufactured commercial motor vehicles with a gross vehicle weight rating greater than 10,001 pounds."
Updates to automotive safety standards represent a large chunk of the bill. In a recent interview with Newsweek, David Harkey, president of the Insurance Institute for Highway Safety (IIHS), said that the sections devoted to those standards are a long time coming. The IIHS researches safety in the automotive industry.
"There's more money for research into a lot of different areas of safety than we have seen in a while," Harkey said. "We think it's a move that is going to certainly save lives as we move into the future."
Study of commercial motor vehicle crash causation
"The Secretary shall carry out a comprehensive study to (1) determine the causes of, and contributing factors to, crashes that involve a commercial motor vehicle; and (2) to identify data requirements, data collection procedures, reports, and any other measures that can be used to improve the ability of States and the Secretary (A) to evaluate future crashes involving commerical motor vehicles; (B) to monitor crash trends and identify causes and contributing factors; and ( C) to develop effective safety improvement policies and programs."
Harkey pointed out that since the last study of this kind was conducted over 10 years ago, there have been many changes to the commercial vehicle industry that could impact the outcome.
"The capabilities and technologies of trucks have changed," Harkey told Newsweek. "Traffic densities have changed. The sheer volume of trucks we have on the roadways have changed. I think it's worth looking at again."
Automatic shutoff
"Not later than 2 years after the date of enactment...the Secretary shall issue a final rule to require manufacturers to install in each motor vehicle that is equipped with a keyless ignition device and an internal combustion engine a device or system to automatically shut off the motor vehicle after the motor vehicle has idles for the period....as necessary to prevent...carbon monoxide poisoning."
According to the Centers for Disease Control, about 430 Americans die from carbon monoxide poisoning in their car or home every year.
Rolling away
"The Secretary shall...evaluate the potential consequences and benefits of the installation by manufacturers of technology to prevent movement of motor vehicles equipped with keyless ignition devices and automatic transmissions when (A) the transmission of the motor vehicle is not in the park setting..."
Data from the National Highway Traffic Safety Administration (NHTSA) shows that rollaway incidents lead to roughly 142 deaths and 2,000 injuries a year. The Park It Act, introduced in the Senate, would require automakers to install technology to prevent rollaways.
Crash avoidance technology
"The Secretary of Transportation shall promulgate a rule (1) to establish minimum performance standard with respect to crash avoidance technology; and (2) to require that all passenger motor vehicles manufactured in the United States on or after the compliance date...shall be equipped with...a forward collision warning and automatic emergency braking system..."
IIHS argues that automakers need to continue adopting crash avoidance technologies that come standard in all vehicles. To be effective, these systems cannot be overcomplicated. User-friendly systems that are constantly engaged are key to increasing safety, according to Harkey.
Many automakers are already ahead of the curve on this one, installing standard forward collision warning and automatic braking system technology on many of the models that have recently been redesigned.
Reduction of driver distraction
"Not later than 3 years after the date of enactment...the Secretary shall conduct research regarding the installation and use on motor vehicles of driver monitoring systems to minimize or eliminate (1) driver distraction; (2) driver disengagement; (3) automation complacency by drivers; and (4) foreseeable misuse of advanced driver-assist systems..."
In research conducted by IIHS, a discrepancy arose between technology named "auto-pilot" and "driver assistance," creating differences in what drivers thought they could do versus what is possible to do. According to the organization, this confusion leads to an increase in "driver disengagement". Harkey added that this could be corrected with the help of cameras and sensors to detect where a driver is paying attention.
"Everything from what you name a system to how you implement certain features into the vehicle can lead to different levels of disengagement," Harkey said. "(Drivers) believe that they can be more disengaged if it's an 'auto-pilot' system."
Global harmonization
"The Secretary shall cooperate, to the maximum extent practicable, with foreign governments, nongovernmental stakeholder groups, the motor vehicle industry, and consumer groups with respect to global harmonization of vehicle regulations as a means for improving motor vehicle safety..."
Currently, the United States is not a participating member of the United Nations' World Forum for Harmonization of Vehicle Regulations. Since its inception in 1958, the group has worked on vehicle safety and environmental standards.
Headlamps
"Not later than 2 years after the date of enactment...the Secretary shall issue a final rule...(1) include performance-based standards for vehicle headlamp systems (A) to ensure that headlights are correctly aimed on the road; and (B) requiring those systems to be tested on-vehicle to account for headlight height and lighting performance; and (2) to allow for the use on vehicles of adaptive driving beam headlamp systems."
According to the IIHS, the U.S. is the only country in the world that conducts comprehensive studies on headlamps. In its research, the organization found that vehicle collisions could be reduced if federal regulations on headlamp standards were updated from the current guidelines, which were set in the 1960s.
"[Regulators] are moving toward requiring adaptive matrix beam headlights," Harkey said. "These are systems that have been available in Europe now for a number of years that are far superior to anything we have here in the U.S."
New car assessment program
"Not later than 1 year after the date of enactment...and not less frequently than once every 4 years thereafter, the Secretary of Transportation shall establish a roadmap for the implementation of the New Car Assessment Program of the National Highway Traffic Safety Administration."
An August note from Consumer Reports detailed that the current parameters of the New Car Assessment Program are outdated. They also argue that the NHTSA's current five-star rating is too easy for automakers to attain.
Hood and bumper standards
"Not later than 2 years after the date of enactment...the Secretary shall issue a notice, for the purposes of public review and comment, regarding potential updates to hood and bumper standards for motor vehicles."
While the bill does give a time for a review of these standards, it does not include a timeline for when those standards would be finalized and implemented.
Research on connected vehicle technology
"The Administrator of the (NHTSA)...shall...expand vehicle-to-pedestrian research efforts focused on incorporating bicyclists and other vulnerable road users into the safe deployment of connected vehicle systems..."
The bill includes funding to expand research on the detection of pedestrians and other vulnerable road users in connected vehicle systems like autonomous or semi-autonomous driving modes.
"Pedestrian fatalities have gone up by more than 50 percent in the last decade," Harkey told Newsweek.
Advanced impaired driving technology
"...not later than 3 years after the date of enactment...the Secretary shall issue a final rule prescribing a Federal motor vehicle safety standard...that requires passenger motor vehicles manufactured after the effective date of that standard to be equipped with advanced drunk and impaired driving prevention technology."
"If this technology is implemented, once the fleet turns over, we could save over 10,000 lives annually in this country," Harkey. "Having this kind of passive system in a vehicle is absolutely critical for reducing our fatalities in the U.S."
Harkey added that the adoption of this technology across automakers' entire fleet, not just certain lines, is critical to enhancing vehicle safety. Relieving certain economic pressures via regulatory means would help convince automakers to standardize the technology.
Child safety
"Not later than 2 years after the date of enactment...the Secretary shall issue a final rule requiring all new passenger motor vehicles weighing less than 10,000 pounds gross vehicle weight to be equipped with a system to alert the operator to check rear-designated seating positions after the vehicle engine or motor is deactivated by the operator."
A count from the website Noheatstroke.org found that 906 children have died from heat stroke since 1998. The NHTSA estimates that a child dies from vehicular heat stroke every 10 days.
Many automakers, including Kia and Nissan, currently offer rear seat alert technology in their models.
Electric vehicles working group
"Not later than 1 year after the date of enactment...the Secretaries (Transportation and Energy) shall jointly establish an electric vehicle working group to make recommendations regarding the development, adoption, and integration of light-, medium-, and heavy-duty electric vehicles into the transportation and energy systems of the United States."
Work is currently being done to evolve powertrains in large, commercial vehicles, especially in the realm of fuel cell technology. Hyundai and Toyota are actively testing their powertrains in the models.
EV battery second-life applications for grid services
"The Secretary shall enter into an agreement to carry out a project to demonstrate second-life applications of electric vehicle batteries as aggregated energy storage installations to provide services to the electric grid...to demonstrate the ability of electric vehicle batteries (I) to provide ancillary services for grid stability and management; and (II) to reduce the peak loads of homes and businesses..."
All new electric cars in the U.S. are covered by a warranty. Hyundai offers lifetime coverage for the replacement of a battery pack. Manufacturers are estimating that the average electric vehicle battery will last between eight to 10 years.
Electric drive vehicle battery recycling
"The Secretary shall carry out a program of research, development, and demonstration of (A) second-life applications for electric drive vehicle batteries that have been used to power electric drive vehicles; and (B) technologies and processes for final recycling and disposal of the devices described...(i) To improve the recycling rates and second-use adoption rates of electric drive vehicle batteries. (ii) To optimize the design and adaptability of electric drive vehicle batteries to make (them) more easily recyclable."
Currently, the infrastructure for recycling electric vehicle batteries is small. In its 2020 Impact Report, Tesla said that it has the capacity to recycle 92 percent of its battery cell components. Automakers like Volkswagen and Toyota are working on battery end life technology. VW has opened a battery recycling facility in Germany.
Limousine safety standards
"Not later than 4 years after the date of enactment...the Secretary shall complete research into the development of motor vehicle safety standards for side impact protection, roof crush resistance, and air bag systems for the protection of occupants in limousines with alternative seating positions, including perimeter seating arrangements."
Under current law, limousines are largely exempt from passenger vehicle safety standards. Lawmakers, particularly in New York, have been pushing for more stringent requirements since a 2018 limousine accident that killed 20 people.