Baby-Faced Alleged Spanish Con Man Extraordinaire Makes First TV Appearance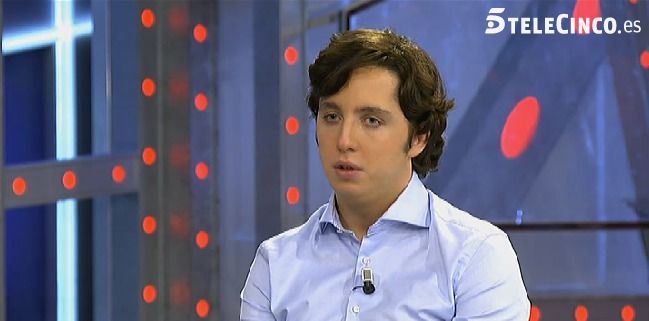 A 20 year-old Madrid law student who was detained by Spanish police over a series of high profile fraud offences made sweeping revelations on Sunday about his relationship with the royal family, the Spanish government and the country's intelligence services in his first public appearance since his arrest in October.
"King Juan Carlos has called and texted me. The last time we spoke was the day of his abdication. I sent him a text and he replied, saying 'Huge thanks for your words, hugs JC'," The alleged fraudster, Francisco Nicolas Gomez Iglesias, known to the Spanish public as 'Little Nicolas', told Telecinco's Un Tiempo Nuevo programme.
While the hosts of the show took his claims with a pinch of salt, evidence has emerged that Little Nicolas attended the coronation of Juan Carlos's son earlier this year and has allegedly been living a life of luxury under a false identity, travelling in government cars with state security, dining at Spain's top restaurants, attending Real Madrid's VIP box and earning some €25,000 as a mediator in government deals.
Little Nicolas allegedly oversaw public deals by introducing himself under a variety of false identities including a high-ranking official from the ruling Partido Popular (PP), a representative of the deputy prime minister, an aide to several ministers as well as the representative for the director generals of the Civil Guard, the police and the National Intelligence Service (CNI).
"I only did what was best for Spain. I don't know if you want to call it ambition or cooperation but I am 20 years old and I was driven by the desire to collaborate with the state," Little Nicolas, called Fran by the hosts of the show, said on Sunday.
He then explained he had also met the daughter of Juan Carlos, Infanta Cristina who is currently being investigated for corruption and had worked "on projects to benefit Spain and the Spanish people" with numerous senior politicians, including Spanish congressman and former OSCE chairman Miguel Angel Moratinos.
"I have assisted the CNI, the royal family and the prime minister," Little Nicolas said.
The alleged fraudster then told he had "sensitive material which could impact all institutions of the state", but said he could not produce them at the moment as the police had confiscated his phone.
The 20-year-old student told Telecinco he was considering pursuing legal action against authorities as he was arrested without being told why.
He then explained reports of his travels by state vehicles, escorted by security officials in recent months as him simply being employed by the ministries of defence, finance, the Madrid city council and the presidential apparatus.
"I did not make money to anybody's loss," Little Nicolas told Telecinco.
Little Nicolas also spent his 20th birthday celebrating in the luxury manor of Ignacio Gonzales, the president of the Madrid authority, and has been accused of using public funds to pay for a haute residence in Madrid's expensive El Viso neighbourhood, worth around €5,000 a month.
The alleged fraudster maintains his flat in El Viso was only used for business deals, while he only happened to be in Gonzales's house for his birthday as it fell during the Holy Week, before easter and they were celebrating that.
Little Nicolas rose to prominence in political circles at age 15, organising conferences for FAES, a thinktank for the ruling PP party.
Jaime García-Legaz, Spain's current junior trade minister and Little Nicolas's one time professor told El Mundo: "The boy could do PR like nobody else," explaining that the young man's job involved getting bright pupils to join the thinktank.
Garcia-Legaz denies putting the university pupil in any position of government authority, though Spanish media has alleged that through Garcia-Legaz Little Nicolas gained important contacts in public office such as former prime minister Jose Maria Aznar and current prime minister Mariano Rajoy.
The Spanish government, deputy prime minister and the PP party have all denied employing Little Nicolas, however over the last few months photos and videos have been emerging online showing the alleged young con man in the company of royalty and politicians, as allegations of his bizarre exploits among the country's elite have mounted.
He has become so recognizable that photos of famous scenes in film or history with his face superimposed in them have become a popular internet meme in Spain. One fake Twitter account which claims to be Francisco Nicolas frequently posts photos of the babyfaced alleged fraudster next to Darth Vader, at the last supper and walking side-by-side with Pope Francis.